Get PolitiFact in your inbox.
"You would receive a citation for taking a dildo to class" at the University of Texas.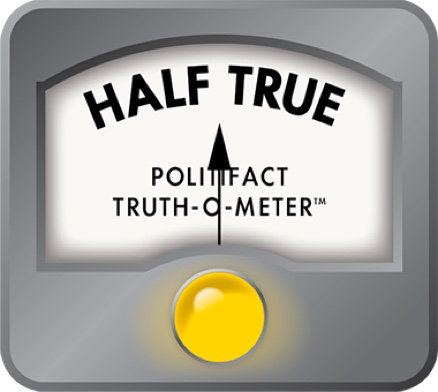 Dildo in University of Texas class could lead to a ticket, but would it? Uncertain
A student group at the University of Texas at Austin warned of legal repercussions for taking sex toys to class.
The group, Cocks Not Glocks, was founded to highlight what protesters depicted as the absurdity of Texas' campus carry law, Senate Bill 11, which as of Aug. 1, 2016 newly allowed students at public colleges and universities to bring concealed firearms into classrooms and campus buildings, except in areas excluded by school rules. Since 1995, licensed individuals had been allowed to carry concealed handguns onto public college and university grounds.  
On Aug. 24, 2016, UT's first day of fall-semester classes, Cocks Not Glocks drew wide attention when it distributed about 4,000 dildos on campus in a show of opposition to campus carry.
The group wrote on its Facebook event page, which showed almost 10,000 people pledging to attend the dildo distribution on the university's Main Mall: "The State of Texas has decided that it is not at all obnoxious to allow deadly concealed weapons in classrooms, however it DOES have strict rules about free sexual expression, to protect your innocence.
"You would receive a citation for taking a DILDO to class before you would get in trouble for taking a gun to class," the entry said.
We've looked into the campus carry debate before, finding True a professor's claim that prospective job applicants, students and guest speakers had decided to steer clear of the university out of concern concealed weapons might be present.
But could one really get a citation for taking a dildo to class? A reader exhorted us to check.
Group points to state obscenity law
We messaged the Cocks Not Glocks Facebook page to ask for the basis of the citation claim and got a response from group founder and former student Jessica Jin, who wrote: "UT school rules cite Texas state law when it comes to obscenities and state law says that openly brandishing/distributing/promoting a phallic object in public is an offense."
So a student who carried a concealed dildo to class, she acknowledged, "of course wouldn't be in any sort of trouble."
Jin continued: "Our demonstration, which could be seen as an act of performance art also, if it weren't covered by free speech and demonstration protections that superseded state obscenity clauses, would have qualified as an obscenity in Texas."
Specifically, she pointed us to the Texas Penal Code chapter 43, titled "public indecency," sections 21 and 22.
So we pulled up the Texas Penal Code, noting section 43.21, which states that material qualifies as "obscene" if:
—"The average person, applying contemporary community standards, would find that taken as a whole appeals to the prurient interest in sex."
--It "depicts or describes… the male or female genitals in a state of sexual stimulation or arousal… or a device designed and marketed as useful primarily for stimulation of the human genital organs…"
--"Taken as a whole, lacks serious literary, artistic, political, and scientific value."
Next, section 43.22 of the code states that "a person commits an offense if he intentionally or knowingly displays or distributes an obscene photograph, drawing, or similar visual representation or other obscene material and is reckless about whether a person is present who will be offended or alarmed by the display or distribution."
"An offense under this section is a Class C misdemeanor," it states. We looked up penal code chapter 12, "punishments," and found that a Class C misdemeanor is punishable by a fine of up to $500.
Jin also told us that UT school rules cite state law as the basis for outlawing dildos.
In the 207-page "general information" catalog, we flipped to subchapter 13-200, "prohibited expression," then to section 13-201, "obscenity," which states: "No person or organization will distribute or display on the campus any writing or visual image, or engage in any public performance, that is obscene. A writing image or performance is 'obscene' if it is obscene as defined in Texas Penal Code, Section 43.21 or successor provisions…"
No evidence of citations
So it looked like there's a risk of getting into trouble for brandishing a dildo in class. So, can and would such tickets be issued?
Our search of the Lexis Nexis news database didn't turn up instances of Texans getting prosecuted for brandishing dildos. Across the board, the only apparent prosecutions for sex toy crimes were made under a state law, overturned in 2008, which banned the sales of "obscene" items.
We emailed the University of Texas and asked if students would indeed receive a citation for taking a dildo to class, as school rules seemed to indicate.
A top  spokesman, J.B. Bird, responded by email that the university couldn't speculate about a "hypothetical situation." Bird wrote: "The university works carefully to enforce its policies based on facts. In First Amendment situations, context also matters tremendously."
So, maybe no citations.
Then again, Bird wrote: "I can tell you that the university does enforce its rules."
Speaking to the distribution of dildos by Cocks Not Glocks at the start of the fall 2016 semester, Bird said no tickets were issued because "the protests around campus carry earlier this year appeared to be examples of protected political speech."
Reminder: The Texas penal code (based on the 1973 U.S. Supreme Court Ruling Miller v. California) exempted material from obscenity restrictions unless it lacks "serious" political value.
From outside UT, we heard back from the  University of Houston Law Center, which referred our questions about whether citations would be issued for classroom dildos to Peter Linzer, a professor of constitutional law, who wrote back that there is no "definitive answer" on the legality of toting dildos into classrooms because two portions of relevant state law make the offense situational: "lacks serious, literary, artistic, political and scientific value" and "is reckless about whether a person is present who will be offended."
"Tell the students to ask if anyone is offended," Linzer wrote. "A cop would make a fool of himself (by issuing a citation) and I doubt that the Travis County DA would prosecute."
Our attempt to elicit comment from Rosemary Lehmberg, the Travis County district attorney, ran aground. By email, she said her office only prosecutes felony charges. To get a fix on misdemeanor prosecutions such as citations for dildo possession, Lehmberg suggested we reach out to the city's municipal courts. There, we were unable to identify anyone who could speak to charges leveled for wielding dildos on campus.
Our ruling
Cocks Not Glocks said students would get citations for taking dildos to class.
Texas obscenity law allows citations to be issued to dildo toters provided the dildo is displayed and the person doing so is reckless about who could be offended and the display lacks serious literary, artistic, political or scientific value.
That said, we failed to identify any instance of such a ticket being issued nor did UT officials say it was likely to happen--which leaves such a citation hypothetical and situational, it seems to us.
On balance, we rate this claim Half True.
---
HALF TRUE – The statement is partially accurate but leaves out important details or takes things out of context. Click here for more on the six PolitiFact ratings and how we select facts to check.
https://www.sharethefacts.co/share/e696025d-e6af-4204-acf5-a50d78fb34fd
Enrolled version of legislation permitting concealed handguns in campus buildings, Senate Bill 11, Texas Legislature Online, May 31, 2015 (accessed Oct. 3, 2016)
News story, "Campus carry opponents bring sex toys to gun fight," Houston Chronicle, Aug. 24, 2016
Facebook page, "Cocks Not Glocks: Campus (DILDO) Carry" (accessed Sept. 16, 2016)
Truth-O-Meter article, "Professor: 'Concrete examples' of teachers, students spurning University of Texas due to gun law," PolitiFact Texas, Aug. 26, 2016
Facebook messages, Jessica Jin, founder, Cocks Not Glocks, Sept. 16, 2016
Guide, "General Information 2016-2017," Office of the Registrar, the University of Texas at Austin, updated as of Sept. 12, 2016 (accessed Oct. 3, 2016)
Texas penal code, Chapter 43, "public indecency," sections 21, 22
Emails, Cindy Posey, public information officer, UT-Austin, Sept. 15, 2016
Emails, Peter Linzer, professor of constitutional law, University of Houston Law Center, Oct. 3-4, 2016
Emails, J.B. Bird, director of media relations,UT-Austin, Oct. 5 and 7, 2016
Emails, Rosemary Lehmberg, Travis County district attorney, Oct. 5-6, 2016
Browse the Truth-O-Meter
More by Dylan Baddour
Support independent fact-checking.
Become a member!
In a world of wild talk and fake news, help us stand up for the facts.