Stand up for the facts!
Our only agenda is to publish the truth so you can be an informed participant in democracy.
We need your help.
I would like to contribute
The U.S. Senate has "one manufacturer — that'd be me."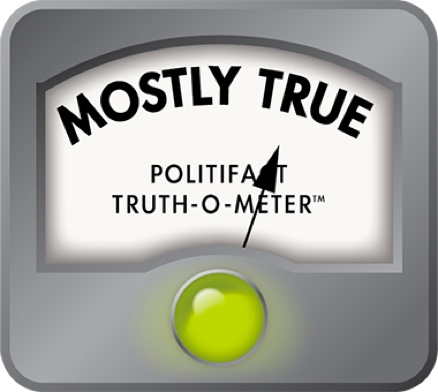 Is Ron Johnson right that he is only manufacturer in U.S. Senate?
When you hear the words "Russ Feingold," Republican U.S. Sen. Ron Johnson wants you to think "career politician."
A recurring theme of Johnson's campaign against Feingold, the Democrat who Johnson unseated in 2010, is their differing backgrounds. As Johnson tells it, he rose from a dishwashing job to help start a manufacturing company, while Feingold has been a politician for 34 years, collecting his income from taxpayers.
Such is the gist of a recent ad from Johnson's campaign, one that — as in the 2010 campaign — features him at a whiteboard.
"In 2010, there were 57 lawyers, zero manufacturers and way too many career politicians in the United States Senate," Johnson says in the ad.
The tallies are shown on the whiteboard, though it does not offer a number to represent the career politicians.
"Today, there are 54 lawyers, 1 manufacturer — that'd be me — and still way too many career politicians," he continues. "And now Senator Feingold wants to add another one — himself."
We decided to check Johnson's math.
What's in a job?
Johnson's camp said his numbers came from the official biographies of the 100 current U.S. Senators posted on Congress.gov.
He said there were 54 lawyers in the Senate; a review of the biographies confirms 54 senators graduated from law school. While just 51 reported having careers in law in a Congressional Research Report from December 2015, he's not far off.
Only one biography — Johnson's — includes the word "manufacturer."
"Ron is the only senator who has built a career as a manufacturer," William Allison, a spokesman for the Johnson campaign said. "He helped to start Pacur — an Oshkosh plastics manufacturing company — and built it from the ground up."
We have previously examined what Johnson's involvement with Pacur entailed.
He helped his brother-in-law grow the company and held various positions over a span of 30 years, including working on the shop floor, overseeing the company's accounting and later running the company. When he won a Senate seat in 2010, he stepped down from his day-to-day duties but continues to retain a 5 percent stake in the company.
Does that make him a manufacturer today? We think it is fair to use that term, since it was his primary occupation before arriving in Washington almost six years ago. Likewise, other senators continue to identify themselves as teachers, lawyers and doctors.
But a few other senators also have manufacturing connections.
U.S. Sen. Charles Grassley, R-Iowa, worked as sheet metal shearer and assembly line worker early in his career before going into farming. U.S. Sen. Chris Coons, D-Delaware, once worked for a medical device manufacturer — but on its legal team. Neither identify as manufacturers.
Most notably, U.S. Sen. David Perdue, R-Georgia, has said he spent most of his career helping companies outsource manufacturing operations. He held high-level positions with Reebok, Sara Lee, Dollar General, Haggar Clothing and a North Carolina textile manufacturer before he was elected. Like Johnson, he touted his business background — and lack of political experience — while campaigning.
Perdue's Senate biography describes him as a "management consultant" and "company executive." But both he and Johnson spent the bulk of their pre-Senate careers in the manufacturing industry.
The other side of the ballot
Earlier this year, we rated Mostly True a Johnson claim that Feingold is a "career politician." In the 36 years since Feingold finished law school, he was in office for 28 and engaged in political or diplomatic work for five, meaning about 92 percent of his career has been spent in politics.
Feingold himself makes no apologies for this and has said he is proud of his career in public service. He also takes every opportunity to paint his opponent as an out-of-touch millionaire who approved a $10 million payment to himself from Pacur when he left for the Senate.
In the ad, Johnson argues there are too many "career politicians" in the Senate —  an opinion that is not really checkable.
Nevertheless, we can provide some perspective on the background of other senators.
A review of the senators' biographies (and official websites, when needed) turns up just three individuals who only worked in politics or public policy before holding office, excluding lawyers. Most had another profession, or several, before entering the public arena. There are multiple social workers, farmers, business owners and college professors, for example.
But it has been shown by the Brookings Institution that an increasing number of so-called "career politicians" are serving in both the Senate and the Congress when the term is defined as someone whose previous jobs included at least one in politics or public policy.
Our rating
Johnson said he is the only manufacturer in Senate, among many lawyers. Based solely on the brief biographies posted online, his statement is accurate.
But other sources suggest there were some details left out: He counted law school grads instead of those who reported careers in law and he overlooked a colleague whose business career centered around manufacturing.
For a statement that is accurate but needs clarification or additional information, we rate the claim Mostly True.
https://www.sharethefacts.co/share/c47c761c-3bcb-4062-9f0f-fdbbdc91f538
"Way Too Many" ad, Ron Johnson for Wisconsin, September 6, 2016
Email exchange with William Allison, Ron Johnson for Wisconsin spokesman, September 2016
Biographical directory of the United States Congress (114th Congress), Congress.gov
Membership of the 114th Congress: A Profile, Congressional Research Service, December 2015
Christopher Coons biography, Christopher Coons official website
Christopher Coons LinkedIn profile, LinkedIn.com
Charles Grassley biography, Charles Grassley official website
Browse the Truth-O-Meter
More by Cara Lombardo
Support independent fact-checking.
Become a member!
In a world of wild talk and fake news, help us stand up for the facts.