Get PolitiFact in your inbox.
"Seventy percent of Missourians support voter photo ID legislation."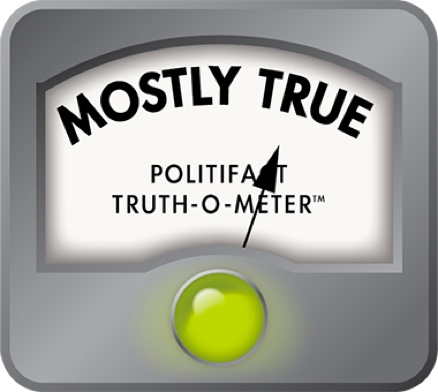 Rowden mostly right about Missouri residents supporting voter ID
The debate over whether to require photo identification to vote continues in Missouri. Republicans argue photo IDs are necessary to safeguard the voting process from fraud, while Democrats warn that legislation would disenfranchise minority and poor voters. 
At a League of Women Voters' town hall meeting in Columbia, state Rep. Caleb Rowden said most people are behind the idea. The Columbia Republican said "70 percent of Missourians support voter photo ID legislation."
We decided to look into that.
Rowden said he based his 70 percent figure on a poll conducted by Remington Research in Missouri Scout, a political subscription service. He also said he has internally polled the district he represents.
The survey Rowden cited put the question this way: "The legislature is proposing to require voters to show a valid Missouri driver's license or other valid identification in order to vote. Do you agree or disagree with this?"
Remington's poll said 70 percent of Missourians said they agreed, with results varying city-to-city.
The hitch is that the poll does not clarify what "other valid identification" entails. Defining what does and does not constitute "valid identification" is the crux of a proposed Missouri bill.
As Missouri law stands now, any form of ID issued by Missouri, the federal government or another state is accepted as proof of identity to vote. Those forms include driver's licenses from another state, birth certificates, student IDs, utility bills and bank statements. Not all of those include a photo.
In contrast, the Missouri bill would require one of four documents, all of which include photos: a Missouri driver's license; a Missouri non-driver's license (state ID); a military ID; or a national government-issued form of ID with a signature and photograph.
Marvin Overby, MU professor of political science at , said changes in phrasing when it comes to survey research can lead to different results.
"To a lot of people, it's just common-sense rhetoric that you need a photo ID to do lots of things in life, including voting," he said. "But if the wording laid out more exact points, such as the fact that the proposed legislation doesn't include student IDs or out-of-state licenses, you might get a different response."
That said, evidence from national polling suggests Rowden might be on solid ground. 
Nationwide support for photo ID
The Pew Research Center found that 77 percent of Americans supported photo voter ID requirements.
A poll conducted by Rasmussen Reports this summer illustrated a similar trend, showing more than three-quarters of Americans are in favor of requiring a photo ID to vote. That poll asked, "Should voters be required to show photo identification such as a driver's license before being allowed to vote?"
Unlike the poll cited by Rowden, the Rasmussen Reports poll specifically defined a valid ID as one requiring a photo.
Rasmussen Reports Managing Editor Fran Coombs said the goal is to keep any potential bias out of survey questions.
"As a rule, we just try to keep the questioning as simple as possible," she said. "The important thing is not to influence the responses with the wording of the question."
Even those who disagree with the idea of requiring photo identification don't dispute that surveys show a high level of support for the idea. Missouri's League of Women Voters' Voter Protection and Service Director Kathleen Farrell said people might not know the details of the legislation that surveys ask about. 
"The average person might not know just how strict Missouri's proposed legislation is," she said. "They also may not know how expensive it could be to require photo ID for all voters."
The bill's fiscal note allows for up to about $10.7 million dollars of funding; if the necessary funds were not allocated, the requirements for photo identification to vote would not be implemented.
Rowden's statement that "70 percent of Missourians support voter photo ID identification" isn't fully supported by the poll he provided. The poll Rowden cited only asks about "requiring Missouri driver's licenses or other valid form of ID to vote." It doesn't specify that the proposed legislation restricts valid identification to IDs that have photos.
But national polls show about 75 percent of Americans support requiring a photo ID to vote. The wording in the poll Rowden cited is confusing, but the results mirror the national trend. We rate this statement Mostly True.
Phone interview with Kathleen Farrell, League of Women Voters, 03/01/16
Phone interview with Fran Coombs, managing editor at Rasmussen Reports, 02/22/16
Email interview with Titus Bonds, Remington Research, 02/22/16
In person interview with Marvin Overby, professor of political science, 02/18/16
National poll shows majority of Americans support Voter ID Laws
Browse the Truth-O-Meter
More by Katie Moeller
Support independent fact-checking.
Become a member!
In a world of wild talk and fake news, help us stand up for the facts.