Get PolitiFact in your inbox.
Says "Michael Bennet votes for President Obama's agenda 98 percent of the time. Hardly independent, hardly bipartisan."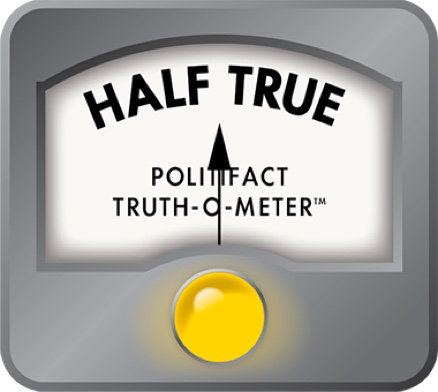 GOP foe close saying Bennet votes 98% with Obama — but wrong calling him 'hardly bipartisan'
At a recent debate, Colorado U.S. Senate candidate Ryan Frazier made a plea for party unity with his opponents.
"We as Republicans must unify, because the stakes are that important. And I believe any of us on this stage would be a heck of a lot better than Michael Bennet," said Frazier, a former Aurora city councilman, referring to Colorado's incumbent Democratic senator.
"You see, Michael Bennet votes for President Obama's agenda 98 percent of the time. Hardly independent, hardly bipartisan," Frazier stressed. (Watch debate video clip, courtesy KKTV)
It's a no-brainer for a Republican candidate to portray Bennet as marching in lockstep with a president who's unpopular with GOP primary voters. Frazier is among five Republicans scrapping to win the June 28 primary and a shot at toppling Bennet in the general election.
So let's look deeper at Frazier's claim that Bennet votes for Obama's agenda 98 percent of the time, and whether that makes him "hardly independent, hardly bipartisan."
Here's Bennet's presidential support rate since he and Obama took office in 2009, according to CQ:
| | |
| --- | --- |
| Year | Presidential support rate |
| 2009 | 96.2 percent |
| 2010 | 98.4 percent |
| 2011 | 95.5 percent |
| 2012 | 98.7 percent |
| 2013 | 98.2 percent |
| 2014 | 99.3 percent |
| 2015 | 89.7 percent |
We asked the Frazier campaign for evidence supporting the statement. The campaign cited a Jan. 12 online statement by the National Republican Senatorial Committee, which cited the annual percentage of Bennet's votes where he supported the president's position from 2009 through 2014. The average for those years is 97.5 percent, which rounds up to 98 percent, the figure Frazier cited. The NRSC attributed the data to CQ Roll Call, a nonpartisan news service that tracks congressional data.
But the NRSC statement misstated the percentage for Bennet's 2014 votes with Obama as "100 Percent Of The Time." CQ's Vote Watch database says Bennet voted with Obama 99.3 percent of the time in 2014.
The NRSC also left out data for 2015, when Bennet backed the president's positions 89.7 percent of the time, according to CQ.
When we add the 2015 voting data, Bennet's seven-year average of voting with the president is 96.57 percent — just a bit lower than Frazier's claim of 98 percent.
However, Bennet's campaign spokesman Andrew Zucker said it's easy to use the CQ figures to distort a lawmaker's overall record in Congress.
Zucker noted that Bennet has opposed Obama's plans when they conflict with Colorado's interest. He successfully fought the administration's 2010 plan to slash funding for a Centers for Disease Control and Prevention laboratory in Fort Collins that is working to combat the Zika virus. He also pushed back against the administration's proposal to cut funding for the Orion aerospace program in Colorado that supported 1,000 jobs in the state.
Bennet has also voted against the president on major issues. He was one of nine Democrats to side with Republicans on a bill to approve construction of the Keystone XL pipeline. Obama vetoed that bill and Bennet voted for an unsuccessful effort to override the veto.
Inside presidential support ratings
Here's some background to keep in mind when sifting through CQ's presidential support statistics.
First of all, they only deal with a fraction of votes cast by Bennet. CQ only counts those votes where the president takes a "clear position" on an issue. For example, according to CQ, Obama only staked out a position on 145 of the 366 votes the Senate took in 2014.
And the vast majority of the presidential support votes in 2014 — 125, or 86 percent — involved a glut of presidential nominees for federal posts, because the Democrats controlled the Senate then and had lowered the threshold for approving most nominees from 60 votes to a simple majority, CQ reported. In fact, in every year but 2009 (40 percent), a majority of the votes Obama has supported were on his nominees.    
Bennet called 'party loyalist' and 'bipartisan problem solver'
While Frazier calls Bennet "hardly independent, hardly bipartisan," there is evidence the senator works across the aisle.
Last year, the Washington Post ranked him fifth among Democratic senators who "vote against their party the most."  
The chart below shows how often Bennet has voted with Senate Democrats, compared to how the party majority voted, according to CQ. Bennet voted closest with the Democratic Party in 2014 -- he voted 98.8 percent to the party's average of 98.6 percent -- but his support for the party's position dropped down to 82.9 percent in 2015.
Over seven years, Bennet voted with the Democratic Party on average 91.29 percent of the time — a few points less than the average for all Democratic senators voting with the party (94.51 percent) during that period.
A CQ profile of the senator said, "Bennet has played dual roles, as a party loyalist and a bipartisan problem solver."  
As a Democratic loyalist, he's fought to protect Medicare, saying, "We can't attempt to balance the nation's budget on the backs of our seniors," CQ reported. Wearing his problem-solver hat, Bennet worked with Republican Sens. Richard Burr of North Carolina and Orrin G. Hatch of Utah to win FDA support for "breakthrough therapies" legislation in 2012 that sped approval of new drug treatment for cystic fibrosis, lung cancer and leukemia.
Bennet often joins groups seeking compromise
Bennet has been a frequent member of bipartisan groups of lawmakers working to find compromise on major legislation, the CQ profile said. He was one of three Democratic senators to oppose the January 2013 "fiscal cliff" deal, which averted income tax increases on earnings under $400,000 but didn't cut federal spending — a deal-breaker for Bennet.
Bennet, a former Denver Public Schools superintendent, has earned praise from Republicans for reaching across the aisle, including for his work on the overhaul of the No Child Left Behind law.
"Michael understands that the Senate is a place where you have extended debate on important subjects and work across party lines until you come to a consensus — that's how you get a result, and that's how you govern a complex country," Sen. Lamar Alexander, R-Tenn., chairman of the Senate education committee, told the Denver Post in 2015.
Our ruling
Frazier said, "Michael Bennet votes for President Obama's agenda 98 percent of the time. Frazier cited the frequency of Bennet voting with the president as proof he is "hardly independent, hardly bipartisan."  
In this case, Bennet is close on the available numbers, but they don't indicate a blind allegiance to Obama's agenda, as Frazier argues.
CQ data show Bennet voting for the president's position on legislation an average of 96.57 percent over seven years. That's just over 1 percentage point below Frazier's figure. However, the CQ data distorts the senator's voting record, because a majority of the time the president expresses his position is when a vote involves someone he's nominated for a federal post. There is also independent support for the view that Bennet is a "bipartisan" lawmaker who works with and votes with Republicans more often than the Senate's Democratic caucus as a whole.
The statement is partially accurate but leaves out important details or takes things out of context. We rate this claim Half True.
https://www.sharethefacts.co/share/4eba460d-d293-4da3-8c23-fa09fb1c845f
NRSC release about Sen. Michael Bennet's voting record, January 12, 2016
CQ Weekly, 2014 Vote Studies, March 16, 2015
CQ, Presidential Position Votes for 2015, 2014, 2013, 2012, 2011, 2010, 2009
CQ, Senate vote on "Keystone XL Pipeline - Passage," January 29, 2015
U.S. Senate vote on override of Keystone XL pipeline veto, March 4, 2015
Interview with Roger Hudson, Frazier campaign spokesman on June 15, 2016
Interview with Andrew Zucker, Bennet campaign spokesman on June 16, 2016.
Denver Post, "Colorado senators ask NASA not to cancel manned space flight program," April 12, 2010
Accelerate Colorado, "2010 Successes."
Denver Post, "Once at risk, CDC office in Fort Collins now fighting Zika virus," February 3, 2016
Washington Post, "Here are the members of Congress who vote against their party the most," June 11, 2015
CQ, Profile of Michael Bennet, October 19, 2015,
Denver Post, "Sen. Bennet's hand felt in revisions to No Child Left Behind Act," July 15, 2015
Washington Post, "The can-do senator in a can't-do Congress," June 16, 2016
Browse the Truth-O-Meter
More by Alan Gathright
Support independent fact-checking.
Become a member!
In a world of wild talk and fake news, help us stand up for the facts.