Get PolitiFact in your inbox.
"Bernie Sanders voted with Republicans to protect the Minutemen, a hate group that used military tactics against our community."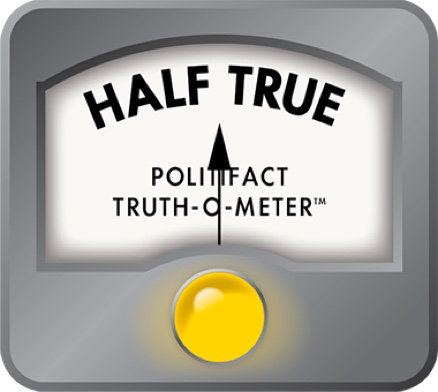 Julian Castro claims Bernie Sanders voted with Republicans to protect a hate group
Housing Secretary Julián Castro, a surrogate for Hillary Clinton's presidential campaign, took aim at Bernie Sanders' record on immigration during the senator's former elected capacity as an Independent member of the U.S. House from 1991 to 2007.
Sanders "voted with Republicans to protect the Minutemen, a hate group that used military tactics against our community," Castro, a former San Antonio mayor, said in a statement rolled out by the Clinton camp March 8, 2016, the day that Sen. Sanders of Vermont won an upset victory in the party's Michigan presidential primary.
Clinton leveled a similar claim about Sanders and the Minutemen at a Democratic debate in Miami the next day; PolitiFact found her statement Mostly True. Unlike Castro, she did not call the Minuteman Project a hate group.
Democrats tend to support comprehensive immigration reform including possible citizenship for residents living in the country without legal permission. Sanders, an Independent, caucused with Democrats in the House and later in the Senate. So it's arguably not helpful at the polls for him to be seen as supporting the Minuteman Project, which came into the spotlight in 2005 when its founders organized a volunteer stakeout of parts of the Arizona-Mexico border for the month of April.
One of the co-founders of the Minuteman Project, Chris Simcox, parted ways with the project and established the Minuteman Civil Defense Corps in 2005. The remaining founder, Jim Gilchrist, was fired from the Minuteman Project in 2007, according to the Southern Poverty Law Center.
The groups spawned a network of chapters over the years, driven by a combination of growth and internal conflict over finances and other issues. Some chapters were not close to the border and focused on anti-immigration advocacy, while others voluntarily patrolled the U.S.-side of the border with Mexico.
Those patrols and confrontation with undocumented immigrants prompted then-President George W. Bush to disparage them as "vigilantes"  and a former Mexican president to call them "immigrant hunters," the Washington Post reported in 2005.
But the Minuteman Project and Minuteman Civil Defense Corps websites in 2005 and 2006 explicitly described their cause as "peaceful" and urged members to follow the letter of the law while patrolling the border, or risk discrediting their cause.
In the claim, Castro, like Clinton, was referencing a vote on an amendment to a 2006 appropriations bill. The amendment was proposed by Rep. Jack Kingston of Georgia in response to rumors that the U.S. Border Patrol had been telling the Mexican government where vigilante civilian border groups were stationed.
The 2006 CQ Almanac described it as follows: "Kingston, R-Ga., amendment that would bar the use of funds in the bill to provide a foreign government with information that relates to the operations or location of the Minutemen or other private volunteer border patrol groups along the U.S.-Mexican border, unless the information sharing is required by an international treaty."
On the House floor, Kingston explained, "What this amendment does is it clarifies Congress' position on a Border Patrol practice or a practice of the U.S. Government that tips off illegal immigrants as to where citizen patrols may be located. ... What my amendment does is simply says that the U.S. Government cannot tip off the Mexican officials as to where these folks are located."
At the time, Rep. Martin Olav Sabo, D-Minn., said he didn't oppose it because it essentially restated existing Customs and Border Patrol policy.
PolitiFact found that Clinton got Sanders' vote right — he did vote with the GOP for the amendment, House records show — but downplayed what had been a bipartisan vote where 76 Democrats joined 216 Republicans in support.
But unlike Clinton, Castro described the Minuteman Project as "a hate group."
So, is the Minuteman Project a hate group — and did Sanders' vote really protect them?
Requests for clarification from Castro led to Josh Schwerin, a spokesman for the Clinton campaign, reaching out via email and directing us to the Southern Poverty Law Center's list of nativist extremist groups.  The SPLC was established in 1971 and is listed as an outreach partner by the FBI, according to the agency's website.
The SPLC list doesn't designate the Minuteman Project a hate group, unlike some other groups on their list of nativist extremists, which are marked with an asterisk to denote that they are both nativist extremist and hate groups.
We wondered what moves a group into hate-group territory. By phone, Mark Potok, a center expert, told us "the nativist extremist groups are a step towards the center."
"Basically, those are the groups which go beyond merely disagreeing with immigration policy and confront, personally, suspected illegal immigrants, or people who would help or hire them," he said, adding: "We don't list a group just for saying they think immigration levels ought to be lower."
Potok continued, "the thing to understand about our hate group listing is it's not based on criminality or violence. It's based on the ideology expressed by the group, on its website or by its leaders. We ask, does it demonize an entire group? Those are the hardest line groups we cover."
The SPLC's website defines hate groups as those that "have beliefs or practices that attack or malign an entire class of people, typically for their immutable characteristics."
Potok said that in 2006, the year the vote Castro referenced took place, nativist extremist groups were on the rise after beginning to emerge around 2005. Activity peaked in 2010, he said, when the center tallied 319 groups. In 2015, the SPLC counted only 17 such groups.
"A lot of these [extremist nativist groups] were spinoffs of the Minutemen groups," Potok said, "but not all."
Brian Levin, director of the Center for the Study of Hate and Extremism at California State University, said in a phone interview that Jim Gilchrist, one of the co-founders of the Minuteman Project, was receptive when Levin approached him to deal with neo-Nazi elements in the organization, and that differences of opinion on how to handle that issue contributed to the fissure creating the Minuteman Civil Defense Corps.
"Certainly there were entities in the border movement that were clearly racist hate groups, and certainly there were people who were in the Minuteman Project at the time who were, but I can tell you that [Jim] Gilchrist wanted those people excluded, and after I informed him, he took measures to do," he said.
In our research, we found that coverage of the project's offshoots has been dominated by several high-profile criminal cases that happened in the years between 2006 and today. In 2009, a former member of the Minuteman Civil Defense Corps murdered a Latino man and his 9-year-old daughter after breaking into their home, CNN reported. In 2013, Minuteman Project and Minuteman Civil Defense Corps co-founder Chris Simcox was arrested for child sexual molestation, according to Univision. These incidents have taken a toll on the reputation of the groups (for instance, in 2010, the NAACP referred to the Minuteman Project as "a nativist organization that has in the past been associated with the murder of migrant Mexican workers as part of its vigilante "border operations").
But it doesn't make sense to judge Sanders' House vote on incidents that came after it occurred.
So what information on the project was available at the time of the vote?
A report from the Congressional Research Service, dated April 7, 2006, cited many potential problems that could arise with civilian border patrols, but also said that "apart from the widely reported incident involving Ranch Rescue [an extremist anti-immigration group that dressed in military gear and went looking for armed drug smugglers in 2002], there have been no credible reports of civilian border patrol organizations engaging in violence against migrants."
Some scholars of the Minuteman Project, like Leo Chavez, an anthropologist at UC Irvine who has written about the group, have suggested that press coverage and creating a spectacle were central to the group's purpose ("Although monitoring the U.S.- Mexico border was Gilchrist's immediate objective, the larger goal was to use the "citizen patrols" on the border to draw attention to Gilchrist's larger aim of influencing public opinion and federal immigration policy," he wrote).
Christopher J. Walker, an associate professor of law at Ohio State's Moritz College of Law, echoed this view in an article in the Harvard Latino Law Review, writing, "More than anything else, the Minutemen seek media attention."
Todd Gutnick, communications director for the Anti-Defamation League, told us by email, "We have always referred to the Minutemen Project (of that period) as anti-immigrant extremists, who had racists/haters in their rank and file, but not specifically a hate group," when asked about the ADL's view of the Project circa 2006.
Sanders campaign policy director Warren Gunnels told us by email that Sanders "did not vote to protect the minuteman. This amendment simply stated what was already law at that time. Customs and Border Protection (CBP) has never shared information with the Mexican government except when required by treaty."
Although Sabo said it didn't reflect a change in existing law, 106 out of 201 Democrats at the time still voted against it; 19 did not vote.
We reached out to Kingston for his perspective on the amendment.
"It wasn't an extremist group, they weren't violent, they weren't making threats, it wasn't anything like that at all," he said by phone. "It passed overwhelmingly. I may have spoken to Bernie about it at the time, I don't remember, but it wasn't an extremist position. To me, it was common sense."
"It was a minor vote. I've gotten calls from a few other reporters that started a few months ago. I didn't even remember the thing itself until they started asking me about it," he said.
Our attempts to reach the Minuteman Project by phone and via its website proved unsuccessful.
Our ruling
Castro, a surrogate for the Clinton campaign, said: "Bernie Sanders voted with Republicans to protect the Minutemen, a hate group that used military tactics against our community."
Sanders, then an Independent in the House, voted with 75 Democrats to restrict the U.S. from alerting Mexico to Minutemen operations on the border. However, we didn't see any evidence that this since-weakened extremist group was designated a "hate group."
On balance, we rate this claim as Half True.
---
HALF TRUE – The statement is partially accurate but leaves out important details or takes things out of context.
Click here for more on the six PolitiFact ratings and how we select facts to check.
News article, "Julián Castro hammers Sanders on Latino issues," Bill Lambrecht, San Antonio Express-News, March 8, 2016
News article, "Sanders scores upset in Michigan," Heidi M. Przybyla, USA Today, March 9, 2016
Fact check, "Hillary Clinton says Bernie Sanders supported Minutemen, indefinite detention for the undocumented," Louis Jacobson, Politifact, March 10, 2016
Blog post, "Jim Gilchrist fired by Minuteman Project," David Holthouse, Southern Poverty Law Center, July 1, 2007
Transcript, "Bush, Fox, and Martin Joint Press Conference," Washington Post, March 23, 2005
Almanac, CQ Almanac 2006, 109th Congress, Second Session, 2006
News article, "Arizona Vigilante found guilty of murdering Latino man, daughter," Wire staff, CNN, Feb. 15, 2011
News article, "Minutemen cofounder arrested for child molestation," Jorge Rivas, ABC/Univision, June 20, 2013
Report, "Nativist Extremist Groups," Southern Poverty Law Center, Jan. 29. 2010
Report, "The Year in Hate and Extremism," Southern Poverty Law Center, March 9, 2016
Press release, "ACLU says incident confirms its suspicions about Minutemen," ACLU, Oct. 24, 2005
Vote record, Final Vote Results for Roll Call 224, June 6, 2006
Phone interview, Mark Potok, senior fellow, Southern Poverty Law Center, March 15, 2016
Congressional Record, 109th Congress, p H3372, June 6, 2006
Blog post, "5 facts about illegal immigration in the U.S., Jens Manuel Krogstad and Jeffrey S. Passel, Pew Research Center, Nov. 19, 2015
Report, "Civilian patrols along the border: legal and policy issues," Stephen R. Vina, Blas Nunez-Neto and Alyssa Bartlett Weir, Congressional Research Service, April 7, 2006
News article, "In Ariz., 'Minutemen' start border patrols," Amy Argetsinger, Washington Post, April 5, 2005
News article, "Anxiety, attitudes along border," Jerry Kammer, San Diego Union-Tribune, April 3, 2005
Blog post, "Vigilantes Gather in Arizona," Anti-Defamation League, April 7 2005
Journal article, "Spectacle in the desert: The Minuteman Project on the US-Mexico border," Leo R. Chavez, Global Vigilantes: Anthropological Perspectives on Justice and Violence, 2006
Journal Article, "Border Vigilantism and Comprehensive Immigration Reform," Christopher J. Walker, Harvard Latino Law Review, 2007
Emails, Todd Gutnick, Director of Marketing and Communications, Anti-Defamation League, April 26, 2016
Phone interview, Brian Levin, Director of the Center for the Study of Hate & Extremism at California State University, April 26, 2016
Phone interview, Jack Kingston, former U.S. Rep. for Georgia C.D. 1, March 11, 2016
Browse the Truth-O-Meter
More by Filipa Ioannou
Support independent fact-checking.
Become a member!
In a world of wild talk and fake news, help us stand up for the facts.