Stand up for the facts!
Our only agenda is to publish the truth so you can be an informed participant in democracy.
We need your help.
I would like to contribute
Says Missouri Democratic Senate candidate Jason Kander is "attending fancy dinners all over the country."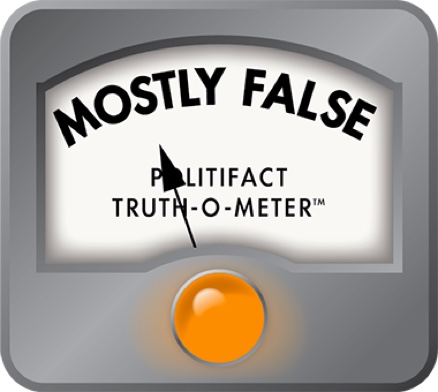 Fact-checking the NRSC's 'Pandering Panda' attack on Jason Kander
The NRSC is sponsoring an ad campaign featuring "The Pandering Panda," a portrayal of Jason Kander, U.S. Senate candidate and current Missouri secretary of state, as doing anything to win over lobbyists and big money in Washington.The ad campaign features a Twitter page, YouTube video, Snapchat series and website.
The YouTube ad, released Aug. 19, features a person dressed in a panda suit in various locations throughout Washington, including the White House and the Capitol. The panda character alternates between holding a burlap sack full of money and a hand-drawn sign that reads, "I love Obama." The ad also features clips of real pandas and high pitched voices making claims about Kander "pandering" for money in Washington. To date, the video has less than 12,000 views on YouTube after nearly a month online.
Kander, a Democrat, is hoping to unseat Sen. Roy Blunt, a Republican who has held the office since 2011.
Among the charges in the NRSC ad is the claim that Kander is "attending fancy dinners all over the country."
We decided sink our claws into this claim.
The NRSC provided us with a list of five fundraisers they say Kander attended between March 1 and May 31, 2015.
| | |
| --- | --- |
| Kander fundraiser | Date |
| Washington: Porterfield, Lowenthal, Fettig & Sears (lobbying firm) | March 4, 2015 |
| Washington: Hosted by Sen. Chris Murphy and various lobbyists | May 20, 2015 |
| Las Vegas: hosted by Harry Reid | May 2015 |
| Martha's Vineyard | Date unknown |
| Philadelphia | Date unknown |
We could only independently verify fundraisers in Washington and Las Vegas based on public reports. Kander's campaign manager Abe Rakov would not provide additional information about the fundraisers.
So we can't tell you whether these fundraisers meet the definition of a "fancy dinner." The NRSC provided no specific evidence to support that part of the attack.
That aside, three or five out-of-state fundraisers didn't seem like a lot to us, so we wanted to check with political scientists who are experts on the American political system.
They didn't see much out of the ordinary in Kander's trips or actions based on the information provided by the NRSC.
Greg Vonnahme, an associate professor of political science at the University of Missouri-Kansas City, said that most congressional candidates raise most of their money from out of district and even candidates for state office will seek out-of-state sources for funding. He also notes the NRSC itself hosts fundraisers for candidates. Mitch McConnell, R-Ky, raised more than half of his campaign funding from out of state in the 2014 election.
"Whether Kander attending three or five fundraisers during the period from March to May is excessive depends on one's feelings about the nature of campaign finance," Vonnahme said. "But is it unusual among Democrats, Republicans, House or Senate candidates? No."
Peverill Squire, a professor of political science at MU, said this scenario of the NRSC attacking Kander for out-of-state fundraising is not uncommon.
"Given the large sums of money now required to run for the U.S. Senate, it is common for candidates, particularly from smaller, less wealthy states, to attend out-of-state fundraisers," Squire said. "It is also common for the opposing party to attempt to make an issue of it. Challengers running against Senate incumbents face an uphill battle and need all the campaign money they can raise. Kander will raise as much as he can, and Blunt will likely respond by raising even larger sums."
As of the release of second-quarter campaign finances, Blunt raised $1.4 million in the second quarter as compared to Kander's $734,000. The Blunt campaign announced it has $3.8 million in cash on hand; the Kander campaign $1.1 million.
Blunt's money, as of July 30, is 49.8 percent PAC donations, totaling $1.2 million compared to Kander's $176,650, totaling 11.6 percent. In total itemized contributions, Blunt has 516 Missouri donors (after refunds) resulting in $581,647, compared to Kander's 835 Missouri donors for $679,816.
Blunt's campaign would not release any information regarding Blunt's travel or specific fundraisers.
The NRSC ad campaign "Kander Pander" involves a claim that Kander is "attending fancy dinners all over the country."
The NRSC provided a list of five fundraisers that it says constitute fancy dinners. That evidence is fairly thin.
It's also worth noting that Kander, who is currently Missouri's secretary of state, has raised plenty of money from Missourians — more than his opponent.
The NRSC claim has an element of truth but ignores critical facts that would give a different impression. We rate it Mostly False.
Jason Kander the Pandering Panda, NRSC ad on YouTube, August 19, 2015
Interview with Greg Blair, NRSC deputy communication director, August 26, 2015
Interview with Tate O'Connor, Friends of Roy Blunt press secretary, August 27, 2015
Interview with Abe Rakov, Kander's campaign manager, August 28, 2015
Interview with Peverill Squire, University of Missouri political science professor, September 9, 2015
Interview with Greg Vonnahme, UMKC political science professor, September 7, 2015
Campaign Finance Disclosures, FEC
Browse the Truth-O-Meter
More by Rachel Brooks
Support independent fact-checking.
Become a member!
In a world of wild talk and fake news, help us stand up for the facts.