Stand up for the facts!
Our only agenda is to publish the truth so you can be an informed participant in democracy.
We need your help.
I would like to contribute
"You can be an NFL player with murder charges and not be suspended."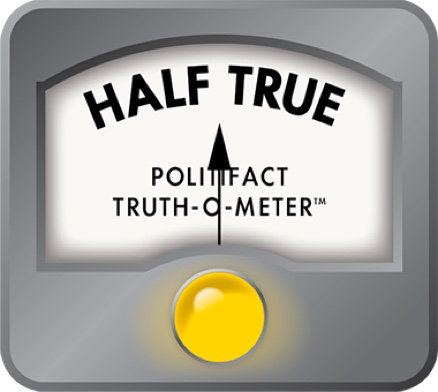 Trump tees off on Tom Brady's suspension, says players with murder charges not suspended
Donald Trump is on Team Tom.
The billionaire who loves to dabble in politics recently tweeted his reaction to the NFL's decision to suspend New England Patriots quarterback Tom Brady four games over his alleged role in "Deflategate."
The league punished Brady, who is appealing his suspension, after an independent report found it was "more probable than not" that Brady knew about the Patriots staffers who released air from game balls after the referees' inspection.
He tweeted, "You can be an @nfl player with murder charges and not be suspended. Yet with NO EVIDENCE, @nfl targeted Tom Brady. B.S.!"
As referees of factual claims, we wondered about Trump's statement.
We don't know specifically who Trump was thinking about — his press team didn't respond to us — but we were unable to find a situation that precisely supports his claim.
The closest parallel is the case of former Baltimore Ravens linebacker Ray Lewis. Lewis was indeed arrested on murder charges, and he was not suspended by the NFL. But there's more to the story as to why.
Lewis was arrested on charges of murder and aggravated assault in the Jan. 31, 2000, stabbing deaths of two men after a Super Bowl party in Atlanta. Prosecutors worked out a deal with Lewis where the murder charges would be dropped if he testified against two friends who were with him that night. (They were acquitted.)
Lewis' arrest and plea all took place during the 2000 offseason, so there were no games for which he could have been suspended. Lewis pleaded guilty to a misdemeanor obstruction of justice charge in June 2000.
After Lewis' plea, NFL Commissioner Paul Tagliabue said Lewis would not be suspended.
''It's the courts who have the primary responsibility in this case,'' Tagliabue said in a July 2000 conference call with reporters, according to the New York Times. ''We're not a substitute for the courts.''
The NFL put Lewis on probation for a year and fined him $250,000, which Lewis called disappointing.
More recent cases contradict Trump's claim.
The New England Patriots' Aaron Hernandez was convicted of first-degree murder in the June 2013 death of Odin Lloyd. When Hernandez was arrested and charged with murder on June 26, 2013, the Patriots didn't suspend him — they cut him.
Before Hernandez, Rae Carruth was the only active NFL player to be convicted of a murder-related charge. The Carolina Panthers wide receiver was arrested for first-degree murder in the death of his pregnant girlfriend, who was killed in a drive-by shooting while sitting in her car on November 1999. (The unborn child survived.) Carruth was accused of setting up the shooting. He was acquitted of the first-degree murder charge but was found guilty of murder conspiracy, among other charges. He is in prison.
After Carruth's arrest, the Panthers waived him and the NFL suspended him indefinitely.
Vehicular homicides
Other NFL players have faced charges for killing people due to reckless driving. Those crimes came with suspensions or worse.
In 2003, Dallas Cowboys cornerback Dwayne Goodrich hit three men on a Dallas interstate with his BMW, killing two and shattering the other's left leg. The men were trying to save a man from a burning car. Goodrich was convicted of criminally negligent homicide with a deadly weapon and failure to stop and render aid, and he spent six years in prison. The Cowboys released him upon his arrest.
Donte Stallworth, formerly of the Cleveland Browns, was suspended without pay for the 2009 season after he hit and killed a man, Mario Reyes, with his Bentley in Miami. His blood-alcohol content was .126, more than three times Florida's legal limit. He pleaded guilty to DUI manslaughter, bounced around a few NFL teams after the Browns cut him, and eventually landed a reporting internship at the Huffington Post.
In 1998, St. Louis Rams player Leonard Little killed a woman after drinking and driving, hitting her car with his SUV. The team put Little on paid leave. After he pleaded guilty to involuntary manslaughter, the league placed Little on a suspension of eight regular season games.
Other examples
Some players were involved in deaths, even if they were not charged with murder.
In July 1995, Seattle Seahawks receiver Brian Blades shot and killed his cousin, Charles, and was charged with manslaughter, which in Florida is a second-degree felony applied when a killing occurs because of negligence or without a legal reason. Blades said the shooting was accidental, and went on to play all 16 games in the 1995 season.
A jury initially convicted Blades of manslaughter in June 1996, but the verdict was overturned a week later by a Florida judge.
During the same month of Hernandez's high-profile arrest in June 2013, Cleveland Browns rookie Ausar Walcott punched a man in the head outside of a New Jersey gentleman's club, and the man suffered critical injuries. The Browns cut Walcott from the team the day after he was arrested.
Another player, Jovan Belcher of the Kansas City Chiefs, killed his girlfriend and then shot himself to death at the team's training facility on the same day, Dec. 1, 2012.
New code
However you view the old case of Lewis, it's important to note that the NFL tightened player conduct rules after taking heat for allegations of violent crime against players Ray Rice and Adrian Peterson in 2014.
The player conduct policy released in December 2014 lays out procedures for handling players charged with violent crimes, including some form of paid leave amid law enforcement and league investigations. The NFL Players Association takes issue with this policy, as it prevents players from team activities even though they may end up not guilty of their charges.
So while it's possible that a past player — namely Lewis — has been charged with murder without being suspended, it's not likely that would happen today.
Our ruling
Trump claimed, "You can be an NFL player with murder charges and not be suspended."
Today, that's at best a highly unlikely scenario . The closest historical example we could find came from 2000 involving the case of Ray Lewis, but there is the wrinkle that his murder charges came and went during the 2000 offseason. He eventually pleaded guilty to misdemeanor obstruction of justice.
Trump's statement is partially accurate but leaves out important details and takes things out of context. We rate it Half True.
News articles about various player cases accessed through Nexis.com
NFL player conduct policy, accessed May 15, 2015
New York Times, "Lewis Indicted in Deaths In Brawl at Nightclub," Feb. 11, 2000
Twitter, Donald Trump tweet, May 13, 2015
Interview with Carl Francis, NFL Players Association spokesman, May 15, 2015
Browse the Truth-O-Meter
More by Katie Sanders
Support independent fact-checking.
Become a member!
In a world of wild talk and fake news, help us stand up for the facts.