Get PolitiFact in your inbox.
Ted Cruz was "the longest-serving solicitor general in the history of Texas."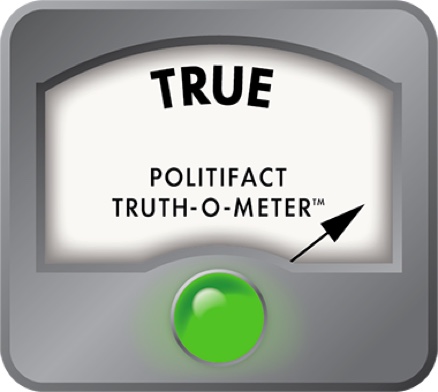 Ted Cruz longest-serving solicitor general of Texas, Jerry Falwell said
Republican Ted Cruz declared his candidacy for president to an enthusiastic crowd at Liberty University in Virginia after being introduced by the Christian institution's president, Jerry Falwell.
Falwell, whose late father founded the university in 1971, introduced the Texas senator on March 23, 2015 by proclaiming Cruz accomplishments, including: "In 2003, he became the solicitor general of Texas, the youngest in the country at that time."
Falwell went on: "He left only after becoming the longest-serving solicitor general in the history of Texas, achieving an unprecedented series of landmark national victories before the U.S. Supreme Court."
We're not sure how to tally landmark court wins; time will tell. But did Cruz set a record for service as the Lone Star State's chief litigator in state and federal appellate courts?
It's a short history
We first contacted the Texas attorney general's office to inquire about the individuals who have held the title of Texas solicitor general. We learned the post has only been around since January 1999, which would have coincided with John Cornyn, now the state's senior senator, getting sworn in for his term as attorney general.
Before that, the only other position in Texas government that resembled the role of solicitor general was called state solicitor, according to Renea Hicks, an Austin lawyer who formerly held the title. "There was no office like solicitor general in the state up until 1994," Hicks said by phone. "At that point, the attorney general created the position called state solicitor and that was me."
Hicks said instead of having a team of lawyers to work on appeals like the current solicitor general, he alone reviewed legal briefs and helped prepare appellate attorneys for court appearances. "It hadn't grown into anything like the full-fledged division of what it is now," Hicks said.
Hicks said he served in the role for about year before leaving the AG's office, but no one formally replaced him until Cornyn established the Office of Solicitor General in 1999. "He had liked the idea of someone in charge of appellate" litigation "for the state," Hicks said.
So Hicks had his year.
And what about individuals later named solicitor general?
Solicitors general for Texas
A spokeswoman for the AG's office, Lauri Saathoff, emailed us the following list of Texas solicitors general:
| | | |
| --- | --- | --- |
| Solicitor General, Texas Attorney General's Office | Time Served | Duration |
| Gregory Coleman | 09/1999 – 08/2001 | 1 year and 11 months |
| Julie Parsley | 08/2001 – 11/2002 | 1 year and 3 months |
| Rafael Edward | 02/2003 – 05/2008 | 5 years and 3 months |
| James Ho | 04/2008 – 12/2010 | 2 years and 8 months |
| Jonathan Mitchell | 11/2010 – 01/2015 | 4 years and 2 months |
| Scott Keller | 12/2014 – Present | 3 months and counting |
Source:  Email, Lauri Saathoff, Press Secretary, Texas Attorney General's Office, March 23, 2015
We also checked these names in Who's Who, where we found that the years Coleman, Cruz and Ho served as solicitor general listed in the database matched the Saathoff's information.
In the cases of Parsley and Mitchell -- where the data in Who's Who was either incomplete or missing -- we checked online websites. The website for Parsley's current law firm shows the attorney worked as solicitor general from August 2001 to November 2002. Meanwhile, Mitchell's faculty page at the University of Texas School of Law states the visiting professor was appointed to the position in 2010 and stepped down in January 2015.
Our ruling
Falwell said Ted Cruz was "the longest-serving solicitor general in the history of Texas."
That post has been around less than 20 years. Still, Cruz held it more than five years, longer than any of the lawyers who preceded and followed him and outpacing the second-longest holder by about a year.
We rate this statement True.
---
TRUE – The statement is accurate and there's nothing significant missing.
Click here for more on the six PolitiFact ratings and how we select facts to check.
Email interview, Lauri Saathoff, press secretary, Texas Attorney General's Office, March 23, 2015
Database, Marquis Who's Who (accessed March 23, 2015)
Website, "Julie Caruthers Parsley," Parsley Coffin Renner LLP, (accessed March 23, 2015)
Website, "Jonathan F. Mitchell," visiting professor, University of Texas School of Law (accessed March 23, 2015)
Website, "Office of Solicitor General," the Attorney General of Texas, (accessed March 23, 2015)
Telephone interview, Renea Hicks, Austin-based attorney and former State Solicitor of Texas, Austin, TX, March 25, 2015
Browse the Truth-O-Meter
More by Alex Wilts
Support independent fact-checking.
Become a member!
In a world of wild talk and fake news, help us stand up for the facts.