Stand up for the facts!
Our only agenda is to publish the truth so you can be an informed participant in democracy.
We need your help.
I would like to contribute
The "average taxpayer will see the equivalent of a 2 percent pay raise as a result of low fuel prices."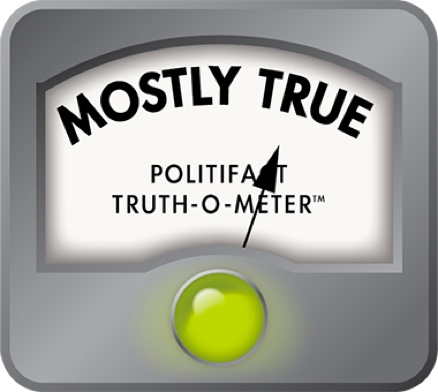 Glenn Hegar says lower gas prices equivalent to 2 percent pay raise for average taxpayers
A reader noted Republican Glenn Hegar's upbeat comments about plummeting oil prices and requested a fact check.
Hegar, the former state senator elected Texas state comptroller in 2014, told reporters early this year there are benefits to falling oil prices.
"Lower fuel costs should reduce the price of importing goods, which is great for consumers and, ultimately, our economy," Hegar said, according to an Austin American-Statesman news story. "In fact, the average taxpayer will see the equivalent of a 2 percent pay raise as a result of low fuel prices." The same story noted the price of oil had fallen about 50 percent since June 2014 to just more than $50 a barrel.
And are lower fuel prices equivalent to a 2 percent pay raise for taxpayers?
By email, Hegar spokesman Chris Bryan said Hegar drew that percentage from a December 2014 news story in the Economist magazine. The story said, in part: "Cheaper oil should act like a shot of adrenalin to global growth. A $40 price cut shifts some $1.3 trillion from producers to consumers. The typical American motorist, who spent $3,000 in 2013 at the pumps, might be $800 a year better off—equivalent to a 2% pay rise."
The magazine didn't engage with our inquiry about how its figures were worked up. We went on to query James Hamilton, a University of California, San Diego, economist quoted by the Wall Street Journal in November 2014 saying lower gas prices "relative to the average of the past three years will in effect put an extra $108 billion into U.S. consumers' pockets, generating a nearly 0.8 percent increase in disposable personal income."
By email, Hamilton pointed us to his Dec. 21, 2014, blog post stating: "The average U.S. retail price of gasoline right now is about $2.40 a gallon. Last year," in 2013, "American consumers and businesses bought 135 billion gallons of gasoline," per the U.S. Energy Information Administration, at an average price of $3.60 a gallon, he wrote.
Hamilton wrote: "If gasoline prices stay where they are and if we buy the same number of gallons of gasoline this year as last, that leaves us with an additional $160 billion to spend over the course of the year on other items. If we restate the total savings for U.S. consumers and businesses in terms of the 116 million U.S. households, that works out to almost $1,400 per household."
We checked his bottom-line figure—$1,400 per household—and compared it to what the U.S. Census Bureau estimates to have been the median household income for the U.S. and Texas, respectively, from 2009 through 2013. In Texas, the estimated $1,400 in unspent money shakes out to a 2.7 percent increase on the median income of $51,900. Nationally, it would amount to a 2.6 percent increase from the median household income of $53,046.
Also, EIA spokesman Jonathan Cogan noted by email that in December 2014, the agency predicted the average U.S. household would spend about $550 less on gasoline in 2015 than in 2014 due to falling gas prices and more fuel-efficient cars and trucks—which would be 1 percent of the median household income in Texas.
Our ruling
Hegar said the "average taxpayer will see the equivalent of a 2 percent pay raise as a result of low fuel prices."
Provided gas prices don't go back up, that percentage seems in the ballpark for how much Texans could save on gas compared to what they spent, though it's also possible to get to higher and lower projections.
We rate this statement Mostly True.
---
MOSTLY TRUE – The statement is accurate but needs clarification or additional information.
Click here for more on the six PolitiFact ratings and how we select facts to check.
News story, "Texas comptroller downplays effect of low oil prices on state economy," Austin American-Statesman, posted online Jan. 2, 2015
Email, Chris Bryan, spokesperson, Texas Comptroller of Public Accounts, Jan. 5, 2015
News story, "Sheikhs v shale," the Economist, Dec. 6, 2014
News blog post, "Oil: The Good, the Better, the Ugly," the Wall Street Journal, Nov. 28, 2014
Web page, "State & County QuickFacts, Texas," U.S. Census Bureau (accessed Jan. 6, 2015)
Web post, "U.S. household gasoline expenditures in 2015 on track to be the lowest in 11 years," Today in Energy web page, U.S. Energy Information Administration, Dec. 16, 2014 (viewed Jan. 9, 2015)
Browse the Truth-O-Meter
More by W. Gardner Selby
Support independent fact-checking.
Become a member!
In a world of wild talk and fake news, help us stand up for the facts.