Stand up for the facts!
Our only agenda is to publish the truth so you can be an informed participant in democracy.
We need your help.
I would like to contribute
The Department of Homeland Security is "the only federal department not funded for this entire fiscal year" by Congress.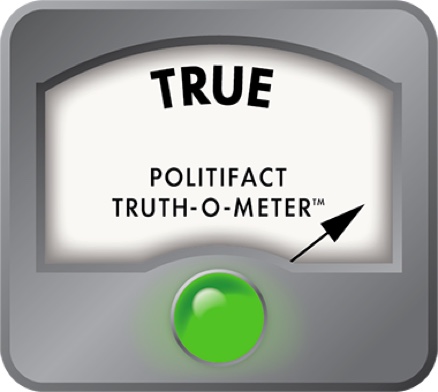 Lloyd Doggett says Homeland Security only federal agency not funded through 2015 fiscal year
In a commentary, U.S. Rep. Lloyd Doggett of Austin criticized border-security legislation advanced by a fellow U.S. House member at a time that funding for the Department of Homeland Security seems stand-alone shaky.
Doggett, a Democrat, said the Border Security Results Act offered by Austin's Michael McCaul, the Republican chairman of the House Homeland Security Committee, was premised on the unattainable goal of no unauthorized border crossers, making for a border tighter than that of North Korea.
Moreover, Doggett wrote in his article posted online Jan. 26, 2015, by the Austin American-Statesman: "Our border security is being further undermined by Republican limitations on DHS law enforcement funding. This is the only federal department not funded for this entire fiscal year. Uncertain stop-and-start, short-term appropriations weaken the ability to plan at a time of heightened international security concerns."
We think of Uncle Sam as gigantic, sprawling, multi-digited. Is Homeland Security all alone in going unfunded through the fiscal year running through September 2015?
Doggett's factual backup
By email, Doggett spokeswoman Leslie Tisdale cited a Dec. 10, 2014, Congressional Quarterly news story referring to 11 spending measures that had made it through Congress with only a "continuing resolution" approved to maintain Homeland Security funding for a few months.
And on Dec. 16, 2014, she noted, the White House announced President Barack Obama had signed into law the Consolidated and Further Continuing Appropriations Act of 2015, "which provides fiscal year 2015 full-year appropriations through September 30, 2015, for all agencies except the Department of Homeland Security, for which appropriations are provided instead through February 27, 2015."
Congressional actions
Then again, news accounts suggest there's room for Homeland Security funding to be worked out.
In early 2015, the Republican-majority House advanced a measure funding Homeland Security through the fiscal year. A Jan. 9, 2015, press release from the House Appropriations Committee said the fiscal 2015 Homeland Security funding measure, described as the "last of the 12 annual funding bills to be considered," included $39.7 billion in discretionary funding, an increase of $400 million compared with what lawmakers ponied up the previous year. Under the proposal, funding would flow to Customs and Border Protection, Immigration and Customs Enforcement, the Transportation Security Administration, cybersecurity, the Coast Guard, the Secret Service and the Federal Emergency Management Agency, the release said.
But the appropriation had a catch. Five days later, the House voted mostly along party lines to tie the funding to reversing Obama's immigration actions, though news accounts said it was unlikely sufficient senators would agree to the linkage and even if that improbably happened, Obama would veto the measure. "House approval of the spending bill was just the opening act in a debate expected to stretch into late February, when funding for the Department of Homeland Security is set to expire," the Washington Post reported.
A Jan. 15, 2015, New York Times news story hinted the issue would be worked out. "Because Republicans have said that they will use the $40 billion funding bill for the Department of Homeland Security as their vehicle for dismantling" Obama's immigration actions, the story said, "Congress faces another deadline that seems likely to force an accommodation before the department's money is due to run out at the end of February."
"One disagreement Republicans will have to work out is how far they are willing to go to push legislation that has no chance of becoming law--because it dies either in the Senate or in a presidential veto," the Times story said. "It is clear that some House Republicans want--and expect--the Senate to be as unyielding as they have been, though that is not likely. Asked how far he was willing to go, Rep. Trent Franks of Arizona said, ''All the way to where we fail to override.'"
"If the feud lingers beyond Feb. 27 with no compromise and Homeland Security funding runs out," the Times' story said, "millions of federal employees within the department's vast bureaucracy will have to work without pay. Around 85 percent of the department is classified as 'essential' and must report to work regardless of whether their agency is effectively shut down. This includes Border Patrol agents and Transportation Security Administration screeners," the story said. We asked Homeland Security if more details had been revealed about what happens after Feb. 27 and didn't draw any.
Independent confirmation
Separately, a budget expert told us Doggett got it right. By email to our inquiry, Jack Deutsch of the Committee for a Responsible Federal Budget, a nonprofit committed to educating the public about issues with significant fiscal policy impact, said that one of its policy advisers, Ed Lorenzen, noted that at the end of 2014, Congress passed legislation, referred to as the CRomnibus, providing funding for all federal agencies except Homeland Security for all of fiscal 2015 "but only continuing funding for the Homeland Security appropriations through Feb. 27."
Our ruling
Doggett said Homeland Security is "the only federal department not funded for the entire year" by Congress.
That was so as of when Doggett spoke in January 2015. Congressional Republicans were attempting to tie funding through the fiscal year to a repeal of Obama's 2014 announcement the administration intended to shield some unauthorized immigrants from deportation.
We rate the statement True.
---
TRUE – The statement is accurate and there's nothing significant missing.
Click here for more on the six PolitiFact ratings and how we select facts to check.
Emails (excerpted), Leslie Tisdale, press secretary, U.S. Rep. Lloyd Doggett, Feb. 12-13, 2015
Web post, "Statement by the Press Secretary on H.R. 83," The White House, Office of the Press Secretary, Dec. 16, 2014
Document, press release, "Committee Releases Fiscal Year 2015 Homeland Security Appropriations Bill," U.S. House Appropriations Committee, Jan. 9, 2015
News story, "House votes to block Obama's immigration actions — but exposes new GOP divisions," The Washington Post, Jan. 15, 2015 but subsequently updated
News story, "House Defies Obama on Immigrants," The New York Times, Jan. 14, 2015
Emails, Jack Deutsch, communications director, Committee for a Responsible Federal Budget, Feb. 13, 2015
Browse the Truth-O-Meter
More by W. Gardner Selby
Support independent fact-checking.
Become a member!
In a world of wild talk and fake news, help us stand up for the facts.