Stand up for the facts!
Our only agenda is to publish the truth so you can be an informed participant in democracy.
We need your help.
I would like to contribute
Says female genital mutilation is "a central African problem," not an Islamic problem, as Bill Maher suggested.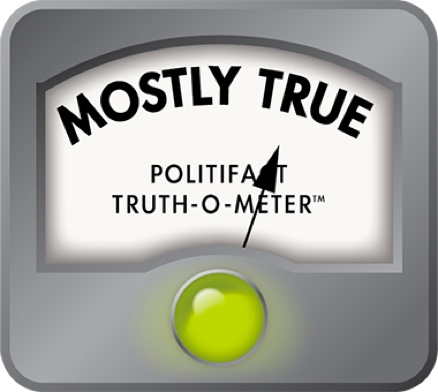 Fact-checking Reza Aslan on Bill Maher's 'not very sophisticated' rant on Islam
Comedian and HBO host Bill Maher is outspoken about his atheism, a fact not lost on many viewers of his recent rant about the passive approach of some liberals toward human rights abuses in Muslim countries.
Yet a scholar of religion called his commentary "not very sophisticated" on national TV. Why?
Maher was condemning the collective uproar over racist, homophobic or distasteful comments by American celebrities Donald Sterling, Jonah Hill, Rush Limbaugh and Mel Gibson when more serious offenses against women in Muslim countries are usually overlooked.
"Not only does the Muslim world have something in common with ISIS, it has too much in common with ISIS,"  Maher said at one point.
As an example, Maher brought up female genital mutilation, which refers to procedures that remove, in part or in whole, external genitalia for a non-medical reason. International groups such as the World Health Organization, UNICEF and Human Rights Watch condemn the practice as a flagrant example of gender inequality -- one that carries risks of prolonged bleeding, infection, infertility and complications during birth. When performed, the procedure is usually done on young girls.
Maher said 91 percent of Egyptian women and 98 percent of Somali women have been cut that way.
CNN Tonight hosts Don Lemon and Alisyn Camerota picked up this thread the following day in an interview with Reza Aslan, an author and University of California-Riverside professor of religious studies.
Aslan criticized Maher for making "facile arguments" when he generalized about Muslims and mislabeled female genital mutilation an Islamic problem.
"It's a central African problem," Aslan said. "Eritrea has almost 90 percent female genital mutilation. It's a Christian country. Ethiopia has 75 percent female genital mutilation. It's a Christian country. Nowhere else in the Muslim, Muslim-majority states is female genital mutilation an issue."
Aslan later tweeted an infographic showing a swath of African countries where female genital mutilation is concentrated.
Is Aslan's point accurate?
The map, taken from a July 2013 UNICEF report, shows the percentage of girls and women ages 15-49 who have undergone female genital mutilation in 27 Central African countries and two Middle Eastern countries (Iraq and Yemen).
Seven of the top eight countries with very high rates of female circumcision are majority Muslim, including the "almost universal" levels in Somalia, Egypt, Guinea and Djibouti. But Eritrea, as Aslan said, is No. 5 among countries with high prevalence at 89 percent, and it is home to more Christians than Muslims, according to Pew Research's Religion and Public Life Project.
Ethiopia, which is 63 percent Christian and 34 percent Muslim, has a moderately high rate of 74 percent, making it No. 11 on the list.
So the countries in which female genital cutting is a practice are mostly Muslim, but they are not exclusively Muslim. Of the 29 countries tracked by UNICEF, 14 are home to more Christians than Muslims.
The two Middle Eastern, and predominantly Muslim, countries, Yemen and Iraq, have much lower rates of 23 percent and 8 percent, respectively. Other majority-Muslim countries, such as Saudi Arabia and Iran, are not listed.
"It is extremely clear that in many countries that have a very high population of Muslims, female genital mutilation/cutting is not practiced," said Francesca Moneti, the UNICEF senior child protection specialist who co-authored the report.
Experts say the practice stems from social pressure to conform to traditions passed down for centuries -- one that predates not just Islam but also Judaism and Christianity. (The origins of the practice are subject to some dispute, but some scholars say it may correspond to areas of ancient civilizations, in which the cutting of females "signalled controlled fidelity and the certainty of paternity," the UNICEF report states.)
In areas of high prevalence today, "this is perceived to be the normal and correct way of bringing up a girl," Moneti said. "If a girl is not cut, she may be considered impure and not marriageable, and she and her entire family may be ostracized."
While it stems from neither Christianity nor Islam, some women in Chad, Guinea and Mauritania report a "religious requirement" as a benefit of cutting. Some communities consider a clitoridectomy -- one type of female genital mutilation -- as "sunna," which is Arabic for "tradition" or "duty," according to the UNICEF report. However, it is not a requirement of the Koran and has been specifically rejected by some Muslim leaders in Egypt.
"There are different positions within Islam on the issue," said Marit Tolo Østebø, a University of Florida lecturer on human rights and culture, global sexuality, and anthropology of religion. "So you would have some Islamic scholars who will say, and might use parts from the hadith, to support that it's good to do some cutting, but they will often emphasize that it is not an obligation." (The hadith refers to commentary about the Koran that explains the traditions of the Prophet Mohammad.)
The fact that it is also practiced by Christians and other groups with ancient beliefs makes it hard to say the practice is particularly Muslim, she said.
"Very often we tend to think that Islam is one thing -- that it's one homogeneous religion," she said. "But if we just look at Christianity, there are so many different traditions and views on things. That is exactly the same in Islam."
Aslan acknowledges that some may object to his "central African" characterization. He said he was trying to refer to the "stripe" of countries across Africa along the equator where this practice is common. However, UNICEF and international groups consider it a "global" problem since it happens in parts of Asia, Europe and North America because of immigration.
"All of this is to say that while it is almost impossible to come up with some sort of connection that binds countries that have (a female genital mutilation) problem, it is clear that whatever that connection is, it's not religious," Aslan told PunditFact.
Our ruling
Aslan rejected Maher's characterization of female genital mutilation as an Islamic problem, saying instead that it's actually "a central African problem."
Due to immigration, the term "central African" may be too restrictive, but his larger point -- that this is not a problem in only Muslim countries -- is valid. Countries with majority-Christian populations also carry out this practice, while Islamic-majority countries like Iraq and Yemen have rates on the lower side.
We rate Aslan's claim Mostly True.
Interview with Marit Tolo Østebø, University of Florida Department of Anthropology lecturer, Oct. 2, 2014
Interview with Francesca Moneti, UNICEF senior child protection specialist, Oct. 2, 2014
Interview with Reza Aslan, Oct. 2, 2014
Mediate, "Reza Aslan slams Bill Maher for 'facile arguments' about Muslim violence," Sept. 29, 2014
UNICEF, "Female Genital Mutilation/Cutting: A statistical overview and exploration of the dynamics of change," July 2013
World Health Organization fact sheet, female genital mutilation, updated February 2014
Reza Aslan tweet, Sept. 30, 2014
Pew Research Religion and Public Life Project, Muslim population by country, Feb. 27, 2011
Pew Research table of religion by country in percentages
Real Clear Politics transcript of Bill Maher's Sept. 27, 2014, commentary on liberals and Islam
Browse the Truth-O-Meter
More by Katie Sanders
Support independent fact-checking.
Become a member!
In a world of wild talk and fake news, help us stand up for the facts.