Get PolitiFact in your inbox.
The state-hired company that evaluates state-mandated student exams "goes on Craigslist to get examiners to read our students' essays."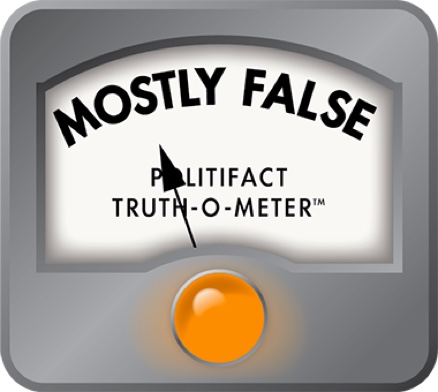 Van de Putte, critical of high stakes exams, says testing firm advertises scorer jobs on Craigslist
In a debate at Austin's KLRU-TV, Channel 18, Democrat Leticia Van de Putte, her party's nominee for lieutenant governor, revisited her declared desire to battle the "high stakes" state-mandated exams imposed by law before students qualify to graduate from high school.
But the San Antonio state senator caught our ear in the Sept. 29, 2014, faceoff with Republican nominee Dan Patrick, a Houston state senator, by indicating the company that manages the tests in Texas has some possibly cheapskate habits.
After saying students in the top-notch Highland Park school district in Dallas had struggled on the state-imposed English II exam, Van de Putte added: "Probably because our testing company that makes hundreds of millions of dollars goes on Craigslist to get examiners to read our students' essays."
We wondered if the scorer posts get filled starting from free ads placed on Craigslist, the mostly free online classified ad service founded in 1995.
In January 2013, a couple of news reports said Pearson, the company hired by the Texas Education Agency to administer the state tests, had been using Craigslist to advertise openings.
According to a Jan. 16, 2013, blog post by the Answer Sheet newsletter on The Washington Post's website, and pointed out to us by Van de Putte spokesman Manny Garcia, Pearson ran an ad on Craigslist Nov. 29, 2012, looking for people to hire and train to score the written portion of the Texas Assessment of Knowledge and Skills; that was then the name of the state exams.
"According to a press release released by leaders of a coalition of people in Texas seeking to reform standardized testing in the state," Answer Sheet said, "the ad says college graduates would be paid  $12 an hour for doing the job. According to the Craigslist ad, 'Bachelor degree required – any field welcome,'" Answer Sheet said, adding that the coalition was urging legislators and the TEA to find a way to  ensure only English teachers graded student essays in the exams.
A few days later, KDFW-TV, Channel 4 in Dallas, aired a news report saying Pearson Testing "uses Craigslist to solicit people to grade" the state test, which had been revised and renamed the State of Texas Assessment of Academic Readiness. This story included a statement from the TEA stating the agency was "fully aware that the Pearson Testing company utilizes multiple employment avenues to secure and adequately train qualified candidates. Pearson carefully trains the graders, and experienced supervisors oversee the work to ensure that essays are graded in a fair and consistent manner."
On its website, KDFW included information attributed to Pearson stating Pearson exhaustively searches for the best people to score student tests relying on the same employment resources school districts use to promote career opportunities. Pearson said its search for scorers in Texas extended to ads with 21 organizations and publications including
the National Council of Teachers of English, the Austin American-Statesman and the Texas Workforce Commission--as well as Craigslist, ClassifiedAds.com and the Austin Chronicle among venues, Pearson said.
"All test scorers hired by Pearson must have at least a four-year degree and undergo very rigorous, state-approved training before they are allowed to begin work," Pearson said, according to KDFW. "As part of this rigorous training, applicants must complete and pass practice sets before being eligible to work. The rigorous training program for scorers was developed with the Texas Education Agency, and TEA must approve all final training materials."
We double-checked this additional information, confirming from Pearson that the company posts ads on Craigslist and numerous other outlets.
By email, Debbie Ratcliffe, a TEA spokeswoman, provided Pearson's 2013 statement on the Craigslist criticism. She also guided us to Dave Clark, a Texas-based Pearson official, who said by phone Craigslist is among 21 advertising venues used by Pearson when it's hunting for qualified test scorers.
Clark said: "We have to blanket the entire state to find scorers; it's seasonal work."
Asked if using Craigslist leaves the impression that the recruitment of scorers is slapdash, Clark replied that if so, people would have to reach a similar illogical characterization of the other places where Pearson advertises such jobs.
To our inquiry, Brandon Pinette, a Washington, D.C.-based Pearson spokesman, emailed a statement similar to the one circulated in 2013.
Among recent applicants to grade the Texas exams, Pinette advised, 11 percent fulfilled Pearson's requirements. Among the successful applicants, he said, 71 percent had at least a year of classroom teaching experience, 83 percent had writing-intensive four-year college degrees and 27 percent had a degree in English.
Our ruling
Van de Putte, who has said she opposes high-stakes state-imposed student testing, said the company that scores the existing state tests "goes on Craigslist to get examiners to read our students' essays."
There's a strand of truth here; scorer positions have been advertised on Craigslist. But this statement leaves a loosey-goosey impression by not acknowledging the testing company spreads the word about its scorer jobs in a wide range of  venues. Also unnoted, the company further screens applicants to ensure they're up to the job. Such information was public nearly two years ago.
We rate this statement Mostly False.
---
MOSTLY FALSE – The statement contains an element of truth but ignores critical facts that would give a different impression.
Click here for more on the six PolitiFact ratings and how we select facts to check.
Email, Emmanuel Garcia, communications director, Texas Democratic Party, on behalf of Leticia Van de Putte campaign, Sept. 30, 2014
Newsletter story, "Pearson criticized for finding test essay scorers on Craigslist," Answer Sheet newsletter, The Washington Post, Jan. 16, 2013
News story, "Craigslist ad solicits STAAR test graders," KDFW-TV, Fox4, Dallas, posted Jan. 23, 2013, updated Jan. 24, 2013 (accessed Sept. 30, 2014)
Statement about Pearson advertising for testing positions, last updated Feb. 19, 2013 (received by email from Debbie Ratcliffe, director of media relations, Texas Education Agency, Sept. 30, 2014)
Email, Brandon Pinette, media relations manager, Pearson, Sept. 30, 2014
Telephone interview, David Clark, vice president of state services, Texas Assessment Program, NCS Pearson, Austin, Sept. 30, 2014
Browse the Truth-O-Meter
More by W. Gardner Selby
Support independent fact-checking.
Become a member!
In a world of wild talk and fake news, help us stand up for the facts.