Stand up for the facts!
Our only agenda is to publish the truth so you can be an informed participant in democracy.
We need your help.
I would like to contribute
"Virtually no Republican" in Washington accepts climate change science.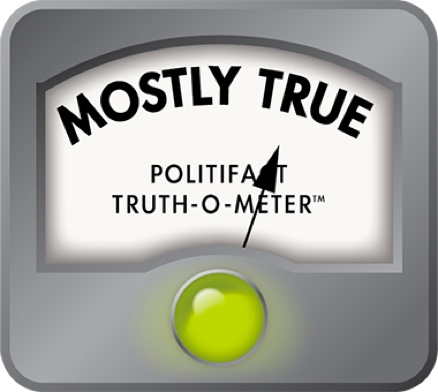 Jerry Brown says 'virtually no Republican' in Washington accepts climate change science
More than 1,500 wildfires have ravaged California so far in 2014, more than twice the state sees in an average year. On ABC's This Week, Gov. Jerry Brown, a Democrat, cited scientific research that links the increased number of fires to the state's changing climate.
Host George Stephanopoulos asked Brown how he'd adapt to the future, given skepticism among Republicans in Washington. Short answer: not easily.
"That's a challenge," Brown said. "It is true that there's virtually no Republican who accepts the science that virtually is unanimous. I mean there is no scientific question. There's just political denial for various reasons, best known to those people who are in denial."
Brown then pivoted away from Washington to say that "we here in California are on the front lines, we got to deal with it."
PolitiFact decided to take a closer look at how Republicans in Congress perceive climate change. We are focusing on Republicans in Washington because that's how the question to Brown was framed.
Republicans more skeptical about climate change
Recent national polls say that Republican voters are less likely than Democrats and independents to believe humans cause global warming. Among Republicans, tea party Republicans are even less likely to accept the science than the party base.
Among current Republicans in Congress, a group of 278, we were able to find many examples of politicians questioning climate change science to some degree.
Most recently, Sen. Marco Rubio, R-Fla., made waves for denying a link between human activity and climate change.
"I do not believe that human activity is causing these dramatic changes to our climate the way these scientists are portraying it," Rubio told Jonathan Karl on ABC's This Week May 11. "And I do not believe that the laws that they propose we pass will do anything about it. Except it will destroy our economy."
That's in line with other prominent Republicans, such as House Majority Leader John Boehner, R-Ohio, and Sen. Ted Cruz, R-Texas.
Organizing for Action, a group that backs President Barack Obama, published a lengthy list of climate change deniers in Congress, with evidence to back each one.
Still others, like Sen. John McCain, R-Ariz., have notably changed on the issue, even after co-authoring legislation to address the issue.
Republicans who say they believe the science
We found relatively few Republican members of Congress who accept the prevailing scientific conclusion that global warming is both real and man-made. Brown's office didn't return our request for comment, so we are unable to compare our evidence to any that he might have.
That's eight out of 278, or about 3 percent.
Are there others? It's possible. Not every member of Congress has taken a clear stance on climate change, and we can't read people's minds. If we find more examples, we'll update our list.
Former Rep. Jim Greenwood, R-Pa., told PolitiFact that the number of Republicans like himself who stand by climate change science has been shrinking in recent years, due to a more polarized Congress.
"There used to be a lot more of us," said Greenwood, who serves on the board of directors for the National Audubon Society. "A lot of us were very green in our voting records. That has changed. I think it's part of the phenomenon of the polarization of the Congress."
Agreeing with climate change science also could be a political liability for Republicans. In 2010, South Carolina Rep. Bob Inglis lost a Republican primary to tea party challenger Trey Gowdy. Inglis blamed his loss, in part, over his belief in climate science.
Inglis has since formed the Energy and Enterprise Initiative, a conservative group that agrees with climate change science. Energy and Enterprise Initiative spokesman Price Atkinson said Republicans support efforts to reduce CO2 emissions but criticize the way Obama and Democrats want to go about it.
"There are many Republicans in Washington who accept, understand and agree with sound science regarding climate change, but it's the way forward that is more difficult for my fellow conservatives," Atkinson said. "We agree with fellow conservatives in opposing the president and the growth of government thru increased EPA regulations, which is precisely the worst way to reduce carbon emissions."
The charged political climate makes finding clear positions on climate change from many Republicans tough to come by, say experts who follow the issue.
"Most Republicans say the same thing behind closed doors: 'Of course, I get that the climate is changing, of course I get that we need to do something — but I need to get reelected,' " Audubon Society President David Yarnold told National Journal in 2013. "Somehow they're going to have to find a safe place on this."
Our ruling
Brown said that "virtually no Republican" in Washington accepts climate change science. When it comes to on-the-record comments of members of Congress, Brown's characterization is about right.
We found at least eight Republicans in Congress who publicly voiced support for the scientific consensus and many more conservative legislators who deny either a human link to the changing climate, or the fact that the climate is changing altogether.
A reason for caution, however, is comments from someone like Yarnold — who suggest GOP members of Congress acknowledge climate change science behind closed doors but avoid the talk in public for political reasons.
We rate Brown's claim Mostly True.
ABC, "Weary crews prepare for long wildfire season in California," May 17, 2014
Bob Corker, "Corker delivers floor remarks on Climate Security Act," June 3, 2008
Chris Smith, "Smith-backed climate change provision included in House-passed energy bill," Aug. 4, 2007
Email interview with Price Atkinson, Energy and Enterprise Initiative spokesman, May 18, 2014
Grist, "Tracking where senators stand on climate change legislation: Lamar Alexander," July 30, 2009
Los Angeles Times, "The GOP does the climate change dance," May 10, 2014
Mother Jones, "The other climate bill," March 25, 2010
National Journal, "The coming GOP civil war over climate change," May 9, 2013
National Journal, "Congressional Republicans and their differing views on climate change," Dec. 2, 2011
New York Daily News, "Grimm is first Republican to flip on climate change: 'I don't think the jury is out,' " April 25, 2014
New York Times, "Has John McCain gone cool on global warming legislation?" July 16, 2009
New York Times, "One Senate Republican, a climate change believer, considers replacing oil subsidies," May 17, 2011
ThinkProgress, "The anti-science climate change denier caucus: 113th Congress edition," April 10, 2014
Organizing for Action, "Call out the climate change deniers," accessed May 18, 2014
Phone interview with former Rep. Jim Greenwood, R-Pa., May 18, 2014
PolitiFact Rhode Island, "U.S. Sen. Sheldon Whitehouse says most young Republicans think poorly of climate change deniers," Nov. 25, 2013
PunditFact, "Scarborough: Americans have cooled on climate change," May 13, 2014
Browse the Truth-O-Meter
More by Julie Kliegman
Support independent fact-checking.
Become a member!
In a world of wild talk and fake news, help us stand up for the facts.