Get PolitiFact in your inbox.
Alex Sink "used a taxpayer-funded plane so she could get to a vacation in the Bahamas."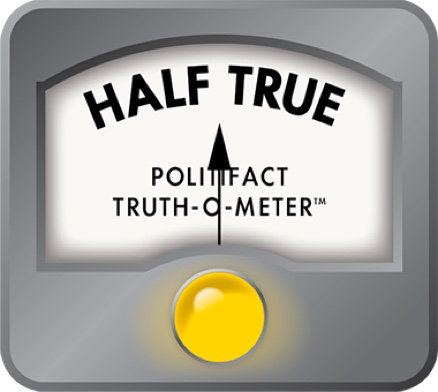 GOP says Alex Sink used a state-owned airplane to 'get to a vacation in the Bahamas'
With the matchup now set for a March 11 special election for the U.S. House, the National Republican Congressional Committee has launched some familiar attacks against Alex Sink, the Democratic candidate and a former Florida chief financial officer.
In a new Web ad released Jan. 15, the GOP resurrects charges from the 2010 gubernatorial race, when Sink lost to Republican Rick Scott. The new ads remind voters that Sink had once caught flak for using state airplanes.
"She used a taxpayer-funded plane so she could get to a vacation in the Bahamas," the video charges. It also lists a few other flight-related claims to bring the attack in for a landing.
The state airplane episode was a big deal for Sink during her 2010 campaign, and the claim that she used the plane to get to the Bahamas was designed to cause her turbulence again. So we buckled our seat belts and looked at whether the NRCC had done its pre-flight preparations correctly.
Frequent flyer
Alex Sink was in the middle of her 2010 gubernatorial run when the Tampa Bay Times and the Miami Herald produced a report detailing her apparent use of state airplanes for personal and campaign use.
The June 2009 report focused on Sink, then serving as CFO, and Republican Attorney General Bill McCollum, who was also running for governor, eventually losing the Republican primary to Scott. The Times and the Herald reported that Sink's state-provided air travel had cost $413,334 between January 2007 and June 22, 2009.
State law requires Cabinet members to maintain a legal residence in Tallahassee, and both Sink and McCollum had second homes in the capital. But the law prohibited them from using a state plane to commute to and from their residences in other parts of the state.
The report prompted an ethics complaint against both politicians (and against then-Lt. Gov. Jeff Kottkamp, a Republican, prior to that). Sink was accused of misusing the planes for personal flights and campaign stops and for diverting flights to Tampa airports so she could travel to her home in Thonotosassa.
The NRCC's Web ad refers to the subsequent Florida Commission on Ethics investigation. In addition to a trip to the Bahamas, the ad said, she "spent $400,000 of taxpayer money to fly around the state" and "used the plane to attend political campaign events."
There is a really big caveat here, however. The ethics commission found no evidence of wrongdoing by Sink (or by any of the other two politicians, for that matter).
Former Assistant Attorney General Craig B. Willis was hired as a special advocate. He concluded that no state statutes had been violated, because there was no evidence of what he called "wrongful intent." The commission's investigation found that reimbursement guidelines for transporting family and attending campaign events had been met, and that Sink's use of the planes didn't constitute misuse of state resources.
Furthermore, Willis found that between July 2005 and June 2009, the term "aircraft" had been removed from a portion of a state statute that defined commuting for official state business. Willis noted that this left questions about whether the restrictions about commuting even applied to flying on the state planes. Ultimately, the complaint was dismissed.
While using state aircraft to commute between a politician's home and Tallahassee was normally not allowed, flying an official to a state function and back was allowed. The commission found 58 of Sink's approximately 250 flights on state planes started or ended at either Tampa International or Vandenberg airport (which changed its name to Tampa Executive Airport in 2009). She had paid for about 190 commercial flights home during the time span in question.
Sink said during the investigation that flying to one city for an official function with a stop at the official's home or other desired destination, either to pick her up or drop her off, was "common practice" among high-ranking officials. Sink's Chief of Staff Jim Cassady said her office considered the diverted flights acceptable if she had business in the destination city for pickup flights, or in the originating city for dropoff flights.
Mike McClure, manager of the Department of Management Services Bureau of Executive Aircraft Operations, told the commission that the difference in cost when diverting a flight in this way was minimal. A March 3, 2009, audit of the department by state Inspector General Steve Rumph found that DMS billing procedures were "adequate," but suggested the department clarify its policies and begin requiring officials to certify travel was for official business.
The audit also said that Sink, McCollum and Kottkamp had been taking trips that weren't obviously for business and that the practice should be ended. Rumph's audit noted the inconsistencies in the statutes that may have led to confusion about the use of the aircraft. This led to officials using the planes for trips without official business purposes.
The final version of the audit left out the inspector general's findings that the trio had spent some $51,000 for ''unnecessary legs during business trips,'' of which $27,200 was attributed to Sink. DMS spokeswoman Cathy Schroeder said that portion of the audit was removed because the agency "did not have any manpower to further investigate that."
When the commission asked Sink if she thought diverting flights to pick up her up or drop her off was an appropriate use of state resources -- even if it was common among top officials -- she answered, "Certainly it was, or else I wouldn't have been doing it."
Off to the Bahamas
So what about Sink's alleged trip to the Bahamas?
On March 7, 2008, Sink and two staff members flew from Tallahassee to Miami to see the Florida International University's Wall of Wind exhibit and to make a keynote address at the South Florida Hispanic Chamber of Commerce
When her official business was complete, Sink was entitled to a trip across the state to Tallahassee, but instead she diverted the plane to Fort Lauderdale. She was catching a Continental flight to Marsh Harbour in the Bahamas -- where her husband Bill McBride owned a condo -- for a short vacation. One staff member went with her to Fort Lauderdale, then flew back to Tallahassee. Sink paid for the Continental flight.
The diverted flight cost the state $248, according to the Department of Management Services. Because Sink and her staffer were aboard, Sink's pro-rated cost for the trip to Fort Lauderdale was assessed at $123.75 by the DMS, but since she was returning from state business, she wasn't charged. (For reference, a Super Shuttle shared van ride between airports is $45 and takes less than an hour; a nonstop van ride is $126 and a private, reserved car is $175.) There are no major commercial flights between the two airports, which are only about 25 miles apart.
The NRCC told PolitiFact Florida that the ad wasn't trying to accuse Sink of breaking any laws, only that she had squandered state resources by taking a state flight in order to catch a private flight to the Bahamas.
The ad's wording, which Sink has called "deceptive," is in fact somewhat misleading, as it could be interpreted as Sink taking a state plane all the way to the Bahamas. That would only be allowed if she were attending an official function there, not because she was going on vacation. In this case, she was diverting the state plane to an airport to get to a commercial flight, rather than Tallahassee.
The commission's public report, which was released in December 2009, found "no probable cause" that Sink had purposely violated any state laws in regard to the Bahamas episode. The report did recommend that the Legislature should probably amend the law to be more specific about how the planes should be used. In essence, the commission declared the law was too vague to definitively find any wrongdoing on Sink's part.
After Scott defeated Sink in 2010, the newly elected governor kept to a campaign promise and sold both planes, a 2003 Cessna Citation and a 2000 King Air. This put 11 pilots and support personnel out of work. Scott, a millionaire businessman, uses his own private jet to attend official functions.
Our ruling
The NRCC said in its ad that Sink "used a taxpayer-funded plane so she could get to a vacation in the Bahamas." It's true that she was headed to a vacation in the Bahamas, and it's also correct that she took a state plane to reach her flight from the mainland after finishing her official business in Miami.
What's not so obvious from the ad is that Sink was cleared of any violations of state law, and that her diversion of the flight headed back to Tallahassee was common practice at the time among senior officials.
Even if the flight took her only 25 miles, it still can be construed as Sink's using the plane to "get to a vacation in the Bahamas." However, we think most reasonable people would read this phrasing as suggesting that Sink took a state plane all the way to her island destination, which she did not.
On balance, we rate the claim Half True.
YouTube video, "Alex Sink Spent $400,000 of Taxpayer Money to Fly Around Florida in a Private Jet," Jan. 15, 2011
South Florida Sun-Sentinel, "Kottkamp complaint forwarded to ethics investigators," April 7, 2009
Tampa Bay Times/Miami Herald, "On the fly: Florida's Cabinet members rack up miles in state planes," June 25, 2009
Miami Herald Naked Politics blog, "Did Sink use the state plane to start her vacation travel?," June 25, 2009
Associated Press, "Plane's use is raising questions," June 25, 2009
Tampa Bay Times, "CFO Alex Sink to review her use of state plane," June 26, 2009
Tampa Bay Times, "Sink orders review of plane use as more details emerge," June 27, 2009
Tampa Bay Buzz blog, "Sink hires a lawyer and McCollum draws an ethics complaint," June 30, 2009
Tampa Bay Buzz blog, "Findings removed from final auditor's report on state plane use," June 30, 2009
Miami Herald, "Audit: Top Florida officials spent $51K on plane commutes," June 30, 2009, accessed via Nexis
Central Florida Politics, "State CFO Alex Sink reimburses state for use of plane," July 11, 2009
Florida Commission on Ethics, Complaint No. 09-088, June 29, 2009
Florida Commission on Ethics, Complaint No. 09-088 Report of Investigation, Oct. 19, 2009
Florida Commission on Ethics, Complaint No. 09-088 Special Advocate's Recommendation, Nov. 2, 2009
Florida Commission on Ethics, Complaint No. 09-088 Public Report, Dec. 9, 2009
Tampa Bay Times/Miami Herald, "Sink, McCollum scale back use of state airplanes," Nov. 17, 2009
Tampa Bay Times, "Panel dismisses ethics claims against Kottkamp, McCollum, Sink for use of state planes," Dec. 4, 2009
Tampa Bay Times, "McCollum, Sink plane complaints also dismissed," Dec. 4, 2009
PolitiFact Florida, "Rick Scott group goes after 'Air McCollum' in new TV ad," July 16, 2010
Tampa Bay Times, "Florida Gov. Rick Scott sells state planes, fulfilling campaign promise," Feb. 11, 2011
Interview with David Bergstein, Democratic Congressional Campaign Committee spokesman, Jan. 14-17, 2014
Interview with Kerrie Stillman, Florida Commission on Ethics spokeswoman, Jan. 16, 2014
Interview with Katie Prill, National Republican Congressional Committee spokeswoman, Jan. 16-17, 2014
Browse the Truth-O-Meter
More by Joshua Gillin
Support independent fact-checking.
Become a member!
In a world of wild talk and fake news, help us stand up for the facts.