Stand up for the facts!
Our only agenda is to publish the truth so you can be an informed participant in democracy.
We need your help.
I would like to contribute
"Property taxes have increased 20 percent under four years of Chris Christie."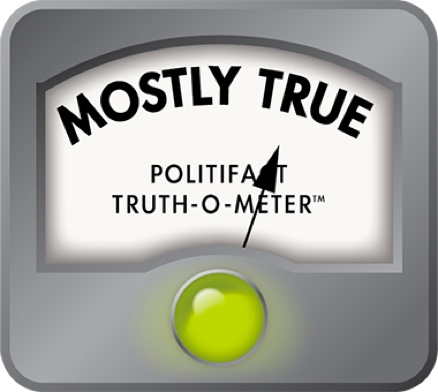 Milly Silva claims property taxes have climbed 20 percent under Chris Christie
Chris Christie can cite numerous accomplishments during his time as New Jersey's governor, but it's one achievement in particular that has caught Milly Silva's attention.
Silva, the lieutenant governor candidate on the Democratic slate challenging Christie in the Nov. 5 election, cited the Republican governor's 'achievement' on Oct. 7 while speaking at an American Legion in Little Ferry.
"Property taxes have increased 20 percent under four years of Chris Christie," Silva said.
That's some hike, and while Silva is correct that property taxes have gone up under Christie, it's not quite as much as she claims.
To begin, let's review how action in Trenton can impact property tax bills.
Although a governor is not directly responsible for increasing a community's property taxes, what he does to a state budget can impact what property owners pay.
In Christie's case, he has cut aid in numerous areas to help balance the state budget. As the governor has noted on numerous occasions, he came into office in 2010 and had to deal quickly with a multibillion-dollar deficit. The gap was the result of factors from steep drops in state revenue during the recession (December 2007 to June 2009) to spending by previous administrations, experts have told PolitiFact New Jersey.
To deal with the deficit, Christie cut education funding and numerous other line items in the budget, skipped a pension contribution and overhauled tax relief programs -- such as the Earned Income Tax Credit. Some New Jersey lawmakers -- including Assemblyman John McKeon, an Essex County Democrat -- have said the reduction in rebates led to a 20 percent increase in property taxes.
Officials with the state Department of Community Affairs have rejected the idea that property taxes have climbed 20 percent. In the case of the EITC, for example, taxpayers now get a credit directly on their tax bill instead of the old practice, when the state sent rebate checks to taxpayers. Still, the original purpose of that check was for tax relief.
Earlier this year the online news site NJ Spotlight released a study showing that the net property tax increase during Christie's first three years in office was approximately 18.5 percent. The net increase is the actual cost of property taxes for the average New Jerseyan after rebates are deducted.
Citing data from the state Department of Community Affairs, NJ Spotlight noted that net property taxes in New Jersey rose from $6,244 in 2009 to $7,405 in 2012. Other organizations have cited similar figures.
But a DCA spokeswoman told us that property taxes have not climbed 20 percent under Christie. She also pointed to the results of a cap the governor implemented in July 2010 that limits property tax growth to 2 percent annually, unless local voters approve exceeding the cap.
"Actually, average increases were less in the last three years than in the thirty years prior averaging approximately 2% each year and nothing close to 20%," spokeswoman Tammori Petty said in an e-mail. "Some communities even saw tax decreases depending on local leadership. These record low increases are far less than 20% real increase that did exist in previous administrations."
An Associated Press report last month reviewed DCA figures, tax levies and tax relief programs, finding that the actual property tax burden during Christie's first three years in office increased 13 percent -- not 20 percent.
The AP said it used records from 2006 to 2012 on statewide property tax levies and all the state's property tax relief programs to calculate the average net property tax bill. It also noted that some of the numbers used in the calculations came from 2012 estimates provided by the state Treasury Department rather than final numbers.
David Turner, spokesman for Buono's campaign, cited the NJ Spotlight report as well as a Star-Ledger editorial that agreed with the study's figures.
"It is undeniable that when property owners look at their bills they have seen a 20 percent increase under Governor Christie," Turner said in an e-mail. "His talk is cheap but tax policies are expensive for working and middle class families."
Kevin Roberts, spokesman for Christie's gubernatorial campaign, said Silva should instead review the fiscal actions of her running mate, noting that state Sen. Barbara Buono has voted for 154 tax and fee increases. The Truth-O-Meter in May rated that claim True.
Our ruling
Silva said, "Property taxes have increased 20 percent under four years of Chris Christie."
The state DCA points to Christie's property tax cap as reining in taxes during his tenure, without mentioning the impact of tax relief programs that have been reduced greatly in the past few years. But reduced or eliminated tax rebates means taxpayers generally have to pony up more money to pay their tax burdens. But a number of organizations have pointed to previous DCA figures showing a net property tax increase of nearly 20 percent.
An Associated Press report said the actual increase for the first three years of Christie's gubernatorial tenure has been 13 percent, considering a variety of factors -- including estimates, rather than final numbers, for 2012.
Given the disparity between NJ Spotlight's and the AP's figures, and factoring in past Truth-O-Meter fact-checks on this topic, it's clear the increase isn't as high as 20 percent, but it doesn't appear to be as low as 13 percent. Silva is right that property taxes have increased under Christie, but it's not as much as she said. As a result, we rate her claim Mostly True.
To comment on this story, go to NJ.com.
Editor's Note: This story has been updated to clarify that NJ Spotlight is an online news site and is not considered liberal-leaning. NJ Spotlight can be accessed at www.njspotlight.com.
Browse the Truth-O-Meter
More by Caryn Shinske
Support independent fact-checking.
Become a member!
In a world of wild talk and fake news, help us stand up for the facts.