Stand up for the facts!
Our only agenda is to publish the truth so you can be an informed participant in democracy.
We need your help.
I would like to contribute
Passage of a referendum on an aquarium for Clearwater means "NO future funding for our neighborhoods."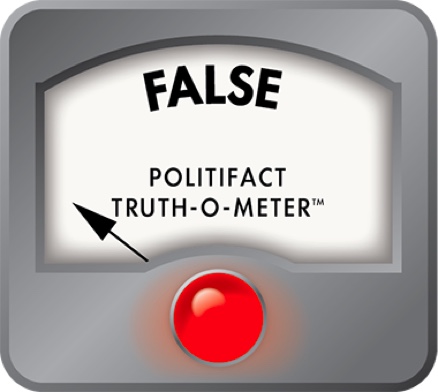 Aquarium referendum means no more money for neighborhoods, flier claims
On Tuesday, Clearwater voters will decide whether the city charter should be amended to allow officials to begin negotiations with the nonprofit Clearwater Marine Aquarium for a lease of city-owned property downtown where a $160.5 million aquarium could eventually be built.

Supporters and opponents have filled mail boxes with rival fliers touting the benefits or risks of the idea.

One recent flier paid for by the Friends of Clearwater political action committee, which opposes the aquarium idea, lists eight reasons to vote no.

One particular reason in the list caught our eye: "NO future funding for our neighborhoods."

PolitiFact Florida decided to fact-check the claim that if the referendum passes, there will be no future funding for Clearwater neighborhoods.

Officials we spoke with said the statement is false, and even opponents admit it is based on speculation.

"That's just a bizarre statement," said Howard Warshauer, a longtime activist and vice president of the Clearwater Neighborhoods Coalition. Warshauer opposes the aquarium plan, but said the mailer's cut-and-dried claim is inaccurate.

"Obviously, the city will go on funding neighborhoods," he said.

Clearwater Marine Aquarium officials have said they intend to ask for city funds from two sources if the plan to build the aquarium advances: the city parking fund and a portion of taxes raised in the downtown Community Redevelopment Area.

The city parking fund isn't typically used for neighborhood projects, which are things such as parks, recreation facilities, traffic calming and community policing. The city uses the parking fund for parking projects and Clearwater Beach lifeguards. The city is planning to use parking fund money to build a downtown parking garage — a project which presumably would benefit the downtown neighborhood.

What about the aquarium's potential use of property taxes raised in the downtown CRA? Would that mean "No future funding for our neighborhoods"?

The money the aquarium wants would come from the annual tax increment raised in the district. The tax increment is new tax revenue collected if property values rise after the date the district is established. This year, that was $1.7 million in the downtown Clearwater district.

CMA plans to ask the city for half of that increment revenue for 20 years, but would need the agreement of city and county officials.

By state law, that money can't be spent outside the boundaries of the district, which are roughly Drew Street on the north, the waterfront to the west, Chestnut Street to the south and Highland Avenue to the east. So Countryside, Island Estates, Sand Key, Morningside Estates or any other neighborhood outside the district wouldn't be eligible for that money anyway.

But Warshauer says a broader argument about the proposed aquarium's financial impact on neighborhoods has some validity.

"There is an unknown factor here. How much money is going to be spent on traffic impact if this aquarium is built and if it is successful?" Warshauer said.

CMA officials contend that a successful aquarium will increase property values downtown, therefore pouring more tax increment revenue into city coffers and helping to pay for any infrastructure improvements downtown necessitated by a successful tourist attraction.

Tina Wilson, the city's budget director, said the city has $1.8 million budgeted for street resurfacing citywide. If streets needed to be improved because so many people were drawn to the aquarium, the costs could be paid for out of the resurfacing fund, any available tax increment revenue, or a variety of other funds, including reserves, the Penny for Pinellas sales tax or the general fund. But the city hasn't discussed options yet, Wilson said.

No one, including referendum opponents, has a crystal ball to predict what the city will spend in future years for neighborhood projects or for downtown improvements.

But since the aquarium plan is to seek only half of the increment revenue, and only for 20 years, the remaining half of that revenue would theoretically remain available for projects benefitting the downtown neighborhood.

And use of those dollars downtown wouldn't hurt other neighborhoods in the city, since those dollars can't legally be spent elsewhere.

There is no proof that approval of Tuesday's referendum — which would only authorize the city to negotiate a lease and doesn't ensure construction of the aquarium — will mean no future funding for Clearwater neighborhoods. The opponents' statement is based on speculation, with no foundation in fact.

We rate it False.
Mailer from Friends of Clearwater, Inc., week of Oct. 21, 2013

Interview with Howard Warshauer, Clearwater Neighborhoods Coalition, Nov. 1, 2013

Interview with Tina Wilson, budget director, City of Clearwater, Nov. 1, 2013

Interview with Rod Irwin, assistant city manager, City of Clearwater, Oct. 30, 2013

Interview with Geri Lopez, director of economic development and housing, City of Clearwater, Oct. 30, 2013

Interview with Tom Petersen, Friends of Clearwater, Oct. 31, 2013

Interview with Frank Hibbard, Clearwater Marine Aquarium, Oct. 30, 2013

City of Clearwater Budget, accessed Oct. 31, 2013
Browse the Truth-O-Meter
More by Charlie Frago
Support independent fact-checking.
Become a member!
In a world of wild talk and fake news, help us stand up for the facts.