Get PolitiFact in your inbox.
I have the most Grammys of anyone my age, but I haven't won one against a white person.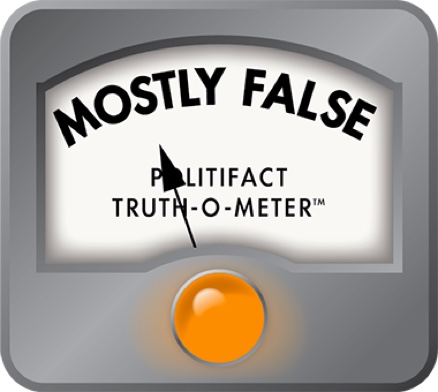 West hits sour notes in Grammy claim
PolitiFact Georgia typically limits its fact-checking to politicos and power brokers who make an impact on the political process.
But sometimes the worlds of politics and entertainment intersect. Such is the case for rapper-producer Kanye West, who just happens to have metro Atlanta connections.
West is one of the most recognizable and best-selling musicians around. But he has also had his share of  run-ins with the top rungs of the political class, including Republican and Democratic presidents.
He evoked the ire of President George W. Bush in 2005 by telling the country during a televised benefit concert in the aftermath of Hurricane Katrina that "George Bush doesn't care about black people." Bush later said that the suggestion was an "all-time low" of his presidency.
President Barack Obama called West a derogatory term after the rapper infamously interrupted singer Taylor Swift during her acceptance speech at the 2009 Video Music Awards. The president slammed West again in a follow-up interview. Just a couple of weeks ago, Obama criticized the over-the-top lifestyle of West and the entertainer's unmarried mother of his child, Kim Kardashian. Obama questioned the effect the West-Kardashian lifestyle would have on impressionable young people who view them as role models.
So we decided to check West's statement about his place in popular culture. (Visit our Facebook page and let us know what you think: www.facebook.com/politifact.georgia.)
About a week before the release of his album "Yeezus," The New York Times published an extensive interview with the Chicago rapper. During that interview while discussing his Grammy wins, West said, "I don't know if this is statistically right, but I'm assuming I have the most Grammys of anyone my age, but I haven't won one against a white person."
He continued: "But the thing is, I don't care about the Grammys; I just would like for the statistics to be more accurate."
West's claims about having the most golden gramophones piqued our interest, so we decided to run them through the AJC Truth-O-Meter.
West is a hometown boy. Although he claims Chicago as his home, the rapper was born in Atlanta before moving with his mother to the Windy City at age 3. His parents met and married in Atlanta, according to a  book by West's mother. His father, Ray West, was one of The Atlanta Journal-Constitution's earliest black photographers. The AJC recently compiled a slideshow of some of his photographs taken while working at the paper.
To check out Kanye West's claims, we first contacted his publicist, Gabe Tesoriero at Island Def Jam Music Group. Tesoriero asked what our story was about. We detailed the claims we were checking and the PolitiFact process. Tesoriero provided no further response.
The official Grammys website says the honors are awarded annually by the National Academy of Recording Arts and Sciences and recognize achievement in the music industry during the previous year. The first Grammy Awards were held in May 1959.
Slate Magazine also checked out West's claims. The online magazine found that he was partially accurate. At age 36 and with 21 Grammy wins (out of 53 nominations), West has the most awards for anyone his age, Slate said. But he has beaten out several white artists for the awards, including fellow rappers Eminem and the Beastie Boys.
We reviewed a list of Grammy statistics compiled by Wikipedia. Doing our own research, we counted each Grammy for artists ahead of West on the list of Grammy wins. We checked the artists' biographies to determine their 36th birthday to compare their wins by that age.
West's 21 wins ties him with composer and pianist John Williams for the eighth most Grammy wins. Our research found that singer-songwriter Alison Krauss (with 27 Grammys) appears to have tied West's 21 wins by age 36, according to official past winner information and biographical data we checked. (As a group, rock band U2 earned its 22 awards before 2012, when the band would have been together 36 years.) But other award winners with more Grammys ahead of West on the list -- including Quincy Jones and Stevie Wonder -- had not reached the 21-award mark by their 36th birthdays. The King of Pop, Michael Jackson, by the way, earned 12 Grammys by his 36th birthday.
As to whether West has ever beaten out any white artists, he has. For example, in 2005, West beat nominees including Eminem for best rap solo performance with "Gold Digger."
But all of West's Grammy wins have been in the rap and R&B categories, which are dominated by black artists. He has never won overall Grammys in categories such as Album of the Year and Record of the Year.
Multiple music critics have criticized the Grammys for overlooking West in these broad categories. Writers for Time and the Los Angeles Times cried foul when West's "My Beautiful Dark Twisted Fantasy" wasn't nominated for Album of the Year at the 54th Grammys. The Slate Magazine writer who also examined West's Grammy claims noted that "West believes that he has been shut out from the 'bigger' awards ... in part because he's black."
West's opinions about his Grammy standings are his own and not for Politifact Georgia to check.
But on the facts, West claimed he has won the most Grammys for anyone his age. One other individual artist, Alison Krauss, has tied this feat. On his claim that he's never beaten out a white artist for a Grammy, West is incorrect. He has beaten white artists in album and song categories.
We rate his claims Mostly False.
The New York Times, "Behind Kanye's Mask," Jon Caramanica, June 11, 2013
The Washington Post, "Kanye West's 'Yeezus' -- a darker, more twisted fantasy," Chris Richards, June 17, 2013
ABC News, "10 memorable quotes by Kanye West," Luchina Fisher, June 12, 2013
Grammy.com, Past Winners Search website
Slate, "Has Kanye won Grammys against white competitors?" Aisha Harris, June 12, 2013
Wikipedia, Grammy Award records
Clash review, Kanye West: Yeezus, "A dark journey through Kanye's sordid mind," Marcus J. Moore, June 20, 2013
Huffington Post, President Obama: "Kim Kardashian and Kanye West's wealth isn't a realistic mark of success," Aug. 7, 2013
NPR, "George Bush says Kanye West's attack was low point of his presidency, West agrees," Bill Chappell, Nov. 3, 2010
Huffington Post, President Obama on Kanye West, Nov. 14, 2009
Email, Gabe Tesoriero, West's publicist, June 24, 2013
"Raising Kanye: Life Lessons from the Mother of a Hip-Hop Superstar," Donda West with Karen Hunter, Pocket Books, 2007
The Atlanta Journal-Constitution, Photos: A look back at the work of AJC photographer Ray West
Time, "Grammys Fallout: The subtle snubbing of Kanye," Toure, Dec. 3, 2011
Los Angeles Times, "Critic's Notebook: Grammy Awards? Your granny's awards," Randall Roberts, Nov. 30, 2011
Browse the Truth-O-Meter
More by Janel Davis
Support independent fact-checking.
Become a member!
In a world of wild talk and fake news, help us stand up for the facts.