Stand up for the facts!
Our only agenda is to publish the truth so you can be an informed participant in democracy.
We need your help.
I would like to contribute
"Under Randi Shade," Austin has "had the highest cost of living of any large Texas city."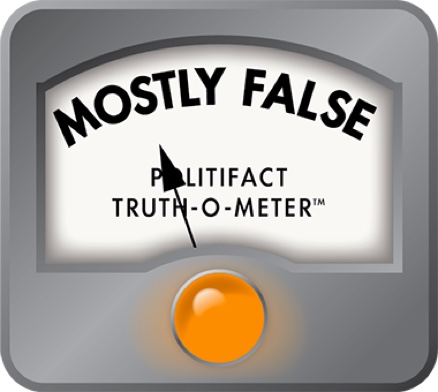 Political group says Austin has had highest cost of living among big Texas cities under City Council Member Randi Shade
A mailer that reached voters just before the June 18 Austin City Council runoff made pocketbook claims about the state capital, suggesting residents couldn't afford another three-year term for incumbent Randi Shade, who was then defeated by challenger Kathie Tovo.

Topping the leaflet's charges: Under Shade, who joined the council in 2008, "we have had the highest cost of living of any large Texas city."

Jeff Jack, chairman of the Better Austin Today political action committee, which sponsored the mailer, told us the No. 1 conclusion was based on information posted on the city-data.com website. He said Austin has lately had a cost-of-living index of 94.8 on a scale where the national average is 100. The Austin result, he said, exceeds the indexes on the site for Dallas, Houston, El Paso, Fort Worth, San Antonio, Corpus Christi, Arlington, Laredo and Plano.

"We were just trying to find a site that gives reasonable comparisons," Jack said.

And why is Shade at fault? Jack said there's blame to go around, but Shade's votes to build water treatment and biomass energy plants and have the city spend money on water and wastewater lines to the Formula One race track being built east of the airport helped keep costs high. So did her failure to support a city homestead exemption on property taxes, he said, or a remedy for reported under-valuation of commercial property for tax purposes.

"The leadership of the council with regard to fiscal responsibility has to start somewhere," Jack said.

We looked up his cited website. It showed Austin with a January 2011 cost-of-living index of 94.8, as Jack said. The next-highest big Texas cities were Dallas and Fort Worth, both at 94.4, followed by Arlington at 94.2. The least costly big Texas city was El Paso, at 83.2, according to the site.

Noting the site does not say how the indexes were reached, we emailed the site's administrators and didn't hear back.

Separately, we asked Austin's city demographer, Ryan Robinson, for guidance on the local cost of living. He referred us to the Greater Austin Chamber of Commerce, whose vice president of research, Beverly Kerr, told us many communities participate in regular surveys gauging the cost of living around the country.

Kerr was referring to a composite cost-of-living index managed by the Virginia-based Council for Community and Economic Research, a nonprofit. According to council information, the index "measures regional differences in the cost of consumer goods and services, excluding taxes and non-consumer expenditures, for professional and managerial households in the top income quintile" and is "based on more than 90,000 prices covering 60 different items for which prices are collected quarterly by chambers of commerce, economic development organizations, and university applied economic centers in each participating urban area." Finally, it's "based on six component categories – housing, utilities, grocery items, transportation, health care and miscellaneous goods and services."

Kerr forwarded the council's composite index results for Texas cities for the first three months of 2011 and its annual indexes for 2007 through 2010, a period covering Shade's council years and the year before.

On a scale where 100 is the national average, Austin's index was 93.4 in this year's first quarter. Two big Texas cities had higher indexes: Arlington (93.5) and Dallas (95.8). Similarly, in 2010, Austin had the third-highest cost of living index among the state's big cities, 95.5. San Antonio's index was 95.6, the one for Arlington was 99.3.

In 2009, though, Austin ranked No. 1 among the state's big cities, at 96.5. In 2008, it landed narrowly second with an index of 95.5 to San Antonio's 95.6. And in 2007, Austin led the state's big cities, at 94.5.

We sought out Dean Frutiger, project manager for the council's cost-of-living index, who noted that the most expensive city in Texas appears to be less costly than the national average. Austin's costs, he said, are "still way below the national average. What's the big deal?"
Then again, Frutiger said, it may be significant to any Texas comparisons that the index doesn't consider property taxes, which are a big deal in the state.

So we made a run at seeing how property taxes in Austin stack up compared to those in the state's other big cities.

The Texas state comptroller's office nudged us to its web page showing 2009 property tax rates for every government unit in every county. We combined the 2009 rates for Austin, the Austin school district and Travis County and compared that to similar combined rates in the big cities of Arlington, Dallas, El Paso, Fort Worth, Houston and San Antonio. Austin's combined rate of $2.044 came out the lowest of the seven cities; next-lowest was San Antonio's combined rate of $2.137 with the highest proving Fort Worth's $2.441.

Upshot: Austin's cost of living has consistently run ahead of most of the state's other big cities, but Austin wasn't No. 1 in the latest three-month period or 2010.

This statement includes another troubling facet. It's illogical to pin the relative cost of living on a one-term council member. In this instance, it would make just as much sense to say Shade personally drove down the cost of living.

We rate the statement Barely True.
Editor's note: This statement was rated Barely True when it was published. On July 27, 2011, we changed the name for the rating to Mostly False.
City-data.com, web pages, cost of living for larger Texas cities, Arlington; Austin; Corpus Christi; Dallas; El Paso; Fort Worth; Houston; Laredo; Lubbock; Plano; San Antonio (accessed June 22, 2011)

The Council for Community and Economic Research, summary tables, Texas city costs of living indexes for first quarter, 2011; 2010; 2009; 2008; and 2007 (received June 22, 2011)

Telephone interview, Dean Frutiger, project manager, cost-of-living index, Council for Community and Economic Research, Arlington, Virginia, June 22, 2011

Telephone interview, Jeff Jack, chairman, Better Austin Today political action committee, June 22, 2011

Texas State Comptroller's Office, web page, " Local Property Taxes 2009 Texas Property Tax Rates by County" (accessed June 23, 2011)
Browse the Truth-O-Meter
More by W. Gardner Selby
Support independent fact-checking.
Become a member!
In a world of wild talk and fake news, help us stand up for the facts.