Stand up for the facts!
Our only agenda is to publish the truth so you can be an informed participant in democracy.
We need your help.
I would like to contribute
Says that under City Council Member Randi Shade, Austin had the "highest city debt per person in Texas."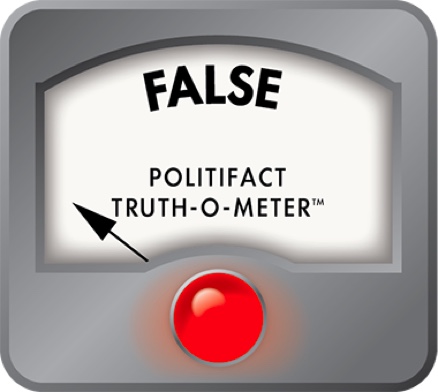 Austin group says that under Randi Shade, Austin has had the highest city debt per person in Texas
In a mailer backing Kathie Tovo over incumbent Austin City Council Member Randi Shade, the Better Austin Today political action committee recently said: "Under Randi Shade we have had ... the highest city debt per person in Texas."

Numero uno?

Jeff Jack, the group's chairman, told us the debt ranking traces to survey results posted online by the Texas Municipal League from asking cities to share their debt levels. Jack said that he added up each city's debt, listed on the survey, and divided that by each city's population to come up with per-person totals; Austin, he said, finished first, at $6,291 per person.

"There is quite a range when you start thinking about differences," Jack said.

We turned next to the league, whose executive director, Bennett Sandlin, initially cautioned the survey results "are solely the result of city self-reporting" and have not been verified.

At our request, the league took its survey results from 2008 through 2010 and calculated each responding city's per-capita debt. Counting three types of debt -- general obligation, certificates of obligation and revenue-backed -- Austin ranked 10th among Texas cities in 2008 and 2009, at $5,643 per resident and $5,787, respectively, and ninth in 2010, at $6,291, Jack's cited figure. Notably, much smaller cities showed greater per-person debt each of the years. In 2010, for instance, Johnson City and Galveston had more debt per person; the No. 1 per-person debt in the state appears to have been in Deport, which is 18 miles southeast of the East Texas city of Paris.

So, Austin finished in the top 10 among cities that answered the survey, and it was by far the highest-ranking big city. In 2008 and 2009, cities with greater overall debt per capita topped out in population with Granbury, home to about 8,000 residents. Galveston, higher ranked in 2010, had 57,500 residents to Austin's more than 750,000.

However, Sandlin cautioned against making city-to-city debt comparisons that fold in outstanding revenue bonds. "The reason is that, unlike general-obligation and certificates-of-obligation debt, revenue bonds are typically not payable by the citizens through property taxes, but rather by the users of city utilities, such as water or electric (services)," he wrote. "Many city utilities serve areas far larger than city limits, so those debts are being serviced by non-citizens and thus might not be a fair measure of how much debt the citizens bear."

In Austin's case, Austin Energy, the city-owned electric utility serving residents of Austin plus the rest of Travis County and a portion of Williamson County, has more than $1 billion in outstanding revenue-backed debt and the city's water utility, airport and convention center together account for more than $2 billion in revenue-supported debt, according to Art Alfaro, the city treasurer. Those debts, to rehash, are to be paid from revenue by the entities that issued them--and not from property tax dollars.

Alfaro said in an interview that any fair city-to-city debt comparisons should be limited to general-obligation debt, the only kind backed by property taxes. Austin's more than $800 million in this type of debt reflects bonds issued to build streets, libraries, parks and anything needed to run the city, he said, the vast majority approved by voters.

Removing Austin's revenue-backed debt changes its ranking considerably, the league's survey results show. By this gauge, Austin was 208th among responding cities, at $871 per resident, in 2008 and 120th in 2009 and 2010, at $1,213 and $1,258, respectively. Not counting revenue-backed debt, among larger cities, Lubbock and Richardson had greater per-capita debt in 2010 and Houston's per-capita debt was more than the debt for Austin in 2008 and 2009.

By email, Jack said not counting revenue-backed debt doesn't make sense: "If a business entity has a cost increase it passes that cost along to the consumer. In the same way revenue bonds, though not going through the (city's) general fund, increase the cost indirectly through higher utility rates, user fees and the like," Jack said. It "all adds up … it is the total cost that must be considered."

Separately, we asked Standard & Poor's, which bestows credit ratings to cities, how it would analyze the per-capita debts of Texas cities. Dallas-based analyst Horatio Aldrete said the firm puts Austin's "net debt"--less revenue-related debt but taking into account the general-obligation debts of overlapping jurisdictions such as Travis County and the Austin school district--at $3,664 per person. That's compared to $3,600 in Dallas, $3,611 in Fort Worth, $4,700 in San Antonio and $4,000 in Houston. Austin, Aldrete said, is "kind of middle of the pack."

Aldrete said it doesn't fold in revenue-related debts because those are absorbed by rate payers, not the city.

The firm's Austin report says it raised its rating of Austin's debt to "AAA" in 2008 "based on the likelihood that the city's employment base and fiscal policies should allow it to maintain its strong financial condition even during economic fluctuations such as the current recession."

Our take? Taking into account all debts linked to the city, including revenue-backed debt, Austin didn't rank first among Texas cities. And by a fairer comparison--focused on debts funded from property taxes--Austin landed way short of tops in Texas. Also, the statement's laying of responsibility for the debt ranking on a single council member is unsupported.

We rate the claim False.
Telephone interview, Horatio Aldrete, analytical manager, state and local government group, Standard & Poor's, Dallas, July 5, 2011

Telephone interview, Art Alfaro, treasurer, City of Austin, July 5, 2011

Telephone interview and email, Jeff Jack, chairman, Better Austin Today political action committee, June 22 and 29, 2011

Texas Municipal League, charts, all city debt per capita for 2008, 2009 and 2010 and city debt per capita excluding revenue debt for 2008, 2009 and 2010 and city d (received June 29 and July 1, 2011)
Browse the Truth-O-Meter
More by W. Gardner Selby
Support independent fact-checking.
Become a member!
In a world of wild talk and fake news, help us stand up for the facts.