Get PolitiFact in your inbox.
"Close to 30% of our federal prison population consists of illegal immigrants."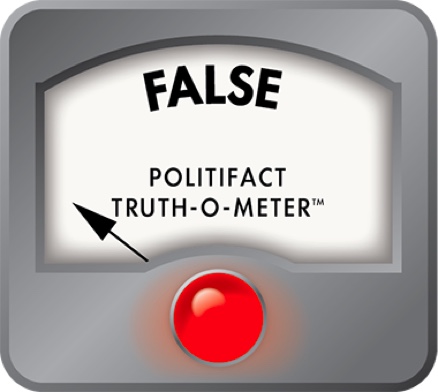 Congressional candidate Daniel Mielke says almost 30% of federal prisoners are illegal immigrants
When it comes to red-meat political issues, few subjects are redder than immigration, with each side playing to emotions with their arguments. The result: Short tempers and, well, some tall tales.

Republican Daniel Mielke, a candidate for the U.S. House seat now held by Dave Obey in Wisconsin's 7th District, entered the fray with a claim he posted on his campaign website that points to the impact of illegal immigrants on federal prisons.

The statement: "Close to 30% of our federal prison population consists of  illegal immigrants. We cannot continue to incarcerate criminals from other countries at the taxpayer's expense. We  must stop the tide of criminal importation. This alone would cut our prison costs by almost a third."

It costs about $6.2 billion a year to run the federal prison system, so that sounds like a pretty huge savings if it's true.

We decided to find out if it is.

We started with cut-costs-by-one-third aspect of the statement.

Even if the inmate population suddenly dropped, many fixed costs would remain -- electricity, staffing, maintenance. There would be savings, of course, but not necessarily at a one-to-one rate. When asked about his claim of cutting prison costs by a third, Mielke backed off.

Within a few days he added this qualifier to his website:

"Note: figures above are based on a cost per prisoner average.  Actual cost could vary, individually, depending on the circumstances such as health of individual, behavior of prisoner etc.  Also there is a set cost that would exist even if our prisons were empty."

But what about Mielke's main point -- that nearly 30 percent of the federal inmates should never have been in the country in the first place?

As his source, Mielke cites Lou Dobbs, the former CNN pundit known for his outspoken and passionate views on immigration. More precisely, we found, it was a reporter on the show Dobbs used to host.

On the April 1, 2006 broadcast of "Lou Dobbs Tonight," CNN reporter Christine Romans said: "According to the Federal Bureau of Prisons, 30 percent of federal prisoners are not U.S. citizens."

She went on to say, without attributing a source: "Most are thought to be illegal aliens."

That statement has been bouncing around the Internet ever since.

We went to the Federal  Bureau of Prisons to see if the reporter and, therefore, candidate Mielke were on target.

The bureau's website says that 73.4 percent of the federal inmates are U.S. citizens,  and that more than 26 percent are not citizens. That's just over a quarter of the inmates, within spitting distance to the nearly one-third claimed by Mielke.

But there's a catch here -- and it's a big one.

Non-citizen doesn't necessarily mean illegal immigrant, as many people receive visas or green cards to live and work in America. Presumably, some of these legal immigrants chose crime as their vocation. And the agency itself does not categorize inmates as legal citizens or illegal citizens.

"Can we make that leap that if they're of a different nationality  they are illegal immigrants?" spokeswoman Felicia Ponce said in an interview. "No."

Despite that, Mielke says the one-third figure remains correct, arguing legal aliens lose their right to visas or green cards as soon as they get convicted.   

Once again, he's in the ballpark. Just not the right seat.

The process of revoking green cards generally does not begin until after the convict completes his prison sentence, said attorney Grant Sovern, who heads the immigration practice at the law firm of Quarles & Brady and teaches immigration law at the University of Wisconsin Law School. Until that time the person is here legally, he said.

"If it's a felony, the visa is not revoked immediately, but you are deportable," Sovern said, adding the same is true if the person has a green card, or permanent residence status.

When the person completes his prison term, immigration officials decide whether to begin deportation proceedings, he said. In most cases, he said, they will seek to deport.

Gail Montenegro, a spokeswoman in the U.S. Immigration and Customs Enforcement's Chicago office, agreed, though she noted that immigrants on visas -- such as a work or student visa -- could be considered "out-of-status" when convicted of a crime. That means "the person is deportable and could be placed into deportation proceedings by ICE."

Mielke's statement, however, didn't leave room for legal immigrants who end up committing crimes, but said the percentage applied to immigrants who come here illegally and commit them. He described it as stopping the tide of "criminal importation."

So, in his statement did Mielke cross the border between fact  and fiction?

He took what was an easy-to-verify fact  -- the number of non-citizens who are guests of  Uncle Sam in the federal prison system -- to make a political point. But instead of going to the source, he relied on an unattributed comment on a political talk show. In doing so, he missed the correct figure by a little and missed some key nuances by a lot. We rate his comment False.
Mielke for Congress website

Transcript of "Lou Dobbs Tonight" show, April 1, 2006

Federal Bureau of Prisons website

Interviews with Grant Sovern, partner at Quarles & Brady law firm, Aug. 26, 2010

Interviews and e-mails with Gail Montenegro, an spokeswoman in U.S. Immigration and Customs Enforcement in Chicago, Aug. 26 and Aug. 30, 2010

Interviews with Ed Ross, Felicia Ponce and Traci Billingsley, spokespeople for the Federal Bureau of Prisons

Interviews and e-mails with Daniel Mielke, Republican candidate for Congress in the 7th District, Aug. 20 and 21, 2010
Browse the Truth-O-Meter
More by Cary Spivak
Support independent fact-checking.
Become a member!
In a world of wild talk and fake news, help us stand up for the facts.