Stand up for the facts!
Our only agenda is to publish the truth so you can be an informed participant in democracy.
We need your help.
I would like to contribute
"Pam Bondi told a group of lobbyists she'll side with corporate special interests as attorney general."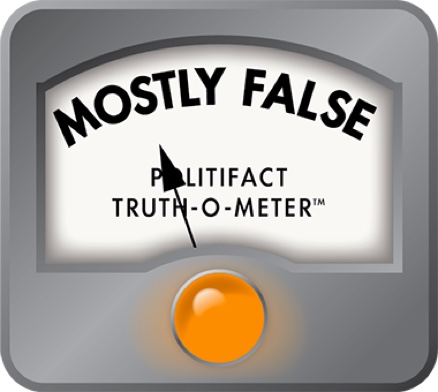 Dan Gelber claims Pam Bondi told lobbyists she'll side with corporate special interests
In the final month of this long election season, state attorney general candidate Dan Gelber starts his first general election TV ad entitled "Epidemic" by stating the obvious: "Public corruption -- it's an epidemic in Florida."  

Given the recent string of public corruption arrests throughout the state -- from school board members gone awry in Broward County to a Florida Department of Law Enforcement probe into Republican Party of Florida spending -- there's hardly an argument there.

But, as the 30-second commercial continues, Gelber makes the following claim against his Republican challenger: "Pam Bondi told a group of lobbyists she'll side with corporate special interests as attorney general. That's why they're funding her campaign."

He then goes on to tout his experience saying: "I'm Dan Gelber, as a federal prosecutor I helped put away corporate criminals, corrupt politicians and violent gangs. As attorney general I'll prosecute corruption and public fraud in a way my opponent never will. While she protects insiders, I'll take them on and protect what matters most."

The statement that Bondi "told a group of lobbyists she'll side with corporate special interests as attorney general" certainly sounded like quite a discussion, if it indeed took place. So we decided to take a closer look.

When we asked Gelber's campaign to lay out the case, spokesman Christian Ulvert responded with the following arguments.

First, the campaign argues that Bondi's comments at a fundraiser, where she sided with members of the Florida Chamber of Commerce and the Associated Industries of Florida (AIF) on the issue of union-backed card checks, establishes the fact that she a) spoke to lobbyists and b) expressed her support of and "passed the litmus test" on an issue important to the corporate community.

Second, Gelber's campaign contends that Bondi has aligned herself as being more supportive of business interests by using public appearances before groups like AIF to liken Gelber to former New York governor and attorney general Eliot Spitzer. While Spitzer was forced to resign from his governor's post following a sex scandal, as AG he aggressively went after insurance and financial firms, earning the name "the sheriff of Wall Street."

Gelber's argument, then, is that Bondi told business groups that she endorses a position they've taken and took aim at her opponent by saying he would act tough on business interests. Let's weigh those points.

Card check

On Aug. 19, 2010, Bondi attended a fundraiser held in her honor at the home of Florida Chamber of Commerce President Steve Halverson. The event, which raised $50,000 for her campaign was also co-hosted by Ericka Alba, head of Associated Industries of Florida, a group that lobbies before the state Legislature on business interests.

During the event, Bondi clarified her position on the union-backed issue of "card check," which is opposed by big business groups like the U.S. Chamber of Commerce. Bondi said she opposed card check -- an element of the Employee Free Choice Act, proposed federal legislation that would allow unions to organize in a workplace if 50 percent of employees sign a card in public. Currently, unions can attempt to organize only under federally supervised secret-ballot elections.

Still, it's been more than a year since the Employee Free Choice Act was introduced into Congress on March 10, 2009, by its key co-sponsor, the late Massachusetts Sen. Edward Kennedy, and it has yet to come before the Senate for a full vote.

Opponents of the so-called card check, such as the U.S. Chamber of Commerce, argue that by making the vote public, unions could strong-arm employees into checking "yes" for unionization.

"If there is any question in your mind, I am adamantly opposed to check card," Bondi told the group, as found on this Palm Beach Post video of the event. "Everyone in this room has known from day one that I am adamantly opposed to check card. So I misspoke and I just want to make any clarification there that I need to."

Bondi was attempting to clarify her position following a radio interview, given on Aug. 19, 2010, on WDBO-AM 580 in Central Florida,  where she seemed to tell host Tico Perez the opposite: "With the unions, I'm totally against the secret ballot... The votes have to be public. We have to have transparency to make sure everything is on the up and up. We have to protect our businesses in this economy more than ever."

Afterward, Halverson chimed in and further vouched for Bondi's position to those in the room.

"Obviously, card check is virtually a litmus test," Halverson said. "I can absolutely assure you that what Pam said -- that she's been opposed to card check from the very beginning. If anybody heard that or heard comments from her desperate opponent to the contrary, rest assured that isn't the case."

Gelber has said in the past that he supports the Employee Free Choice Act, such as this March 2009 appearance before the Florida AFL-CIO labor union.

Regardless of how the Employee Free Choice Act plays out on the federal level, it may have little bearing on Florida because it is a "right to work state" -- meaning someone hired for a job where the workers have unionized cannot be required to join a union or pay union dues.

Dan Gelber = Eliot Spitzer?

Gelber's campaign also argues that by trying to paint Gelber as a Spitzer-type AG, distancing herself from that model, Bondi is signaling to business lobbying groups like AIF that she would not be as aggressive in pursuing litigation against businesses. "The obvious and unmistakable context of her argument is that Dan Gelber would take them on and she wouldn't," Ulvert wrote in his e-mail.

"Unlike Mr. Gelber, I understand the difference between using the attorney general's office to responsibly protect consumers vs. attacking businesses as an activist AG in the mold of Eliot Spitzer," Bondi told the St. Petersburg Times in an Aug. 28, 2010, article.

The article goes on to note: "Bondi does call herself 'extremely pro-business.' She said Friday that's not incompatible with protecting consumers, but voters will decide that."

She used the Gelber and Spitzer comparison at a meet-and-greet event with the Florida Chamber of Commerce on Aug. 19, 2010, at their Tallahassee office.

"The more I hear about Dan Gelber, the more I learn, the last thing we need is an Eliot Spitzer-type attorney general," Bondi said at the Aug. 19, 2010, according to the St. Petersburg Times.

Gelber's campaign also points to a questionnaire filled out by Bondi, Lt. Gov. Jeff Kottcamp and Holly Benson, when the three were competing in the August Republican primary.

All three were asked by the Republican Club of Northwest St. John's County: "Can the AG's office sue to recover damages against negligent companies whose actions lead to similar disasters as the BP oil spill?"

While Benson and Kottcamp both wrote  "Yes" as their first response, Bondi's response was more roundabout.

"Proactive and voluntary action by the business or industry to responsibly correct errors and compensate victims without the state intervening is in the best interest of Florida's consumers," Bondi replied. "I would encourage the exploration of every possible option."

Still she adds: "However, if legal action becomes necessary because a crime against the state or citizens was committed, or a business did not live up to the corrective actions necessary to appropriately compensate or correct wrongs against our state and citizens, I would aggressively seek to resolve those issues in a court of law."

Bondi responds

Bondi's campaign has already issued a letter to several Florida TV stations airing Gelber's ad, asking that they stop running the ad and calling it "misleading" and "deceptive."

"He didn't express his opinion about Pam or her policies, but instead, chose to attribute to Pam a specific statement ('I'll side with corporate special interests as Attorney General') allegedly made to a specific audience ('told a group of lobbyists') with absolutely no proof," said Bondi campaign spokeswoman Kim Kirtley.

Our ruling

So back to the question. Did Bondi "tell a group of lobbyists that she'll side with corporate special interests?"

She describes herself as pro-business, and she did tell a group of lobbyists, business owners and fundraisers from AIF and the Florida Chamber of Commerce that she sided with their stance against public unionization votes. But that's only one issue. In fact, Gelber is also on the record on that issue, with the opposite stance. We don't think that means he'll always side with unions, and we think it's too great a leap to generalize that Bondi will always side with business interests. Therefore we rate the claim Barely True.
Editor's note: This statement was rated Barely True when it was published. On July 27, 2011, we changed the name for the rating to Mostly False.
You Tube, Dan Gelber campaign ad: "Epidemic", posted Oct. 8, 2010

Palm Beach Post, Post on Politics Blog: "Bondi talks about her Fox News pals, Sarah Palin and those controversial check card comments.", Aug. 19, 2010

You Tube, Palm Beach video: "Bondi on Sean Hannity, Greta and card check", Aug. 19, 2010.

St. Petersburg Times, The Buzz Blog: "Bondi already running against Gelber for AG", Aug. 19, 2010

St. Petersburg Times, " Florida Attorney General contest offers voters a vivid ideological choice ", Aug. 28, 2010

Associated Industries of Florida, Press Release: "Statement by Barney Bishop III, President & CEO, Regarding Pam Bondi, Republican Candidate for Attorney General," Sept. 22, 2010

The Republican Club of Northwest St. John's County, "Attorney General candidate questionnaire", posted Aug. 10, 2010.

National Right to Work Legal Defense Foundation, "Right to Work States: Florida"

The Library of Congress, Bill Text: "H.R. 1409 -Employee Free Choice Act", filed March 10, 2009

YouTube, Dan Gelber appearance before the Florida AFL-CIO Legislative Conference, March 18, 2009

E-mail inteview: Christian Ulvert, Dan Gelber campaign spokesman, Oct. 11, 2010

E-mail interview: Kim Kirtley, Pam Bondi campaign spokeswoman, Oct. 12, 2010
Browse the Truth-O-Meter
More by Laura Figueroa
Support independent fact-checking.
Become a member!
In a world of wild talk and fake news, help us stand up for the facts.