Stand up for the facts!
Our only agenda is to publish the truth so you can be an informed participant in democracy.
We need your help.
I would like to contribute
"We have SAT scores lower than that of Alabama."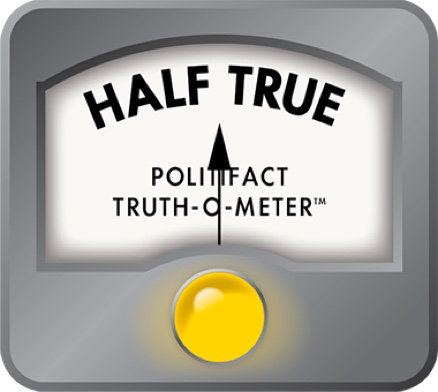 SAT scores: Oxendine's comparison not so smart
In a video on his campaign Web site, gubernatorial candidate John Oxendine makes the case that Georgia's education system has serious problems. His evidence: Our students are doing worse than those in ... Alabama.

This is what he said:

"As a parent of four children, three of them in school, I'm very concerned about our education system. We have SAT scores lower than that of Alabama, yet a dropout rate that's higher. We need to make some serious changes in how we address education."

Georgia? Even worse than Alabama? Ouch.

But is it true?

For this item, we'll examine whether he is correct about Alabama beating Georgia in SAT scores. A later item will deal with his claim on dropout rates.

Oxendine's campaign pointed us to the National Center for Education Statistics, which collects and publishes data for the U.S. Department of Education.

Sure enough, Alabama's mean SAT scores for 2009 are higher than Georgia's in all categories: critical reading, mathematics and writing. And the gap is large. Alabama's writing score is 549, 70 points above Georgia's. Its mathematics score beats Georgia's by 61; critical reading by 67.

But when we took a closer look at the numbers, we found that Oxendine's interpretation of Georgia's SAT scores is not as clear-cut as it seems. Only a small percentage of Alabama's students take the SAT compared with a much larger percentage in Georgia. For that reason and others, the College Board, the group that administers the SAT, strongly cautions against doing state comparisons.

"Not all students in a high school, school district or state take the SAT. Since the population of test-takers is self-selected, using aggregate SAT scores to compare or evaluate schools, districts, states or other educational units is not valid, and the College Board strongly discourages such uses," the College Board said in a statement to PolitiFact Georgia.

This warning and others like it are repeated on the College Board's Web pages, in its statewide reports, plus in its guidelines for interpreting scores.

When fewer students take the test, as in Alabama, the numbers get skewed because the test-takers are more likely to be the top students who are applying to the most selective schools. The introduction to each one of the College Board's state profile reports puts it this way:

"The most significant factor to consider in interpreting SAT scores for any group, or subgroup, of test-takers is the proportion of students taking the test. For example, if state data are being considered, it is appropriate to recognize that in some states there are lower participation rates. Typically, test-takers in these states have strong academic backgrounds and apply to the nation's most selective colleges and scholarship programs. For these states, it is expected that the SAT mean scores reported for students will be higher than the national average."

In Georgia during the 2008-2009 school year, 71 percent took the SAT. In Alabama, it was 7 percent. And indeed, Alabama's scores walloped Georgia's.

To get a different view of how the states compared, we decided to look at scores for the ACT, the college entrance exam that is more widely used in Alabama. According to 2009 figures, 76 percent of Alabama high school graduates took the ACTs, with an average composite score of 20.3. In Georgia, 40 percent took the test and scored an average of 20.6.

So on the ACT, Georgia beat Alabama.

And we got the same kids-don't-try-this-at-home warning from the ACT we got from the College Board: It's not smart to compare the scores of two states.

We took these facts to the Oxendine campaign, which said our examination misses its overall point that Georgia needs to make education a higher priority. Plus, the campaign argued, people such as business owners who look at Georgia's SAT scores will see them and worry that this state doesn't have a labor pool that is strong enough for its needs.

Whether Georgia needs to make education a higher priority is a matter of opinion. But we think people who hear his claim will wonder whether Georgia indeed has lower SAT scores than its neighbor. He's technically correct, but his claim ignores some important caveats. With so few students in Alabama taking the test, the results can be skewed and paint a misleading picture. Indeed, the ACT shows Georgia ahead of Alabama. So we find his claim Half True.
U.S. Department of Education, Institute of Education Sciences, National Center for Education Statistics, "SAT mean scores of college-bound seniors and percentage of graduates taking SAT, by state or jurisdiction: Selected years, 1987-88 through 2008-09," accessed May 20, 2010.
Interview, Stephen Puetz, campaign manager, Oxendine for Governor, May 20, 2010.

Interview, Wayne Camara, vice president for research and development, College Board, May 21, 2010.

Interview, Elizabeth Webb, director of innovative academic programs, Georgia Department of Education, May 21, 2010.

Interview, Becky Chambers, program manager, AP, PSAT, SAT & ACT testing, Georgia Department of Education, May 21, 2010.

E-mail interview, Christopher Swanson, vice president, research and development, Editorial Projects in Education, May 20, 2010.
Browse the Truth-O-Meter
More by Willoughby Mariano
Support independent fact-checking.
Become a member!
In a world of wild talk and fake news, help us stand up for the facts.