Stand up for the facts!
Our only agenda is to publish the truth so you can be an informed participant in democracy.
We need your help.
I would like to contribute
"Tim Pawlenty has cut education funding in Minnesota. Classrooms are overcrowded. Districts have gone to four-day school weeks."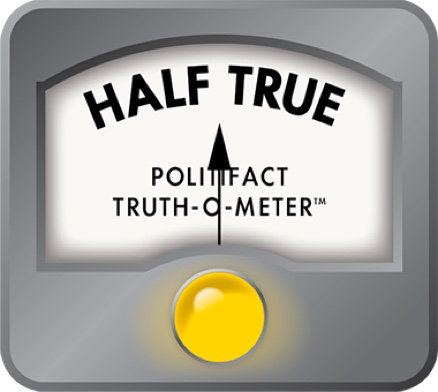 Mark Dayton says Gov. Tim Pawlenty cut education spending
Minnesota governor and potential Republican presidential candidate Tim Pawlenty's decision not to run for re-election this fall sparked a contentious gubernatorial battle in the North Star State. With the Aug. 10 primaries nearing, the candidates took their attacks to the airwaves.

Still facing opponents in his own party primary, Democratic-Farmer-Labor frontrunner Mark Dayton started swinging at Republicans in a television ad criticizing Pawlenty's education policies.

Behind sunny images of children in classrooms and on school buses, smiling or talking with Dayton, a voice intones, "Tim Pawlenty has cut education funding in Minnesota. Classrooms are overcrowded. Districts have gone to four-day school weeks."

A quick study of a Department of Education survey showed that Minnesota's elementary and secondary classrooms are more crowded than classrooms in at least two-thirds of other states. The state's average class size is also significantly larger than the national average.

It was also easy to verify Dayton's claim that school districts have gone to four-day weeks. At least 10 districts have had four-day schedules for at least a year, and another two are considering such a switch. Most superintendents cite a tighter state budget as the catalyst for the new schedule.

In the ad's most provocative claim, Dayton asserted that "Pawlenty cut funding by $1,300 a student."

The state's Price of Government report shows that the state budgeted just under $6.1 billion for schools in fiscal year 2003. In fiscal year 2011, the state has allocated more than $6.9 billion -- an apparent increase of almost a billion dollars. The Pawlenty administration's strict insistence on budget cuts makes that increase particularly noteworthy.

But don't close those schoolbooks just yet.

Dayton's campaign staff said his $1,300 figure came from research by Jeff Van Wychen, of the progressive think tank Minnesota 2020. We took a look at his calculations for ourselves.

When education expenditures are adjusted for inflation, as Van Wychen and experts say they should be, the dollars schools received in 2011 are worth less than the amount received in 2003.

Adjusted for inflation, Minnesota's 2003 school funding amounts to about $8 billion -- over $1 billion more than the $6.9 billion allocated for fiscal year 2011.

Divided by Minnesota Department of Education attendance figures, per-student funding fell $1,300 -- from $9,700 to $8,400 between 2003 and 2011.

An important caveat: Van Wychen's calculations use a figure called a "price deflator for state and local government purchases" to adjust for inflation. He argues that it is superior to the Consumer Price Index, a more commonly used adjustment index, because the CPI takes into account many goods that governments never buy, and Minnesota State Economist Thomas Stinson agrees. The price deflator for state and local purchases that he uses is legislatively codified as the appropriate measure of inflation for education funding in Minnesota, according to Dayton's office.

So Dayton's $1,300 figure is correct, when inflation is taken into account.

But Dayton's claim that Pawlenty cut education funding is misleading. In non-inflation-adjusted dollars, education funding increased -- though perhaps not quickly enough to keep up with the cost of education in Minnesota. While the schools' actual purchasing power decreased over those seven years, their budgets were not cut.

"You get into a lot of semantic games when you're talking about [budget] cuts and cuts in real spending power. While [Pawlenty's budget] is not a cut in spending, it is a cut in the level of service available," said Stinson.

In fact, in 2009 Pawlenty used stimulus funds to reverse initial budget cuts to K-12 education, and he unexpectedly promised to preserve education when he cut spending in nearly every other area in 2010.

All in all, the research backing Dayton up is solid -- although some might argue with the methodology. For those who believe that failure to keep up with inflation is a budget cut, Dayton's arguments are persuasive. But his allegation that Pawlenty cut education funding is complicated by the fact that actual dollars went up while Pawlenty was in office. We'll rate this one Half True.
MarkDayton.org, "Forged" TV ad, accessed July 20, 2010

Minnesota Management and Budget, May 2010 End of Legislative Session Price of Government, May 2010

Minnesota Department of Education, District/School ADM and LEP Projections, May 15, 2009

Minnesota Department of Education, Historical and Projected ADM by District, November 20, 2008

Minnesota Legislative Reference Library, Resources on Minnesota Issues: State Budget, December 2009

Minnesota 2020, Minnesota's School Investment Keeps Falling

Minnesota 2020, Taking the Spin out of Inflation Estimates

MinnPost.com, Daily Glean: Pawlenty to Indigents: No Hospitals for You!, March 18, 2009

MinnPost.com, Daily Glean: The budget and Tim Pawlenty, February 15, 2010

MinnPost.com, Minnesota's four-day school week is based on money, not education, January 28, 2010

Minnesota2020, Minnesota School Districts Using 4-Day School Week, June 21, 2010

Minnesota Public Radio News, Pawlenty uses stimulus money to reverse budget cuts, March 17, 2009

Department of Education National Center for Education Statistics, Schools and Staffing Survey Table Library, 2007-2008

Phone interview with Thomas Stinson, University of Minnesota Applied Economics Professor and Minnesota State Economist, July 28, 2010

Phone interview with Dane Smith, President of Growth and Justice, July 21, 2010

Email interview with Katharine Tinucci, Deputy Campaign Manager, Mark Dayton for a Better Minnesota, July 22, 2010

E-mail interview with Brian Klaas, Policy Director, Mark Dayton for a Better America, July 22, 2010

E-mail interview with Bruce Gordon, Director of Communications, Office of Governor Tim Pawlenty, July 22, 2010













Browse the Truth-O-Meter
More by Erin Mershon
Support independent fact-checking.
Become a member!
In a world of wild talk and fake news, help us stand up for the facts.