Stand up for the facts!
Our only agenda is to publish the truth so you can be an informed participant in democracy.
We need your help.
I would like to contribute
Fact-checking the third GOP presidential debate in Miami
MIAMI—Five Republicans seeking to oust President Joe Biden from the White House in 2024 sparred over the Israel-Hamas war, the threat from China and the U.S. approach to terrorism in the third presidential primary debate.
Former New Jersey Gov. Chris Christie, Florida Gov. Ron DeSantis, former South Carolina Gov. Nikki Haley, entrepreneur Vivek Ramaswamy and U.S. Sen. Tim Scott, R-S.C., gathered at the Adrienne Arsht Center for the Performing Arts of Miami-Dade County.
They repeatedly expressed support for Israel and denounced Hamas, while criticizing Biden for his administration's response. They also ventured into familiar stump topics, including how to secure the southern border, how to fight fentanyl flow and when to ban abortions. 
A half-hour's drive away, at a rally in Hialeah, Florida, former President Donald Trump painted a grave picture of America under Biden, attacking his policies on immigration, the economy and oil production. Trump proclaimed himself as the one to fix America — reprising his campaign slogan "Make America Great Again" — and as the only candidate who could prevent a potential World War III.
We checked more than 20 claims from the Miami debate.
Israel-Hamas war
Ron DeSantis: "We had Floridians that were over there after the attack. He (Biden) left them stranded; they couldn't get flights out. So I scrambled resources in Florida. I sent planes over to Israel and I brought back over 700 people to safety." 
This gives the misleading impression that the Biden administration failed to evacuate Americans, but that's not the case.
On Oct. 12, the Biden administration announced that the next day that the U.S. government would arrange charter flights to assist U.S. citizens and their immediate family members to depart Israel.
The federal government offered 6,900 seats by air, land, and sea  to Americans in Israel. Through Oct. 31, about 1,500 U.S. citizens and their family members had left Israel via federal government transport, a State Department spokesperson told PolitiFact. 
DeSantis signed an Oct. 12 executive order allowing the state of Florida to evacuate Americans from Israel. Approximately 700 Americans have flown from Israel to Florida on four flights, according to information reported Oct. 24 by DeSantis' office.
The Florida Division of Emergency Management told PolitiFact that the flights will cost about $32 million. The flights were free for passengers.
DeSantis: "There could have been more hostages" had Florida not sent planes to Israel to evacuate Americans. 
We can't rate a hypothetical, but this statement ignores the timeline of when hostages were taken.
Multiple media outlets reported that Hamas took about 240 hostages during the Oct. 7 attack on Israel.
Israel had secured towns in the area by Oct. 10.

On Oct. 12, DeSantis signed an executive order allowing Florida to evacuate Americans from Israel. The first flight offered by DeSantis landed in Tampa on Oct. 15.
DeSantis: "I already acted in Florida. We had a group Students for Justice of Palestine; they said they are common cause with Hamas, they said we're not just in solidarity, this is what we are. We deactivated them."
This doesn't tell the whole story. There were no Florida chapters of Students for Justice in Palestine that made public statements about aligning with Hamas.
The group's national body referred to Hamas' Oct. 7 attack on Israel as "the resistance" in an Oct. 12 toolkit that included advice campus chapters could use to host protests in support of Palestinians. In one section, the toolkit stated that "Palestinian students in exile are PART of this movement, not in solidarity with this movement." 
This language spurred DeSantis to close chapters on Florida campuses, citing a state law about "knowingly provid(ing) material support … to a designated foreign terrorist organization." This affected chapters at the University of Florida and the University of South Florida.

First Amendment and constitutional law experts expressed doubt about DeSantis' use of the law and said the anti-terrorism statute doesn't apply to speech.
Tim Scott: "I believe that we have sleeper terrorist cells in America. Thousands of people have come from Yemen, Iran, Syria and Iraq."
This needs context. 
U.S. Customs and Border Protection releases the number of times immigration officials encounter a known or suspected terrorist each fiscal year. But the government doesn't disclose the nationalities of the people apprehended.
Data about how many people from Yemen, Iran, Syria and Iraq have crossed U.S. borders under President Joe Biden's administration isn't available. 
In the fiscal year that ended Sept. 30, 2023, CBP encountered a person on the terrorist watchlist 591 times. The majority of those encounters occurred at ports of entry on the northern border.  People from this list who are encountered at the border can be denied entry into the United States.
Scott's comment came as he discussed southern border security. However, Alex Nowrasteh, vice president for economic and social policy studies at the libertarian Cato Institute, recently testified to Congress that his analysis of terrorist attacks in the U.S. from 1975 to 2022 showed that none of the people involved had crossed the southern border illegally.
DeSantis: "Not only is (Biden) not helping the Jewish students who are being persecuted. He is launching an initiative to combat so-called Islamophobia."
This is misleading. Biden has taken steps to combat both antisemitism and Islamophobia.
The Biden administration on Nov. 1 announced the U.S. National Strategy to Counter Islamophobia in the United States. The announcement followed the Oct. 14 killing of Wadea Al-Fayoume, a 6-year-old Palestinian American Muslim boy, and the attack on his mother in their home outside Chicago. Authorities said their landlord, indicted on murder charges in the case, targeted the family because of their Muslim faith.
Biden has denounced antisemitism multiple times during his presidency, including after Hamas attacked Israel.
In May, the Biden administration announced the U.S. National Strategy to Counter Antisemitism, which includes steps for federal officials to address the Jewish community's security needs.
On Nov. 7, U.S. Secretary of Education Miguel Cardona denounced Islamophobia and antisemitism on college campuses.
 
Russia-Ukraine war
Vivek Ramaswamy: "Do you want to use U.S. taxpayer money to fund the banning of Christians? That is actually what's happening. They're using the Ukrainian Orthodox Church. They have banned them. The Ukrainian parliament just did this last week, supported by our dollars."
This needs context.
In October, Ukraine's parliament took a step toward banning the Ukrainian Orthodox Church, though a ban has not been fully approved.
Ramaswamy glossed over that the church was targeted for a ban because of alleged links to Russia, which invaded Ukraine in February 2022.
Most Ukrainian Christians belong to a different entity, the Orthodox Church of Ukraine, which was formed by a 2018 merger of two churches that have no Russian ties. 
The Ukrainian Orthodox Church is the religious home of about 4% of the Ukrainian population, Reuters reported, citing data from the Kyiv International Institute of Sociology.
The Ukrainian Orthodox Church opposes the proposed ban, arguing that it severed ties to Russia after the invasion. But a government commission ruled the church is still canonically linked to Russia, Reuters reported.
Ramaswamy: "Joe Biden's son Hunter Biden got a $5 million bribe from Ukraine. That's why we're sending $200 billion back to that same country."
Bribery allegations against Hunter Biden are unsubstantiated. They stem from a 2020 form that FBI agents use to record unverified reporting from confidential human sources. An FBI official told the House Oversight Committee that allegations on the confidential reporting forms aren't verified. 
An unnamed informant said that Mykola Zlochevsky, an executive at Ukrainian energy company Burisma who was under investigation for money laundering and tax evasion, paid $5 million to both Joe Biden and Hunter Biden to persuade the elder Biden to advocate for the firing of Ukrainian prosecutor Viktor Shokin.
News stories said the Justice Department closed an investigation into the matter after reviewing the claims and finding them not credible. 
Devon Archer, who served on Burisma's board with Hunter Biden, denied the bribery allegations in August testimony before the House Oversight Committee.
Since Russia invaded Ukraine in February 2022, the U.S. Congress has allocated $113 billion for Ukraine. Citing the Ukrainian government, Fox News reported in February that the U.S. had provided $196 billion in total military, financial and humanitarian aid to Ukraine, but that number has been called into question.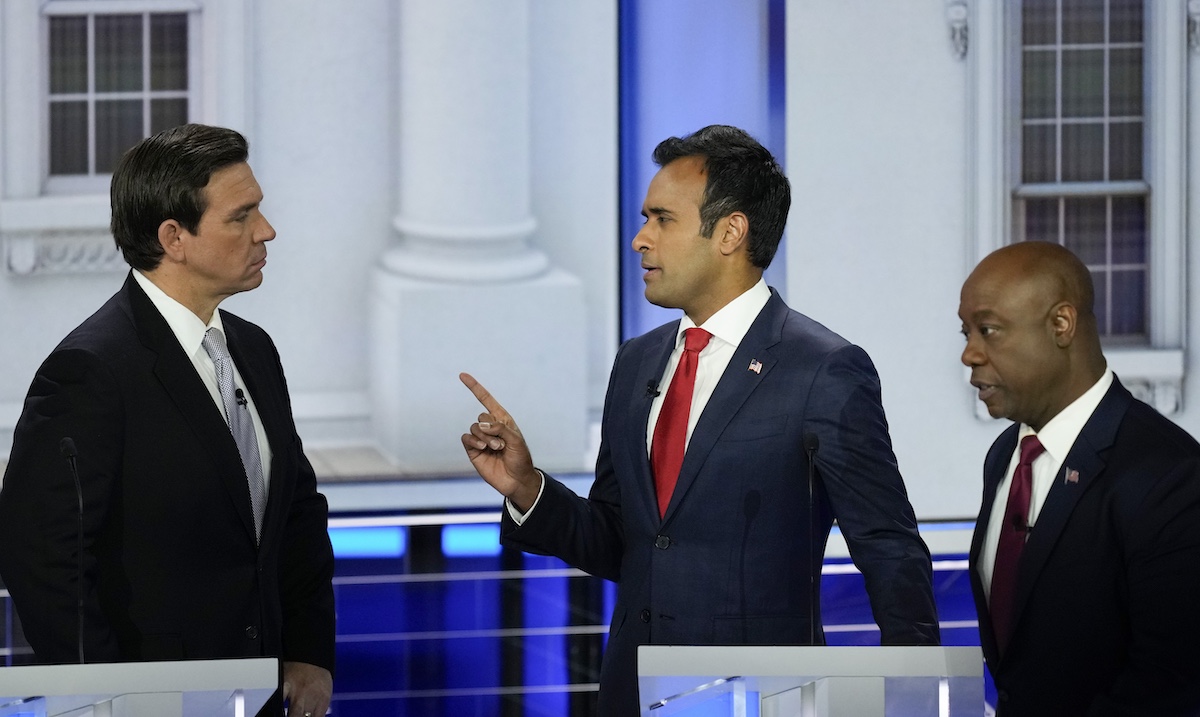 As businessman Vivek Ramaswamy and Florida Gov. Ron DeSantis talk, Sen. Tim Scott, R-S.C., listens during the Nov. 8, 2023, Republican presidential primary debate at the Adrienne Arsht Center for the Performing Arts of Miami-Dade County in Miami. (AP)
Environment
Nikki Haley: DeSantis "has opposed fracking. He's opposed drilling."
This is Half True as it relates to his record as governor.
During his 2018 gubernatorial run in Florida, Ron DeSantis promised on his campaign website to "work to ban fracking" in Florida and "fight to prevent oil drilling off Florida's coast."
In November 2018, Florida voters also approved a constitutional amendment to ban offshore drilling for oil and natural gas on lands beneath state waters.
As a presidential candidate, DeSantis has said he will honor Florida's ban, but is open to fracking elsewhere.
A decade ago, while serving in Congress, DeSantis voted in favor of bills to expand offshore drilling and to prohibit enforcing federal regulations on hydraulic fracturing. 
DeSantis: "I'm taking all the Biden regulations, the Green New Deal, ripping it up and throwing it in the trash can where it belongs." 
This is misleading. The Green New Deal — a congressional resolution that aims to reduce carbon dioxide emissions and take other steps to curb climate change — has not passed.
The Green New Deal was introduced in 2019 in both the House and the Senate and reintroduced in both chambers this year. But it didn't get far. It has been only referred to the appropriate committees in both chambers.
The resolution would be nonbinding and not legislation, even if passed.
Abortion
Ramaswamy: Ohio, "passed a constitutional amendment that now effectively codifies a right to abortion all the way up to the time of birth without parental consent."

This is a misrepresentation. On Nov. 7, Ohioans voted yes on a ballot measure that will guarantee "every individual has a right to make and carry out one's own reproduction decisions," enshrining the right to abortion in the state's constitution. The amendment allows for restrictions on abortion in pregnancy's later weeks after a fetus is viable, but requires exceptions for the mother's life and health — a standard similar to Roe v. Wade. 
Anti-abortion activists have argued that "health" left undefined could be interpreted to include a wide variety of issues including finances. We found that claim False. An expert told us this interpretation differs from how most people, including physicians, have understood the term.
About 1% of abortions take place after 21 weeks, U.S. Centers for Disease Control and Prevention data shows. The Ohio Department of Health reports similar numbers.
The amendment does not eliminate parental consent, as Ramaswamy said. Anti-abortion groups have argued that using the word "individual" in the bill could imperil parental consent because it does not distinguish between adults and minors. Legal analysis from the Ohio attorney general said defining "individual" would be left to the courts. 
Scott: "Three out of four Americans agree with a 15-week limit" on abortion.
Survey data varies on this question. 
A June 2023 poll sponsored by Susan B. Anthony Pro-Life America, an anti-abortion group, and conducted by the Tarrance Group, found that 77% of respondents said abortions should be prohibited at conception, after six weeks or after 15 weeks. But this poll was sponsored by a group with a position on the issue, and both questions told respondents that fetuses can feel pain at 15 weeks — an assertion that is not universal consensus among medical experts.
Independent polls varied on the question of an abortion ban after 15 weeks.
A July 2022 survey from Harvard University's Center for American Political Studies and the Harris Poll found that 23% of respondents said their state should ban abortion after 15 weeks, 12% said it should be banned at six weeks and 37% said it should be allowed only in cases of rape and incest. Collectively, that's 72% who supported a ban at 15 weeks or less.
In two subsequent polls, the support for abortion at 15 weeks or less was less strong. A September 2022 Economist/YouGov poll found that 39% of respondents supported a ban on abortions after 15 weeks, and 46% opposed it. And a June 2023 Associated Press-NORC poll found that for abortion up to 15 weeks, 51% of respondents said they would allow it, and 45% said they would ban it.
Scott: States like California, New York and Illinois "allow for abortions up until the day of birth."
This is misleading.
Reproductive health experts say this rhetoric gives the impression that abortions often happen this late in a pregnancy. But this is not so, even in states with liberal abortion laws.
In California, New York and Illinois, abortion is legal up until fetal viability, or at about 24 weeks of pregnancy. Abortion in these states is also legal when the mother's life is at risk.
The vast majority of abortions in the U.S., about 91%, occur in the first trimester. About 1% take place after 21 weeks, and less than 1% occur in the third trimester, according to the Centers for Disease Control and Prevention.
Fentanyl
Ramaswamy: "There was enough fentanyl that was captured just on the northern border last year to kill 3 million Americans."
This needs context. 
Toxicology experts have told us claims like this one assume that every American has the same chance of dying of a fentanyl overdose, which is not the case. Two milligrams of fentanyl is considered a lethal dose, but lethality is affected by a person's height and weight. To kill 3 million people would require around 13 pounds of fentanyl. 
At the northern border, officials seized 14 pounds of fentanyl in fiscal year 2022 and 2 pounds in fiscal year 2023, which ended in September.
The vast majority of fentanyl seizures happen at official ports of entry at the southern border.

DeSantis: "If someone in the drug cartels is sneaking fentanyl across the border when I'm president, that's gonna be the last thing they do. We're gonna shoot them stone-cold dead."
Experts told us DeSantis' proposal to send troops to the U.S.-Mexico border wouldn't lower fentanyl flow. And the use of deadly force against people trafficking fentanyl would likely violate domestic and international law.
Most fentanyl is seized at official ports of entry, while most migrants try to cross the border between official points of entry, CBP data shows. And in 2022, 89% of convicted fentanyl drug traffickers were U.S. citizens. 
Sending troops across the U.S. southern border without Mexico's consent would be considered an act of war, foreign policy experts told us, though they said it's unlikely the Mexican government would respond with force or declare war against the U.S. 
Immigration officials may use deadly force, but "only when necessary" in situations in which someone poses "imminent danger of serious bodily injury or death" to those officials or other people. And killing people over suspicions that they are carrying drugs would be considered an extrajudicial killing, an expert told us.
China's military power
Haley: "China has the largest naval fleet in the world. They have 350 ships, they'll have 400 ships in two years, we won't even have 350 ships in two decades."
Haley's numbers are about right, but comparing ship counts doesn't tell the full story.
The Pentagon's China Military Power Report for 2022 said that China's navy had about 340 warships and is expected to grow to 400 in the next two years. The U.S. fleet is smaller than 300 ships, with a goal of 350 by 2045, according to the U.S. Navy's Navigation Plan for 2022.
But, as we noted in 2012, ship counts sidestep other factors, including those ships' capabilities and advanced technologies the ships might deploy.
The nonpartisan Congressional Research Service has called ship counts "a one-dimensional measure."
The agency said ship counts "can shed some light" on the long-term trajectory of a naval force's size. But the group added that using ship numbers on their own to compare China and the U.S. "are highly problematic as a means of assessing relative U.S. and Chinese naval capabilities and how those capabilities compare to the missions assigned to the two navies."
DeSantis: Haley "welcomed" China into South Carolina, "gave them land near a military base (and) wrote the Chinese ambassador a love letter saying what a great friend they were." 
DeSantis's claims about the letter and the land are accurate. As South Carolina's governor, Haley recruited multiple Chinese companies to the state, including a fiberglass company China Jushi, which has connections to the Chinese Communist Party. 
China Jushi was given land in Richland County, about 5 miles from the U.S. Army's Fort Jackson training center.
According to the contract between China Jushi, and Richland County, the company would receive nearly 200 free acres of land as long as it made certain investments, including creating a certain number of jobs. If the obligations weren't met, China Jushi had to pay back part of the land's $4.9 million value.
Haley wrote to Chinese Ambassador Cui Tiankai in 2014 during her governorship, according to Fox News. Fox reported that the letter said, "We consider your country a friend and are grateful for your contributions on the economic front." 
Haley: A Chinese military plane manufacturer expanded two training sites at Florida airports, "one of which is 12 miles away from a naval base." 
This is accurate.
In 2022, Cirrus Aircraft — a subsidiary of China's Aviation Industry Corp. (AVIC) — opened two locations in Florida, one that was at the Orlando Executive Airport, around 12.7 miles from the Naval Air Warfare Center Training Systems Division. AVIC manufactures planes, fighter jets and helicopters for the Chinese military. Cirrus makes personal aircraft.
The state of Florida also had other contracts with Chinese companies through its former business-recruitment agency, Enterprise Florida, which DeSantis dissolved earlier this year. 
Never Back Down, the super PAC supporting DeSantis, told PolitiFact that Cirrus came to Florida "of their own accord" under an anonymous project name. The Washington Post Fact Checker reported that it found no evidence that DeSantis recruited the company or provided it with any state incentives.
Taxes and the economy
Scott: "When we cut taxes in 2017, I wrote the Tax Cuts and Jobs Act. Everybody said, 'Well, guess what? Revenue will go down.' Well, in 2018 … revenue went up by 3%, and the next year, it went up by another 3%."
This cherry-picks the data.
If you look at the sheer number of dollars collected, irrespective of inflation, the overall economy's size or other factors, tax revenue increased, but only by 0.4% from fiscal year 2017 to fiscal year 2018. It rose faster from 2018 to 2019, by 4%.
Another way to examine Scott's claim is by looking at tax revenues as a percentage of gross domestic product, a measure of all economic activity.
By this measure, tax revenue as a share of GDP declined 0.8% from 2017 to 2018. From 2018 to 2019, tax revenues remained flat at 16.4%.
Ramaswamy: Says he will implement a "75% head count reduction" among federal employees.
The claim that a president could unilaterally undertake sweeping federal layoffs is contested.
Ramaswamy has argued that he could circumvent laws prohibiting the firing of civil servants for political reasons by laying them off en masse instead of individually. The power to order layoffs rests with federal agency heads, so Ramaswamy has said he would appoint people prepared to undertake mass layoffs. He has said he plans to shutter entire federal agencies including the FBI, the Education Department, the Bureau of Alcohol, Tobacco, Firearms and Explosives and the Food and Nutrition Service.
Legal experts say that maintaining and eliminating federal agencies requires congressional approval. Congress could challenge Ramaswamy's argument in court on the grounds that it never authorized the president to make sweeping cuts, experts said.
Conservative Supreme Court justices, who comprise the current court's majority, have been wary of presidential powers that Congress has not clearly authorized.
Ramaswamy: "Prices are going up. Interest rates and mortgages to buy your home are going up. But wages have remained flat. That's the hard diagnosis for our economy."
This needs context.
Prices have surely risen, but not in a vacuum. Wages have risen too, just not as quickly as prices.
In the nearly two years since Biden became president, prices have increased by a little more than 17%. Wages have increased by a little less than 14% over the same period. 
That's an overall gap of 3%, or about 1.5% per year. The good news for consumers is that inflation has moderated in recent months, allowing wage growth to narrow that cumulative divide.
The picture looks better if you compare today with the time before the pandemic and with a year ago. For both of those periods, wages have risen faster than inflation.
PolitiFact Staff Writers Grace Abels, Louis Jacobson, Samatha Putterman, Jeff Cercone, Madison Czopek, Maria Ramirez Uribe, Amy Sherman, Aaron Sharockman, Sara Swann, Marta Campabadal Graus and Loreben Tuquero contributed to this report.
CORRECTIONS AND UPDATES, Nov. 9: We removed a feed about hate crime data that considered an incorrect time period. Also, we clarified that the Chinese company that manufactures military aircraft is the Aviation Industry Corp., not its subsidiary, Cirrus Aircraft. Cirrus specializes in manufacturing personal aviation. 
Browse the Truth-O-Meter
More by PolitiFact Staff