Stand up for the facts!
Our only agenda is to publish the truth so you can be an informed participant in democracy.
We need your help.
I would like to contribute
"Navy SEALs Save Missing Maui Children" who were padlocked in cages.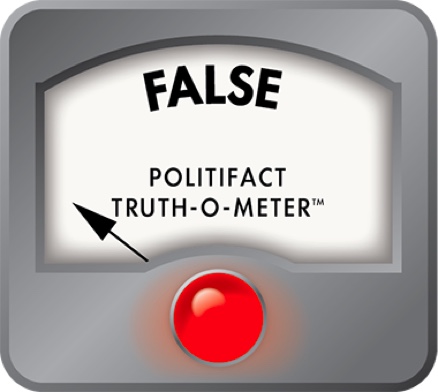 Story about Navy SEALs saving missing kids in Maui is fabricated
If Your Time is short
There is no credible evidence, such as news reports or statements from the U.S. Navy, that such a rescue took place.

The story was originally shared by a website known for fabricating news stories.

Only 31 people remain unaccounted for after the Maui wildfires.  

Learn more about PolitiFact's fact-checking process and rating system.
A band of U.S. Navy SEALs, a daring secret mission and a brave rescue – sounds like a great action movie plot, doesn't it? But online, this story is being shared as news.

"Navy SEALs Save Missing Maui Children" reads the Sept. 17 headline on Real Raw News, a website known for publishing fake stories. The article claims that on Sept. 14, Navy SEALs "found 15 missing Maui children imprisoned in padlocked cages." Screenshots of the article quickly began to gain steam on TikTok.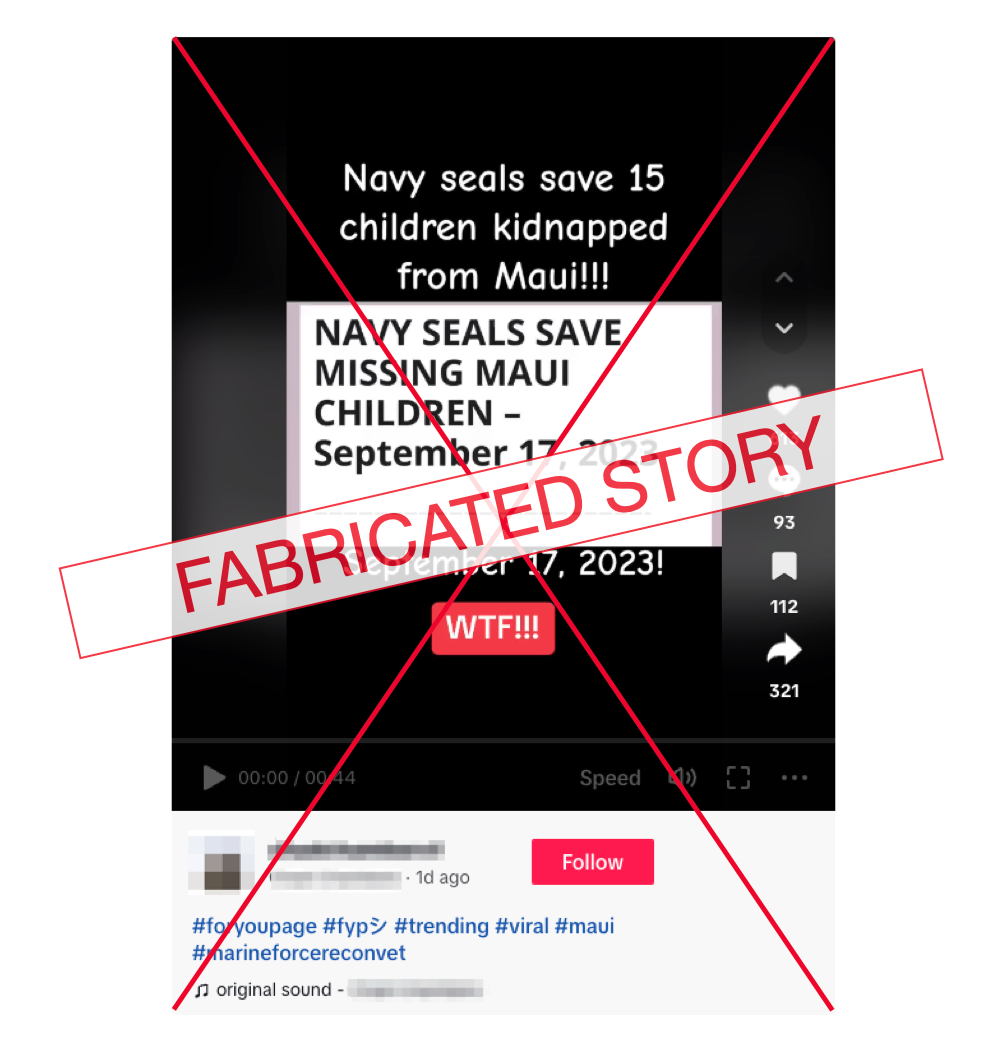 Screenshot of TikTok video
TikTok identified this video as part of its efforts to counter inauthentic, misleading or false content. (Read more about PolitiFact's partnership with TikTok.)
But PolitiFact found no evidence that such a rescue took place. There has been no credible reporting about it, and the U.S. Navy has released no public statements about such a rescue.

This viral claim is one of many that has spread across social media after a devastating Aug. 8 wildfire burned communities on the Hawaiian island of Maui. The official search for victims has ended, but cleanup of hazardous materials continues, NPR reported Sept. 4.
Many social media posts have falsely claimed that thousands of children in Maui have gone missing after the tragedy. But according to the Maui Police Department and FBI, as of Sept. 15, 31 people remain unaccounted for. Previously, when the count of missing people stood at 66, the list denoted only one who was "known to be a minor."
Claims of missing children often are rooted in the larger QAnon conspiracy theory, which posits that left-leaning people in power in business, government and entertainment are part of a secret cabal of pedophiles. The Real Raw News article refers to "adrenochrome harvesters," signaling its ties to QAnon and its theory that the cabal is harvesting the blood of children. It also uses the term "white hats," which is a QAnon reference to people trying to "thwart" the deep state, according to the Anti-Defamation League. 
The article itself, the text of which is featured in many of the TikTok videos, tells a detailed and dramatic story that includes hidden sources, mass graves, and 3 a.m. gunfights in a warehouse. 
"His comrade had bolted across the platform, his boots thudding like hooves, and had run directly into the SEAL commander, who had maneuvered in the darkness as if guided by some inner sonar, sending the location of his prey," the article says. In another illustrative line, the author wrote, "A sentry's head exploded like a tomato, the deep red of his brainy blood spattering everywhere." 
This is not Real Raw News' first fabricated story about the Maui fires. On Aug 24, PolitiFact debunked the site's viral claim that U.S. Marine Corps and Federal Emergency Management Agency employees were caught in a gunfight.

Although detailed and creative in its storytelling, there is no evidence that these events occurred. We rate the claim that Navy SEALs rescued 15 missing children from cages in Maui False.
PolitiFact, "Hangings, guillotines and Gitmo: Going behind Real Raw News' sensational (and fabricated) headlines," Sept. 24, 2021
PolitiFact, "Fabricated story fantasizes about Maui gunfight between U.S. Marine Corps and FEMA agents," Aug. 24, 2023
TikTok (archived), Sept. 18, 2023
TikTok (archived), Sept. 18, 2023
TikTok (archived), Sept. 18, 2023
TikTok (archived), Sept. 18, 2023
TikTok (archived), Sept. 18, 2023
TikTok (archived), Sept. 18, 2023
TikTok (archived), Sept. 17, 2023
PolitiFact, "No proof of Oprah Winfrey hiring a private firefighting team before Maui wildfires," Sept. 15, 2023
PolitiFact, "No evidence direct energy weapons caused Maui wildfires," Aug 18, 2023
PolitiFact, "Book is not proof Maui wildfires were planned," Aug 17, 2023
PolitiFact, "Maui police: No bodies have washed ashore on Lanai after wildfires," Aug. 28, 2023
PolitiFact, "No, the World Economic Forum did not say the Maui wildfires were orchestrated," Aug 22, 2023
PolitiFact, "True blue? No. Story about celebs' paint preferences is fake," Aug. 25, 2023
PolitiFact, "Claim that FEMA is burying Maui wildfire victims in a 'mass gravesite' started as satire," Aug. 30, 2023
PolitiFact, "Hawaii isn't home to tons of lithium, despite baseless claims linking wildfires and lithium access," Sept. 14, 2023
PolitiFact, "No, Hawaii fires weren't set intentionally to turn Maui into a 'smart island'," Aug. 14, 2023
NPR, "From Maui, an update on recovery efforts almost a month after the wildfire," Sept. 4, 2023
PolitiFact, "More than 60 people missing after Maui fires, not 1,000 children," Sept. 13, 2023
Lead Stories, "Fact Check: 2,000 Kids NOT Missing From Maui A Month After 2023 Wildfires -- School Enrollment Data ≠ Missing Persons Data," Sept. 11, 2023
Maui Nui Strong, "Maui Wildfire Unaccounted for," Sept. 15, 2023
PolitiFact, "Claims that Vladimir Putin destroyed an 'adrenochrome warehouse in Ukraine' lack evidence," Feb. 23, 2023
Real Raw News, "Navy SEALs Save Missing Maui Children," Sept. 17, 2023
Browse the Truth-O-Meter
More by Grace Abels
Support independent fact-checking.
Become a member!
In a world of wild talk and fake news, help us stand up for the facts.