Stand up for the facts!
Our only agenda is to publish the truth so you can be an informed participant in democracy.
We need your help.
I would like to contribute
A video shows Florida Gov. Ron DeSantis dropping out of the 2024 presidential race.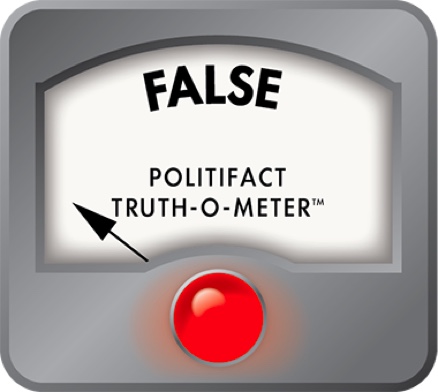 How a deepfake video of Ron DeSantis dropping out went viral
If Your Time is short
A deepfake video showing Florida Gov. Ron DeSantis dropping out of the 2024 presidential race was first shared by an X account that made it clear it was manipulated. But then another account shared the video without that same disclosure and said it was "breaking news."

Inconsistencies in the video signal it was manipulated, including lack of breathing sounds as he spoke; blurry teeth; and out-of-sync audio and video.
We've seen ads that support Florida Gov. Ron DeSantis for president employ artificial intelligence to malign DeSantis' opponents and boost DeSantis. But a recent anti-DeSantis video used AI to do the opposite.
"BREAKING NEWS: Governor Ron DeSantis drops out of the 2024 Republican presidential primary," proclaimed a Sept. 1 post on X, formerly Twitter, that showed a two-minute video in which DeSantis sat at a desk and appeared to announce he was terminating his campaign.
In the clip, DeSantis appeared to be saying, "After the last week's events, including my poor performance at the debate as well as President Trump rejoining X, I've realized I need to drop out of this race immediately."
The X account that posted the clip goes by "Steven Savage," a self-described digital creator. A day later, the account told its followers the video was "obviously a #DeepFake meme, and was created for entertainment purposes only. Laugh, retweet, and like! 👍" 
DeSantis spokesperson Bryan Griffin also confirmed to PolitiFact that the video is fake.
Experts say there were some telltale signs that would have tipped people off to the video's inauthenticity. But in an era in which deepfakes are gaining prominence in politics, it's worth identifying  those signs and explaining how such a video entered the political discussion.
Meme accounts created the deepfake
Deepfakes are machine-generated audio or video that alter faces, bodies or voices to make people appear to do or say things they never did or said.
It appears that the DeSantis deepfake video was originally posted Sept. 1 by the X account "C3PMeme" — a self-described "meme making droid" — with the caption, "What Ron DeSantis should say but won't ... #deepfake." 
What Ron DeSantis should say but won't... #deepfake

Collab w @Ramble_Rants & @LEAHmemes pic.twitter.com/gKvU3XQJC2

— C3PMeme (@C3PMeme) September 1, 2023
It tagged two accounts, Ramble_Rants and LEAHmemes, as collaborators. C3PMeme and Ramble_Rants have blue check marks. The marks previously proved that account owners were who they said they were. But today they are available only to X Premium subscribers who pay $8 per month, entitling them to display the check mark (or not) and receive other benefits such as higher post visibility and the ability to post longer videos and edit posts after publication.  X says it reviews subscriber applicants to ensure they don't have signs of inauthenticity, but critics have said the system doesn't do enough to discourage imposter accounts. 
C3PMeme and Ramble_Rants appear to be part of a network of accounts supported by the "Dilley Meme Team," owned by Counter Productions Digital Media, which lists "deepfakes & shallowfakes" among its services. Its site says, "From head swaps and CGI shallowfakes to elaborate Al infused deepfakes, no one will ever know the difference but us!" 
CGI stands for computer-generated imagery. Shallowfakes are doctored videos made with simple video editing software; deepfakes, by contrast, require artificial intelligence technology. 
The other tagged collaborator, LEAHmemes, is a private account with no followers. It seems to be a mistag of "itsreallyleah," another self-described meme account supported by the same digital media company. C3PMeme has tagged itsreallyleah in a past collaboration.
The three accounts posted the video around the same time Sept. 1 and collectively gained over 100,000 views. Only C3PMeme's post labeled it as a deepfake.
A YouTube channel with the same name, C3PMeme, also posted the video on the same day. Its caption said it was "a deepfake of what Ron DeSantis might say if he dropped out of the race (which he should)."
We also looked for the original source video, and a reverse-image search of the video's frames showed that it matched an Aug. 15 virtual press conference DeSantis held with local media in New England. 
During the briefing, DeSantis did not say anything about exiting the presidential race — a significant development that would have generated news headlines ahead of the 2024 elections. But there were no such credible news reports.
Signs of AI
University of California, Berkeley professor Hany Farid and University at Buffalo professor Siwei Lyu, who both teach computer science courses, told PolitiFact they concluded that the video is a deepfake. Farid said it combined an AI-generated voice and a stock video of DeSantis, with a mouth and lower jaw generated to match the new audio track. Lyu said the audio was likely created with a text-to-speech synthesis method.
Farid detected that the audio to video sync was misaligned in multiple places. Lyu pointed out that the voice lacks breathing sounds and that the teeth are "often blurry and inconsistent across frames." 
Farid and Lyu said creating this type of deepfake is "fairly easy." The tools needed to make such a video are available online, some low-cost or free. 
"It is fairly clear that this video was not explicitly intended to be deceptive: the YouTube channel clearly labels it as a fake. However, once this video is taken from YouTube (where it is clearly labeled) and starts making the rounds on Twitter/TikTok, etc. this disclosure may be lost," Farid said in an email. "I think we should be concerned about the rapid development of deepfake technology because it is going to make it more difficult for voters to reason about what candidates did and did not say."
As Farid predicted, the video spread on social media platforms, including Twitter and TikTok, without any label identifying its original context as a deepfake. These misrepresented videos gained thousands of views.
Our ruling
A video of DeSantis supposedly showed him announcing that he is dropping out of the presidential race. But it was originally posted by a meme account that labeled it as a "deepfake."
The source video is from an Aug. 15 press briefing, in which DeSantis doesn't mention dropping out of the race. We rate this claim False.
Tweet by Steven Savage (archived), Sept. 1, 2023
Tweet by C3PMeme (archived), Sept. 1, 2023
YouTube video by C3PMeme, Sept. 1, 2023
Email exchange with Bryan Griffin, spokesperson for DeSantis, Sept. 6, 2023
PolitiFact, A pro-Ron DeSantis ad used AI to create Donald Trump's voice. It won't be the last, experts say., July 18, 2023
PolitiFact, How improperly using AI could deter you from voting, or hurt your health, July 17, 2023
Axios, DeSantis PAC adds fake fighter jets to launch video, May 25, 2023
PolitiFact, How to detect deepfake videos like a fact-checker, April 19, 2023
X, About X Premium, accessed Sept. 6, 2023
Dilley Meme Team, "About" page, accessed Sept. 6, 2023
Dilley Meme Team, "Services" page, accessed Sept. 6, 2023
Tweet by Ramble_Rants, Sept. 1, 2023
Tweet by itsreallyleah, Sept. 1, 2023
Tweet by C3PMeme, May 18, 2023
Ron DeSantis' Rumble page, Virtual Press Conference with Local New England Media, accessed Sept. 6, 2023
Boston Herald, DeSantis passes on Trump criticism, blames 'weaponization' of justice for charges, Aug. 15, 2023
New Hampshire Journal, DeSantis Dismisses NH Poll Numbers: 'Voters Still Don't Know My Story', Aug. 15, 2023
TikTok post, Sept. 2, 2023
TikTok post, Sept. 2, 2023
TikTok post, Sept. 3, 2023
Email interview with Hany Farid, professor at the University of California, Berkeley, Sept. 5, 2023
Email interview with Siwei Lyu, professor at the University at Buffalo Department of Computer Science and Engineering, Sept. 5, 2023
Forbes, There Is Now A Deep Fake Video Of Ron DeSantis Dropping Out Of The 2024 Race, Sept. 2, 2023
Browse the Truth-O-Meter
More by Loreben Tuquero
Support independent fact-checking.
Become a member!
In a world of wild talk and fake news, help us stand up for the facts.