Get PolitiFact in your inbox.
On Nov. 7, 2023, Pennsylvania voting machines were "flipping votes," which is evidence of "election fraud."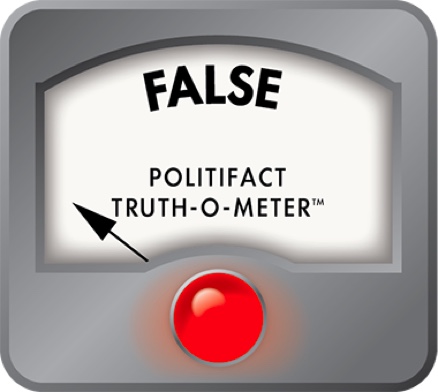 Pennsylvania voting machine error did not reveal 'election fraud'
If Your Time is short
A clerical error by a voting machine company caused votes in two judicial races to appear switched on printed ballot summaries that were produced after some Northampton County, Pennsylvania, voters cast ballots. Local officials said the machines recorded voters' choices accurately and all votes were tabulated properly.

A spokesperson for Election Systems & Software, the company that made the voting machines, said an employee made the programming error.

The Pennsylvania State Department said this error was isolated to the two judicial retention questions in Northampton County. Voters were informed of the issue before casting ballots.
An Election Day glitch in eastern Pennsylvania has some social media users declaring it evidence that the entire country's election system is corrupt.
Text on a Nov. 8 Instagram post read, "Are U.S. elections compromised?"
Below that, the post shared a screenshot of an X post from conservative commentator Benny Johnson that said, "Voting machines in Pennsylvania are now being shut down after reports of machines 'flipping votes.' And this is why Americans have lost all faith in our electoral process."
"Add this to the list of election fraud cases we've recently learned about," Johnson's post said.
(Screengrab from Instagram)
The Instagram post was flagged as part of Meta's efforts to combat false news and misinformation on its News Feed. (Read more about our partnership with Meta, which owns Facebook and Instagram.)
This post gives a misleading impression of what happened on Election Day in Pennsylvania.
Some voters in Northampton County, about 50 miles north of Philadelphia, reported seeing voting machines appear to switch their votes in two judicial races. But local voting rights advocates who reviewed the matter said they found no indication of election fraud.
Voters statewide were asked to decide whether two sitting Superior Court judges, Democrat Jack Panella and Republican Victor Stabile, should retain their positions for 10 more years. Voters could select "yes" or "no" for each candidate. Panella and Stabile were not running against each other; both were seeking an additional term.
However, Northampton County officials found that a voting machine programming error caused votes for the two judges to appear switched when voters' ballot choices were printed. For example, if a voter marked "yes" for Panella and "no" for Stabile, the printed summary read "no" for Panella and "yes" for Stabile.
Northampton County government officials said that despite this printer output error, their review of the matter found the voting machines' backend system recorded voters' choices accurately and all votes were tabulated properly.
"What you read (on paper) and what the computer reads are two different things. The computer does not read the text that is printed out," said Northampton County Administration Director Charles Dertinger, who oversees the elections division, during a Nov. 7 press conference.
Election Systems & Software, the company that made the ExpressXL voting machines, took responsibility for the error. Linda Bennett, the company's senior vice president of customer operations, said at the press conference that "a clerical labeling error that was made by an ES&S employee" caused the printed summary to show the wrong vote selection.
The county briefly took the voting machines offline Election Day morning when the issue arose. After obtaining a court order, the county was permitted to continue using the machines as long as voters were informed of the issue.
Pennsylvania's State Department said this issue affected only some voters in Northampton County, and only those two judicial seat questions. No other statewide races were affected, the department said.
As of Nov. 10, the state's unofficial election results show both Panella and Stabile retaining their Superior Court seats, each with a margin of hundreds of thousands of votes. About 60,000 votes were cast for these races in Northampton County.
Five local voting rights advocacy groups, including Common Cause Pennsylvania and the American Civil Liberties Union of Pennsylvania, called the incident "an unfortunate situation caused by human error," but said it did not amount to election fraud.
"This is a programming error that is being weaponized for disinformation purposes," Philip Hensley-Robin, executive director of Common Cause Pennsylvania, told PolitiFact.
The voting rights groups urged election officials to investigate the voting machine error and make changes to ensure similar mistakes do not occur in future elections.
We rate the claim that this instance of Pennsylvania voting machines "flipping votes" is evidence of "election fraud" False.
Instagram post, Nov. 8, 2023
X post, Nov. 7, 2023
Email interview with Dera Silvestre, Common Cause Pennsylvania spokesperson, Nov. 9, 2023
YouTube, "Northampton County Election Day Press Conference," Nov. 7, 2023
Pennsylvania Department of State, "Secretary of State Reports Smooth Election Day Across Commonwealth, With Limited Number of Isolated Issues," Nov. 7, 2023
Pennsylvania Department of State, "Unofficial 2023 election results," Nov. 10, 2023
Northampton County court order, Nov. 7, 2023
Verified Voting, "Voting Equipment Database – ES&S ExpressVote XL," accessed Nov. 10, 2023
The Associated Press, "Posts misrepresent voting machine error in Pennsylvania county as evidence of 'rigged' elections," Nov. 8, 2023
Browse the Truth-O-Meter
More by Sara Swann
Support independent fact-checking.
Become a member!
In a world of wild talk and fake news, help us stand up for the facts.