Stand up for the facts!
Our only agenda is to publish the truth so you can be an informed participant in democracy.
We need your help.
I would like to contribute
Video shows people collapsing because of COVID-19 vaccines.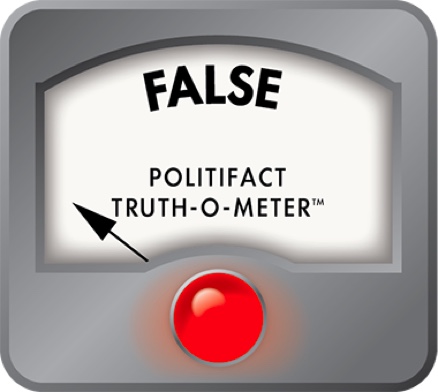 These on-air medical emergencies were not caused by COVID-19 vaccines, as video suggests
If Your Time is short
None of these incidents in which people on air experienced medical emergencies were linked to the COVID-19 vaccine. Two of the incidents predate the pandemic.
Conspiracy theorists continue to claim, without evidence, that the COVID-19 vaccine is causing widespread medical emergencies, from fainting to heart attacks, and even death.
An April 29 Instagram reel was deceptively edited to suggest more than a dozen people from around the world — many of them journalists and public figures — have collapsed and suffered injuries because of the Pfizer-BioNTech COVID-19 vaccine.
The reel shows 15 clips of people experiencing what appear to be medical emergencies. The scenes are interspersed with audio of U.S.-based broadcast news introductions. "Brought to you by Pfizer," several of the intros say. A Pfizer logo overlays video of people fainting.
This post was flagged as part of Meta's efforts to combat false news and misinformation on its News Feed. (Read more about our partnership with Meta, which owns Facebook and Instagram.)
PolitiFact conducted reverse-image searches to identify the people in each clip. None of the incidents in the video were caused by the COVID-19 vaccine; two of the clips predate the coronavirus pandemic.
The Instagram reel's first clip shows CBS Los Angeles meteorologist Alissa Carlson fainting live on air before she was to deliver a weather forecast March 18. Carlson is now fully recovered. Doctors determined she fainted because of vasovagal syncope, a condition that causes fainting spells when the body overreacts to certain triggers, often related to stress.
The next clip is of Canadian TV journalist Jessica Robb, who told a colleague during a Jan. 8 broadcast that she was not feeling well before appearing to lose her balance. Her employer, CTV Edmonton, released a statement on Robb's behalf, in which she said there was no cause for concern and "the situation was in no way related to the COVID-19 vaccine." 
In the third video, Brazilian anchor Rafael Silva is seen collapsing during a Jan. 3, 2022, "Alterosa Alerta" TV segment. Silva had received his third dose of the COVID-19 vaccine about a week before the incident but said that didn't cause his medical emergency. Silva was diagnosed after the incident with mitral annular disjunction, or a small malformation in the heart.
Another clip shows Austrian reporter Rosa Lyon suddenly falling backward during a Sept. 24, 2019, broadcast — before the coronavirus pandemic began and COVID-19 vaccines were developed.
Then, the video shows a clip of Danish health official Tanja Erichsen speaking at an April 14, 2021, press conference about the country's suspension of AstraZeneca COVID-19 vaccines when she fainted. The Associated Press reported that the event was not linked to the vaccine as she had not yet been vaccinated against COVID-19. PolitiFact also previously fact-checked this claim.
In the sixth video, Brazilian reporter Vanessa Medeiros fainted during a Nov. 2, 2022, news segment for TV Tribuna. She's seen putting a hand to her face before falling down. Shortly after the incident, Brazilian news outlet Globo g1 reported Medeiros was "conscious and doing well." Medeiros underwent a series of medical tests that did not detect any issues.
The seventh clip is of Tennessee nurse Tiffany Dover, who fainted shortly after receiving her first dose of the Pfizer-BioNTech COVID-19 vaccine on Dec. 17, 2020. Since the incident, conspiracy theorists have repeatedly claimed Dover died from the vaccine. But this is false; Dover is alive and well. Dover said she has an overactive vagal response, which causes her to pass out from even the slightest pain.
The next clip shows comedian Heather McDonald suddenly falling during a Feb. 5, 2022, show. PolitiFact previously fact-checked and found False the claim that this incident was linked to the COVID-19 vaccine. McDonald had been joking about how she hadn't gotten COVID-19 when she collapsed and suffered a skull fracture. Her husband, ​​Peter Dobias, said there was no medical connection between her fall and the vaccine.
In the ninth video, German reporter Clara Pfeffer faints during a Feb. 15, 2022, live broadcast of the NTV morning program "Frühstart." A network spokesperson said the incident was not connected to COVID-19 vaccines and that Pfeffer had hypoglycemia, or low blood sugar.
Then, the video shows a clip from a Jan. 13, 2022, broadcast of the Argentine news program Telenueve in which reporter Carlos Ferrara fainted near a COVID-19 testing center. Telenueve reported that Ferrara had suffered a heatstroke and doctors diagnosed him with high blood pressure and diabetes.
The 11th clip shows a person collapsing during a wedding ceremony. Although text below the video reads, "The Royal Wedding," the clip appears to come from a compilation video of people passing out at weddings. This video was posted in 2013, well before the COVID-19 pandemic.
In the 12th video, Buffalo Bills safety Damar Hamlin is seen experiencing a cardiac arrest and collapsing on the football field during a Jan. 2 National Football League game against the Cincinnati Bengals. PolitiFact previously reported that Hamlin's medical emergency had no connection to the COVID-19 vaccine. Doctors determined the incident was caused by commotio cordis, a rare event triggered by a blow to the chest.
The video's next clip was of another sporting event in which a player was injured. During a May 10, 2022, La Liga soccer match against Celta Vigo, Barcelona player Ronald Araújo collapsed after clashing heads with his teammate. Doctors determined Araújo suffered a concussion.
The 14th clip shows Eva-Maria Holzleitner, a member of the Austrian Parliament, fainting during an Oct. 12, 2021, parliamentary speech. Agence France-Presse reported that Holzleitner's collapse was not because of the COVID-19 vaccine and that she had recovered quickly.
The video's final clip shows sports announcer Bob Rathbun having a medical emergency during a live broadcast before a Dec. 5, 2022, Atlanta Hawks basketball game. This incident was not connected to the vaccine, and several medical tests also ruled out a heart attack, stroke and seizures. Rathbun recovered fully and returned to work two weeks after the incident.
Our ruling
An Instagram reel suggested numerous clips of people collapsing were caused by the COVID-19 vaccine.
PolitiFact verified the individuals in each clip, and none of the incidents were linked to the vaccine. Some of the clips predate the COVID-19 pandemic.
We rate this claim False.
PolitiFact Researcher Caryn Baird contributed to this report.
Instagram reel, April 29, 2023
Reverse image searches using Yandex, TinEye and Google Images
CBS News, "Vasovagal syncope caused meteorologist's on-air collapse. Here's what to know about it.," March 21, 2023
Mayo Clinic, "Vasovagal syncope - Symptoms and causes," March 2, 2023
Reuters, "Fact Check-Canadian TV reporter's on-air medical incident not linked to COVID-19 vaccines," Jan. 10, 2023
CTV Edmonton, tweet, Jan. 9, 2023
Reuters, "Fact Check-Brazilian anchor says his fainting on air was not caused by booster," Jan. 27, 2022
National Institutes of Health National Library of Medicine, "Mitral annular disjunction: A case series and review of the literature," Aug. 12, 2022
The Associated Press, "Video of Austrian reporter collapsing predates pandemic," Jan. 18, 2023
AFP, "A Danish health official who fainted at a press conference later said she was fine," April 22, 2021
The Associated Press, "Vaccine not related to Danish health official's collapse on camera," April 19, 2021
PolitiFact, "Videos of people 'dropping suddenly' aren't related to COVID-19 vaccines," Jan. 31, 2023
Globo g1, "Repórter da TV Tribuna desmaia ao vivo durante telejornal; jornalista passa bem," Nov. 2, 2022
Globo g1, "Repórter tranquiliza telespectadores após desmaiar ao vivo: 'apaguei'," Nov. 3, 2022
NBC News, "Conspiracy theorists made Tiffany Dover into an anti-vaccine icon. She's finally ready to talk about it.," April 10, 2023
PolitiFact, "There's still no evidence a Tennessee nurse who fainted after getting the vaccine is dead," Oct. 20, 2021
PolitiFact, "No evidence COVID-19 vaccine caused comedian Heather McDonald's fall," Feb. 9, 2022
Lead Stories, "Fact Check: COVID vaccine did NOT cause fainting spell for German TV reporter Clara Pfeffer," Feb. 18, 2022
The Associated Press, "Video of people collapsing on camera doesn't show vaccine reactions," Jan. 13, 2023
Telenueve, "El periodista Carlos Ferrara habló tras su descompensación al aire: "Mi prioridad es recuperarme"," Jan. 14, 2022
YouTube, "Ultimate people passing out at weddings compilation 2013," March 19, 2013
PolitiFact, "Damar Hamlin remains in hospital as anti-vaxxers speculate about his collapse," Jan. 4, 2023
American Heart Association, "What is commotio cordis, which NFL player Damar Hamlin says stopped his heart?," April 18, 2023
The Guardian, "Aubameyang scores twice but Araújo collapses in Barcelona's win over Celta," May 10, 2022
AFP, "Austrian MP targeted by 'vaccine death' hoax," Nov. 16, 2021
The Athletic, "Schultz: Hawks' Bob Rathbun can't wait to get back to work after health scare," Dec. 13, 2022
Sports Illustrated, "Hawks announcer Bob Rathbun returning to broadcast soon," Dec. 17, 2022
Browse the Truth-O-Meter
More by Sara Swann
Support independent fact-checking.
Become a member!
In a world of wild talk and fake news, help us stand up for the facts.