Stand up for the facts!
Our only agenda is to publish the truth so you can be an informed participant in democracy.
We need your help.
I would like to contribute
Wake County is the only large county in North Carolina that elects its commissioners at-large countywide.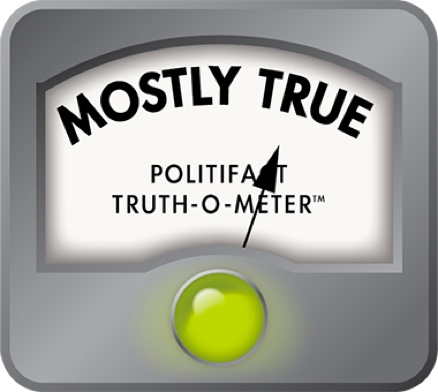 Wake's county commissioner races stand out in North Carolina
If Your Time is short
Wake candidates must reside in a district but are elected at large.
That method stands out among other North Carolina counties with more than 500,000 people.
Some of the 10 most-populous counties in North Carolina have even looser rules than Wake.
A North Carolina lawmaker says the state's most populous county elects local leaders in a unique and unfair way compared with other large counties.
State Rep. Erin Paré filed a bill to change the way voters elect members to the Wake County Board of Commissioners. The board has seven members who hail from different districts. But the representative for each district is voted on by all county voters — something Paré said she has a problem with. 
Residents from rural districts are having their commissioners picked by voters from more populated areas that often have different political goals and priorities, the Wake County Republican told PolitiFact North Carolina. 
Wake is "the only large county in N.C. that elects its commissioners at-large countywide," Paré said in a tweet posted Feb. 18.
Critics took issue with different parts of Paré's initial bill, which would have made the commissioner races nonpartisan and would have required commissioners to be elected only by voters of their district. Paré has since reached a compromise that would preserve her plan for districts, while adding two at-large seats keeping the elections partisan.
Bill aside, we wondered if Paré was right about Wake current commissioners' elections standing out. Her tweet is largely accurate but could use additional context.
Elections in big counties
Paré said she was referring to population, not landmass, when she was describing Wake as a "large" county. So, we reviewed election methods in some of North Carolina's most populated counties, relying on statistics from the North Carolina State Demographer and public information from each county. 
Let's take a look at how board of commissioners elections are conducted across the state, and how they compare to Wake County's method.
Largest counties in the state: Paré says that when she tweeted about the state's "large counties," she was comparing Wake to Mecklenburg and Guilford counties — which are the three most populous. Wake and Mecklenburg each have more than 1 million residents, while Guilford is the only other county with a population of more than 500,000. 
The Mecklenburg and Guilford boards have a combination of at-large seats and seats that are voted on by districts. Mecklenburg has six district seats and three at-large seats, while Guilford's board has eight district seats and an at-large seat.
Forsyth, Cumberland and Buncombe — the state's fourth-, fifth- and seventh-most populous counties — also have a mixture of district seats and at-large seats.
Counties with elections similar to Wake: About 20 of North Carolina's 100 counties elect county commissioners very similarly to Wake, according to the most recent information collected by the North Carolina Association of County Commissioners. In those counties, voters countywide elect commissioners who must reside in certain districts. This includes Gaston and Johnston counties, the ninth- and 12th-most populous in the state.
Counties with looser election rules than Wake: About 40 other counties have even looser restrictions. These counties have no districts at all. Candidates run county-wide and are voted on by all county voters. This method is used by Durham, Union and Cabarrus counties, the sixth-, eighth- and 10th-most populous counties in the state, respectively.
Counties where each commissioner is elected by their district: This is what Paré proposed for Wake earlier this year. About a dozen counties have boards composed entirely of commissioners elected by district voters — with no at-large members. 
Paré said it would be "a bit intellectually dishonest" to compare Wake with counties smaller than Guilford. They all have less than one-third of Wake's population. Wake, Mecklenburg and Guilford are also the only ones considered "large urban counties" by the National Association of Counties, which advocates for county governments. 
Our ruling
Wake County is, as Paré says, "the only large county in N.C. that elects its commissioners at-large countywide."
If we look only at North Carolina's three most-populous counties, as Paré did, she has a point. Mecklenburg and Guilford each have different election styles that do more to protect and promote the interests of voters in local districts.
If we expand that definition of "large" and look at the state's 10 most-populous counties, Paré's argument becomes a little weaker. Durham, Union and Cabarrus counties, which are the state's sixth-, eighth- and 10th-most populous counties — hold countywide elections and have no districts at all. 
Paré's statement is accurate but needs clarification or additional information. That's our definition of Mostly True.
Tweet by North Carolina State Rep. Erin Paré, R-Wake, on Feb. 18, 2023.
Email and telephone interviews with N.C. State Rep. Erin Paré.
North Carolina House Bill 99, filed Feb. 13, 2023.
WRAL, "Wake commissioners election bill advances in legislature despite objections," Feb. 21, 2023; "Deal reached to overhaul Wake County commission elections," March 7, 2023.
Certified county population estimates by the North Carolina Office of State
Budget and Management.
Webpages for the  Mecklenburg, Guilford, Forsyth, Cumberland, Buncombe, Gaston, Johnston,  Durham, Union, and Cabarrus counties.
Information on county commissioner election methods collected by the North Carolina Association of County Commissioners.
The National Association of Counties list of "large urban counties."
Browse the Truth-O-Meter
More by Paul Specht
Support independent fact-checking.
Become a member!
In a world of wild talk and fake news, help us stand up for the facts.