Stand up for the facts!
Our only agenda is to publish the truth so you can be an informed participant in democracy.
We need your help.
I would like to contribute
"The Biden administration is floating a new" climate strategy: Don't leave your house."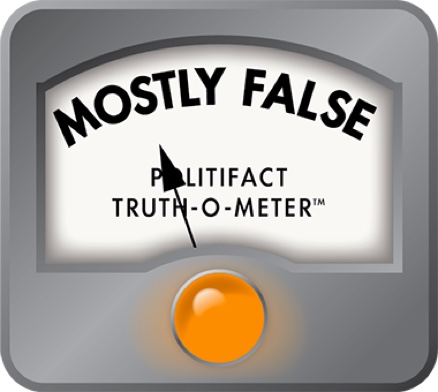 Joe Biden's climate plan backs public transit and telecommuting, but doesn't say 'stay home'
If Your Time is short
A Biden administration plan for reducing carbon emissions promotes the climate advantages of telecommuting and public transit. 

It also details a number of strategies that anticipate that people will and should continue to travel outside their homes, including ride-sharing and transit.

It does not tell people to stay home.
A news website that has a page devoted to criticizing Joe Biden's climate change policies recently mocked the president with a claim about a particular carbon-reducing tactic.
The Washington Free Beacon tweeted one of its headlines, which said: 
"Biden administration floats new strategy to 'address the climate crisis': Don't leave your house."
Biden has issued a broad plan to reduce carbon emissions that includes many ideas for reduced travel — including remote work — but this headline misleads by summarizing the plan's message as telling people to "stay home."
The article under the headline reported on "The U.S. National Blueprint for Transportation Decarbonization," a reform plan issued in January by four federal agencies, including the Environmental Protection Agency.
We reached out to the reporter who wrote the Free Beacon story. He told us it speaks for itself.
Plan is general, no mandates
The blueprint, which received scant mainstream press coverage, sets an agenda and vision. It includes no mandates, but promises "action plans." 
The EPA said the plan "exemplifies a whole-of-government approach to addressing the climate crisis" by cutting all greenhouse gas emissions from the transportation sector by 2050. 
The EPA said the plan's priorities are supporting land-use planning to reduce commuting, improving public transportation and transitioning to "zero-emission" vehicles. 
By focusing on those strategies, "we improve mobility options for all consumers," and enable people and businesses "to choose the options that work best for them," an Energy Department spokesperson told PolitiFact.
The Houston Chronicle, in oil-heavy Texas, said the plan "not only aims to make vehicles run cleaner but to move away from an automobile culture that has been at the center of American life for nearly three-quarters of a century."
The Hill reported that the plan outlines the Biden administration's agenda but stops short of guaranteeing that its goals will be achieved.
Plan doesn't say stay home
The Free Beacon highlighted portions of the 88-page plan that suggest ways to reduce commuting. Those parts of the plan said:
"Remote work and virtual interactions can provide a viable alternative to daily commute requirements for some people, as the COVID-19 pandemic demonstrated."

 "Telework and other components of a digital economy that allow consumers to access information and services remotely" can reduce travel.

"For most travel modes, total travel activity has already returned to near pre-pandemic levels," and that "the transportation implications of telework are not yet fully understood."
It's worth noting that more telecommuting isn't automatically better for the environment, because energy use from working at home also creates carbon emissions.
And the Biden plan also details other ways that transportation can become more efficient without simply staying home, as the claim suggests. These include transit, e-bikes, ride-sharing, using technology to link vehicle controls with infrastructure to improve traffic flow and equipping cars with automated driving systems.  
Our rating
The Free Beacon claimed that the Biden administration "is floating a new strategy to 'address the climate crisis': Don't leave your house." 
The headline contains an element of truth because the Biden administration has released a broad plan that calls for measures to reduce carbon emissions, including suggestions for remote work. But the headline ignores that the plan also details strategies that anticipate people will and should continue to travel outside their homes. These include suggestions for ride-sharing, and transit. The plan contains no mandates and does not tell people to stay home.
We rate this claim Mostly False.
Twitter, Washington Free Beacon tweet, Feb. 2, 2023 (archived)
Washington Free Beacon, "Biden Admin Floats New Strategy To 'Address the Climate Crisis': Don't Leave Your House," Feb. 2, 2023 (archived)
Energy Department, "The U.S. National Blueprint for Transportation Decarbonization," January 2023
Energy Department, "Biden-Harris Administration Releases First-Ever Blueprint to Decarbonize America's Transportation Sector," Jan. 10, 2023 
Environmental Protection Agency, "U.S. National Blueprint for Transportation Decarbonization," Feb. 28, 2023
Utility Dive, "Federal agencies share 'blueprint' for transportation decarbonization," Jan. 10, 2023
Car and Driver, "Feds Prefer EVs over Hydrogen for Future Cars in New 'Decarbonization' Blueprint," Jan. 14, 2023
CleanTechnica, "Parsing The National Blueprint For Transportation Decarbonization," Jan. 17, 2023
Email, Washington Free Beacon reporter Collin Anderson, March 6, 2023
Houston Chronicle, "Biden lays out strategy to decarbonize transportation," Jan. 10, 2023
The Hill, "Biden officials lay out road map for net-zero transportation by 2050," Jan. 10, 2023
Harvard Business Review, "Is Remote Work Actually Better for the Environment?", March 7, 2022
The Guardian, "Is remote working better for the environment? Not necessarily," Aug. 2, 2021
Email, Energy Department spokesperson, March 7, 2023
Browse the Truth-O-Meter
More by Tom Kertscher
Support independent fact-checking.
Become a member!
In a world of wild talk and fake news, help us stand up for the facts.