Stand up for the facts!
Our only agenda is to publish the truth so you can be an informed participant in democracy.
We need your help.
I would like to contribute
In 2020 the ballots that were counted "were fake ballots."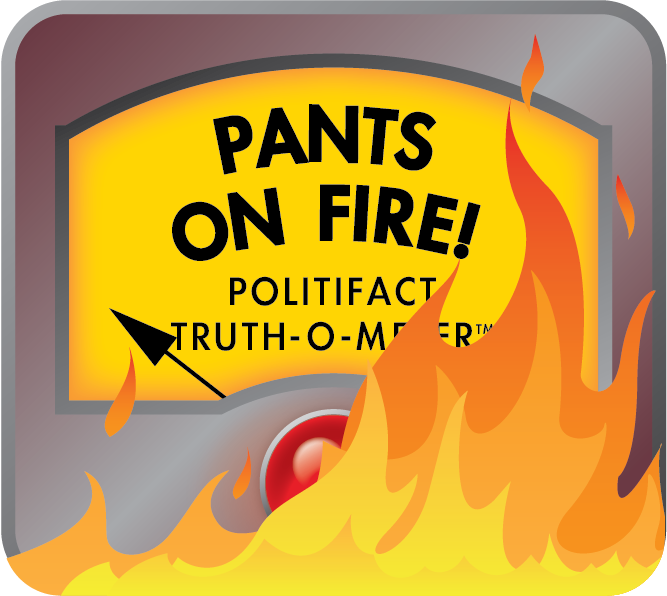 Fact-check: Trump's bogus claim on Fox News that ballots in 2020 were 'fake'
If Your Time is short
Fake ballots are extremely rare, and there is no sign they were used during the 2020 election. There are many security measures to ensure that eligible voters cast legitimate ballots.
 
Dozens of court rulings rejected allegations of mass voter fraud in 2020.
 
There are isolated instances of voter fraud in every election cycle, but audits show the cases detected in 2020 were not enough to change the election's outcome.
Former President Donald Trump is running for president on the myth that he won in 2020 – a falsehood disputed by Fox News' Bret Baier.
"First of all, I won in 2020 by a lot. OK?" Trump told Baier June 19. "Let's get that straight." 
"You lost the 2020 election," Baier responded, noting that Trump lost multiple court cases alleging fraud and there was no evidence of widespread corruption.
Trump was not swayed.
"They were counting ballots, not the authenticity of the ballot," Trump said. "The ballots were fake ballots."
Trump did not define "fake ballots," although he mentioned tapes of "people stuffing ballots" — a likely reference to "2,000 Mules," a film by Trump supporter Dinesh D'Souza about ballot drop boxes that was widely debunked. 
When we asked Trump's campaign about his assertion that there were "fake ballots," a spokesperson sent us a list of allegations about voter fraud, largely unproved or rejected by courts and election officials.
Election officials take multiple steps to ensure legitimate voters cast ballots
It would be possible to hear Trump's statement about "fake ballots" and assume he meant counterfeit ballots. Such examples are rare, even if we go far back in time. 
Fraud was rampant in the 1876 presidential election between Republican Rutherford B. Hayes and Democrat Samuel J. Tilden. Democrats tried to distribute ballots with the Republican emblem displayed over the names of Democratic candidates. On the Republican side, someone devised "little joker" ballots — tiny Republican tickets inside a regular ballot, History Today wrote. Those "little joker" ballots were smuggled into a ballot box in a Leon County, Florida, precinct. 
During Kentucky's 1948 U.S. Senate election, Edward Prichard Jr., the former Democratic National Committee general counsel, stuffed fake ballots into a ballot box.
In October 2022, election officials found one fake ballot at a voting site in Spalding County, Georgia. The ballot did not appear to be on the standard security paper, which can be authenticated by running a special wand over it.
Nationwide, election officials take numerous steps to ensure eligible voters cast legitimate ballots. 
Every ballot that is inserted into a polling place scanner is done so by a voter who was verified as eligible to vote. Poll workers and official observers watch over voter check-ins and the ballot box, said Jennifer Morrell, a former Colorado and Utah elections official and CEO of The Elections Group, which consults on election administration. 
"The validation process for voters, equipment audits, and system controls are all designed to make sure only ballots from eligible voters are counted," Morrell said.
Election officials follow laws that ensure mail ballot security. The U.S. Postal Service has provided an election mail logo that helps identify official ballots.
Nick Custodio, a city of Philadelphia spokesperson, walked us through how tough it would be to cast fake ballots. When voting in person, the machine makes a noise during two steps of the process and an indicator light goes off, signaling one ballot has been submitted. Poll workers would notice if someone tried to submit multiple ballots.
Mail ballot requests, meanwhile, are assigned unique correspondence ID numbers, which appear on their return mail ballot envelopes. When a completed mail ballot arrives at the processing center, a sorting machine separates out any ballots with unrecognized codes.
A mass submission of fake ballots would involve hacking of multiple election systems.
"You are talking about a large number of people all working together," he said. "This kind of vast conspiracy doesn't actually exist.
Trump campaign's weak and false evidence
The Trump campaign emailed us a long list of allegations about voter fraud, but these allegations have largely been debunked by courts, election officials and journalists. None of their allegations prove that there were "fake ballots" counted.
For example, the Trump campaign said that the 2020 election included "millions of ballots that were trafficked through an illegal ballot harvesting ring" to drop boxes. 
That's a reference to D'Souza's "2,000 Mules" documentary, which relied on research by the conservative group True the Vote. The 2022 film alleged massive voter fraud involving ballot drop boxes and cellphone location data, based on several hundred phones passing by drop boxes. 
Bill Barr, a former attorney general under Trump, told lawmakers the data revealed nothing.
"If you take 2 million cellphones and figure out where they are physically in a big city like Atlanta or wherever, just by definition, you will find many hundreds of them have passed by and spent time in the vicinity of these boxes," Barr said. 
Georgia election officials also said that the cellphone data was not evidence of a crime. Georgia state law enforcement in 2021 said there was not enough evidence to pursue claims by True the Vote about drop boxes. The State Election Board in May 2022 voted to dismiss three complaints pertaining to allegations of unlawful ballot harvesting in Gwinnett County ballot drop boxes.
Litigation continues in one case. A Georgia appeals court in May revived a case in which an outside group sought review of Fulton County absentee ballots. The group's allegations draw from affidavits signed by poll workers or observers and contain speculative statements.
In Wisconsin, the Trump campaign cited several allegations, but none proved fake ballots were counted. For example, 44,272 people voted absentee without showing voter ID — but that's allowed under state law for voters who are indefinitely confined. The Wisconsin Supreme Court ruled in 2022 that most ballot drop boxes aren't allowed anywhere other than election clerk offices, but that doesn't mean voters submitted fake ballots.
In Arizona, the Trump campaign pointed to the 2021 audit of ballots in Maricopa County. But that audit confirmed that Biden won. Fact-checkers have debunked multiple falsehoods alleging that the audit revealed massive amounts of fraudulent votes.
There are scattered examples of voter fraud in every election cycle. But these are often lone actor types, submitting a mail ballot in a dead relative's name. There is no evidence that these cases of voter fraud would have changed the election's outcome. 
PolitiFact has repeatedly debunked statements by Trump that the election was rigged, stolen or illegitimate.
Our ruling
Trump said in 2020 the ballots that were counted "were fake ballots." 
Trump didn't explain his definition of "fake ballots" on Fox News, although he nodded to a right-wing filmmaker's documentary that allegest drop box fraud. That film was widely debunked, including by Trump's former attorney general.
The election was legitimate, as affirmed by state election officials, including Republicans. Multiple judges, including Republican appointees, also have reached the same conclusion. 
We rate this statement Pants on Fire!
PolitiFact researcher Caryn Baird contributed to this fact-check.
RELATED: Ask PolitiFact: What steps do election officials take to prevent fraud?
RELATED: The facts of a fair US election have only gotten stronger since Capitol attack
RELATED: Trump back on hot seat with claim linking ballot box ruling to 2020 election
Clip of Donald Trump interview with Fox News' Bret Baier, June 19, 2023
WSBTV.com, GA election officials investigating after suspected fake ballot discovered at early voting location, Oct. 19, 2022
Paul Leland Haworth, The Hayes-Tilden Disputed Presidential Election of 1876, 2020 
USA Today, Fact check: Arizona audit hasn't found 275,000 fraudulent votes, July 29, 2021
The Milwaukee Journal Sentinel, DA declines bringing charges in voting case; Nursing home election process altered for virus, Feb. 11, 2022 
New York Times, Prichard is guilty of election fraud, July 15, 1949
Atlanta Journal-Constitution, GBI chief: Not enough evidence to pursue GOP's ballot fraud claim, Oct. 21, 2021
Atlanta Journal-Constitution, Appeals court resurrects Georgia ballot inspection case of 2020 election, May 11, 2023
Georgia State Election Board, Summary, May 17, 2022
Maricopa County elections, Correcting the record, January 2022
NPR, A pro-Trump film suggests its data are so accurate, it solved a murder. That's false, May 17, 2022
The Associated Press, FACT FOCUS: Gaping holes in the claim of 2K ballot 'mules' May 3, 2022
The Associated Press, FACT CHECK: Trump makes false claims about Arizona audit, July 17, 2021
The Associated Press,  FACT CHECK: Pro-Trump auditors spin election falsehoods, Sept. 14, 2021
History Today, The Presidential Election of 1876, November 1970
PolitiFact, Instagram post falsely says '2,000 Mules' proves Democrats cheated, Oct. 28, 2022
PolitiFact, In Jan. 6 hearing, former AG Bill Barr discredits '2,000 Mules' voter fraud film, June 13, 2022
PolitiFact, Claim of ballots in "error" in Fulton County, Ga., is based on unproven allegation, May 27, 2021
PolitiFact, Voters, not clerks, decided who was on "indefinitely confined" list, Nov. 20, 2020
PolitiFact, No evidence Maricopa County audit found 17,000 "duplicate" votes, Sept. 27, 2021
PolitiFact, The distorted claim that 86,391 voters in Maricopa 'don't appear to exist' Sept. 30, 2021
PolitiFact, Donald Trump says Joe Biden can only win by a 'rigged election.' That's wrong in several ways, Aug. 24, 2020
PolitiFact, Donald Trump's Pants on Fire claim about illegal votes, Nov. 6, 2020
PolitiFact, In attack on Bill Barr, Trump repeats falsehood about 2020 election, June 29, 2021
Trump campaign, Statement to PolitiFact, June 20, 2023
Email interview, Sierra Ciaramella, spokesperson for Maricopa County Recorder's Office, June 20, 2023
Email interview, Mike Hassinger, spokesperson for Georgia Secretary of State, June 20, 2023
Email interview, Kara Richardson, spokesperson for Georgia Attorney General, June 21, 2023
Email interview, Edward Foley, an Ohio State University law professor and author of Ballot Battles, June 21, 2023
Email interview, Nick Custodio, a spokesperson for the city of Philadelphia, June 20, 2023
Email interview, Jennifer Morrell, a former elections official in Colorado and Utah and CEO of the The Elections Group, June 20, 2023
Browse the Truth-O-Meter
More by Amy Sherman
Support independent fact-checking.
Become a member!
In a world of wild talk and fake news, help us stand up for the facts.