Get PolitiFact in your inbox.
Photo showing Game of Thrones characters depicts victims of the earthquake in Turkey and Syria.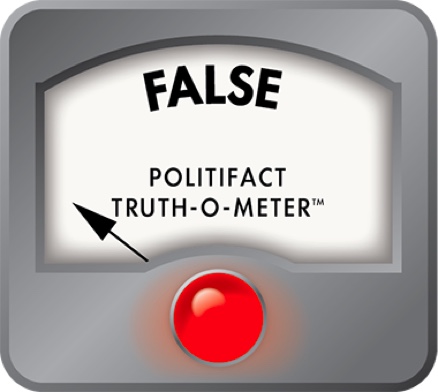 Photo shows 'Game of Thrones' characters, not victims of earthquake in Turkey, Syria
If Your Time is short
An Instagram account with more than a quarter of a million followers shared a photo from the TV series "Game of Thrones" and said it showed victims of the powerful earthquake that struck Turkey and Syria.

Some commenters recognized the image was fake and encouraged the poster to take the post down.
More than 11,000 people in Syria and Turkey have died after a devastating 7.8-magnitude earthquake and more than 60 aftershocks tore through the region in the early morning of Feb. 6. 
In the days that followed, many people shared real photos of the destruction and ongoing rescue efforts. Despite an overwhelming number of images showing actual scenes of devastation, some images circulating on social media are not what they claim. 
A Feb. 7 post from an Instagram account with more than 260,000 followers is one example. 
The account shared a picture of two bloodied individuals surrounded by bricks and rubble and included the caption: "#prayforturkey #prayforsyria #earthquake #turkeyearthquake2023."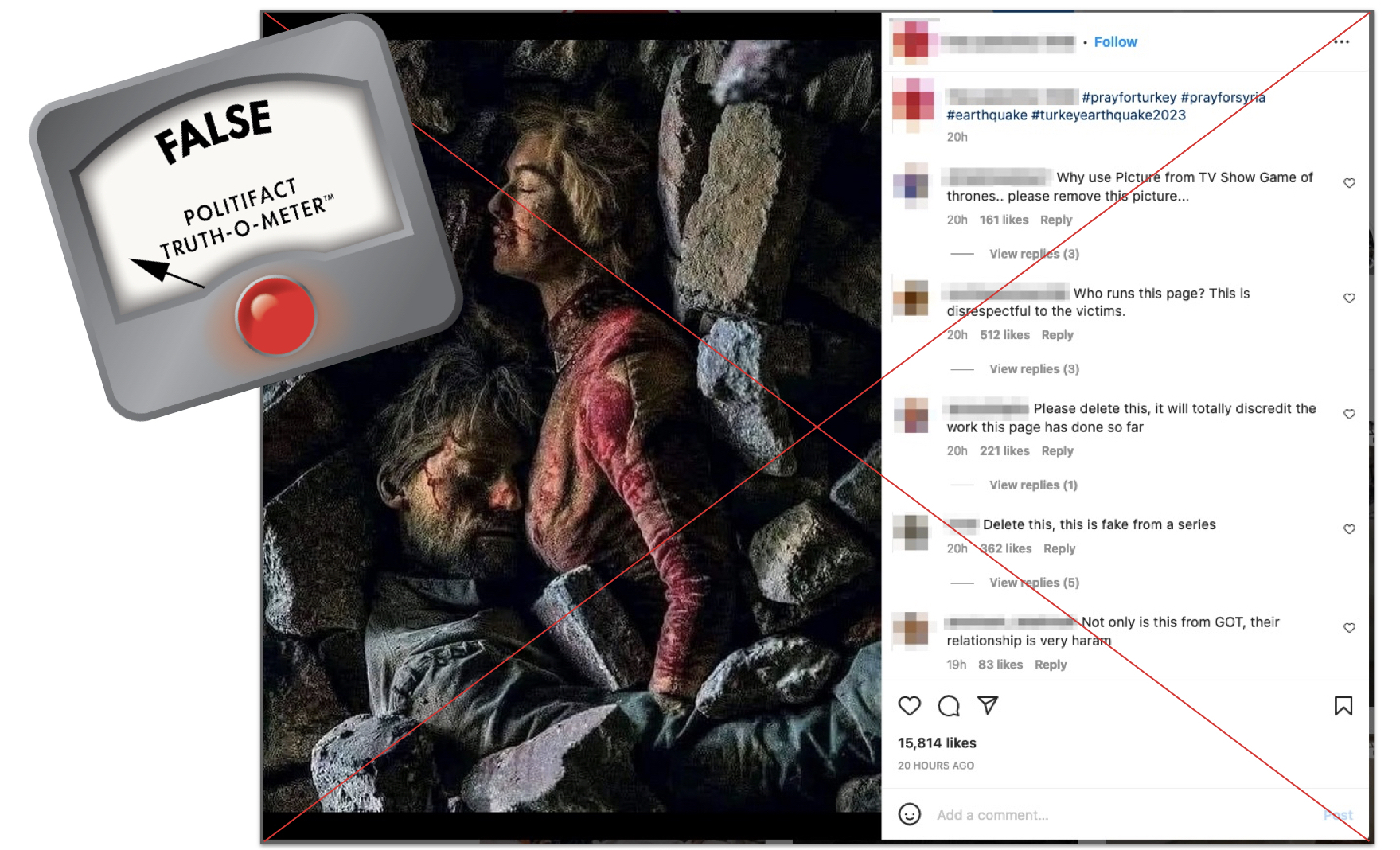 (Screenshot from Instagram.)
The post was flagged as part of Facebook's efforts to combat false news and misinformation on its News Feed. (Read more about our partnership with Meta, which owns Facebook and Instagram.)
People familiar with HBO's hit fantasy drama "Game of Thrones" quickly recognized the image.
What follows is a years-old spoiler alert: The photo featured two well-known characters from the series, Cersei and Jaime Lannister who were found dead together under a pile of rubble in the show's final episode.
As if Tyrion wasn't already dealt the worst hand, he finds Cersei and Jaime under the rubble together.

Damn. This scene.#GameofThrones pic.twitter.com/Ph5uJS5CDf

— Jenna Amatulli (@ohheyjenna) May 20, 2019
The Instagram account's misleading use of the image did not escape many commenters, who pointed out that the photo wasn't connected to the earthquake at all. 
"This is disrespectful to the victims," read one comment. 
Another said: "You just discredited everything you ever posted with this post. Unfollowing." 
Many commenters encouraged the person behind the Instagram account to delete the photo. 
The account had previously shared other videos it said were of the earthquake and its aftermath, and at least some of that footage was verified by news organizations.
It's not uncommon for scenes from movies, video games or TV shows to be shared as if they're legitimate breaking news events. We've seen such examples disguised as scenes from Russia's war in Ukraine and Italy's early COVID-19 outbreak, to name a couple.
We rate the claim that the photo showed victims of the earthquake in Turkey and Syria False.
Instagram post, Feb. 7, 2023
Huffpost, Tyrion's discovery in the rubble at King's Landing broke lots of hearts, May 19, 2019
Janna Amatulli's tweet, May 19, 2019
Reuters, Video shows building collapse after Turkey earthquake, Feb. 6, 2023
PolitiFact, No, this video doesn't show Italy's COVID-19 victims in body bags, April 13, 2020
PolitiFact, Video clips mischaracterized as showing fake Ukraine war footage, Oct. 6, 2022
PolitiFact, This is a video game, not combat in Ukraine, May 23, 2022
Browse the Truth-O-Meter
More by Madison Czopek
Support independent fact-checking.
Become a member!
In a world of wild talk and fake news, help us stand up for the facts.