Get PolitiFact in your inbox.
A vigilante "shot down the Chinese spy balloon in an extraordinary act."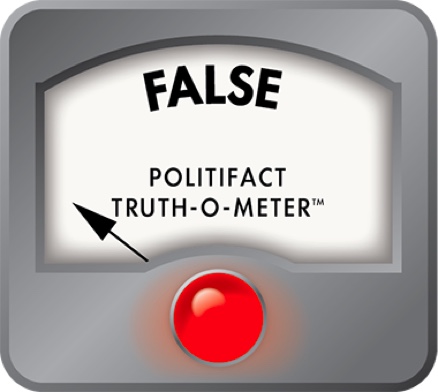 The US government, not a vigilante, shot down a Chinese balloon
If Your Time is short
A U.S. Air Force jet fired a missile that took down the Chinese balloon.
On Feb. 4, a U.S. Air Force fighter jet shot down what government officials say was a Chinese spy balloon.
Video footage shows the F-22 firing and hitting the balloon before it fell into the Atlantic Ocean off the coast of South Carolina. 
It wasn't shot down by a vigilante with a gun, as a longtime hoax claims.
"BREAKING: A local man has SHOT DOWN the CHINESE SPY BALLOON in an EXTRAORDINARY act of vigilantism!" read multiple posts sharing an image of a man holding a gun and an image of what looks like a popped balloon amid trees.  
This post was flagged as part of Facebook's efforts to combat false news and misinformation on its News Feed. (Read more about our partnership with Meta, which owns Facebook and Instagram.)
The image of the supposed balloon in the posts actually shows a deflated military surveillance blimp that broke free from its mooring in Maryland in 2015.
The person in the photo is Sam Hyde, a comedian who has been falsely named as the gunman in multiple mass shootings among other hoaxes. In 2022, for example, some posts said the real name of a Ukrainian fighter known as the "Ghost of Kyiv" is "Samuyil Hyde." And these more recent posts about Sam Hyde shooting down the Chinese balloon have seemingly inspired further jokes, such as one post claiming that a "Dad with a webcam has SHOT DOWN the CHINESE SPY BALLOON in an EXTRAORDINARY act of vigilantism!" 
The F-22 Raptor fighter that took down the Chinese balloon fired one AIM-9X Sidewinder missile from an altitude of 58,000 feet, according to the Defense Department. At the time, the balloon was hovering between 60,000 and 65,000 feet — at least more than 11 miles high. 
But people unfamiliar with the Sam Hyde meme should have a hard time suspending their disbelief that a lone gunman on the ground knocked out a balloon miles and miles overhead. 
Brynn Tannehill, a former naval aviator and senior technical analyst at the Rand Corp. think tank, told Insider that trying to take out a high-altitude balloon with the air defense systems the United States has is "very difficult" because most systems "weren't designed to shoot down things operating at the kinds of high altitude balloons can operate at." 
How high does a bullet go? A physicist explored the question for Wired in 2009 and cited MythBusters, which concluded that a .30-06 cartridge will go 10,000 feet high, while a 9 mm cartridge will travel 4,000 feet. 
We rate claims that a vigilante shot down the Chinese balloon False.
Instagram post. Feb. 4, 2023
Instagram post. Feb. 4, 2023
Wired, How high does a bullet go?, Sept. 23, 2009
WBIR, Expert: 'The average person doesn't realize how far a bullet from a gun travels,' April 2, 2019
Insider, Shooting down a suspected Chinese spy balloon could be a lot harder than it sounds, former Navy pilot says, Feb. 3, 2023
The New York Times, Sam Hyde and other hoaxes: False information trails Texas shooting, Nov. 6, 2017
PolitiFact, Samuyil Hyde is an internet meme, not the 'Ghost of Kyiv' pilot, March 1, 2022
U.S. Defense Department, F-22 safely shoots down Chinese spy balloon off South Carolina coast, Feb. 4, 2023
CBS News, Suspected Chinese spy balloon shot down off South Carolina coast, Feb. 5, 2023
Chicago Tribune, Army blimp breaks loose, drifts over Pennsylvania, Oct. 29, 2015
Mashable, Texas congressman falls for recurring hoax and names false shooter on CNN, Nov. 6, 2017
Browse the Truth-O-Meter
More by Ciara O'Rourke
Support independent fact-checking.
Become a member!
In a world of wild talk and fake news, help us stand up for the facts.