Get PolitiFact in your inbox.
Smart-city plans are behind wildfires in Tenerife.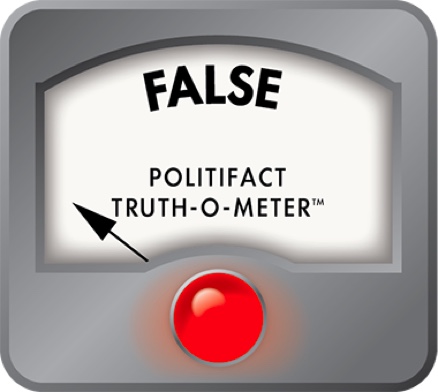 Tenerife wildfire has no connection to smart city concept
If Your Time is short
A wildfire in Tenerife, the largest of Spain's Canary Islands and a popular tourist destination, burned for 10 days before being stabilized Aug. 24.

The fire burned about 37,000 acres of woodland, but did not affect main cities or tourist areas, officials said.

Smart cities refer to cities that use technology to help them run more efficiently and improve quality of life. Installing such technology would not require the destruction of cities, despite social media claims tying the concept to fires in Maui and Tenerife.
Hawaii's wildfires have dominated news coverage in August, but the state isn't the only place where wildfires have been wreaking havoc.
Canada has seen a historic wildfire season, leading to clouds of smoke that have crossed the border and lowered air quality in some U.S. states. In the U.S., wildfires have burned out of control in Washington state and Louisiana in recent weeks. 
Over in Europe, Greece has been beset by hundreds of fires that have killed at least 21 people. And in Tenerife, the largest of Spain's Canary Islands, firefighters battled a huge wildfire that burned for 10 days. 
Misinformation about the wildfires, particularly about Maui's, has spread on social media. Now, some people are parroting a debunked claim that Maui's wildfires were started to clear the way to create a "smart city" by making the same connection to the fire in Tenerife, a popular tourist destination.
A narrator in an Aug. 22 Facebook video with more than 100,000 views said, "Just like Maui," then read from an article about a Tenerife Smart Island initiative, which was about turning Tenerife into a "smart tourist destination." 
"Now here we are. Miraculously, there's fires," he said. "Stay focused, people."
The video originated Aug. 17 on TikTok by a user whose account is rife with misinformation, including a video in which he shared a false claim that FEMA Deputy Administrator Erik Hooks was arrested by the military in Hawaii and another in which he blamed Greece's wildfires on smart cities.
This post was flagged as part of Meta's efforts to combat false news and misinformation on its News Feed. (Read more about our partnership with Meta, which owns Facebook and Instagram.)
The wildfire in Tenerife forced thousands of people to be evacuated from their homes, but officials said Aug. 24 that the blaze had been stabilized. Canary Islands regional President Fernando Clavijo said Aug. 20 that the fire had been intentionally set and is under investigation, The Associated Press reported. No arrests were announced as of Aug. 25.
This doesn't mean it has anything to do with smart cities or tourism, however. 
The fire destroyed about 37,000 acres of mountainous woodland in the national park surrounding the Mount Teide volcano, Reuters reported. The main cities and tourist areas of the island have been largely unscathed, according to news reports and a Tenerife tourism website.
Wildfires are not unusual in Europe. Data from the European Forest Fire Information System shows that more than 83,000 hectares (about 206,000 acres) of land has burned in Spain this year, slightly more than the annual average there.
What are smart cities?
The concept of a smart city generally refers to cities that use technology to help them run more efficiently and improve quality of life, such as by streamlining traffic flow, tracking gunshots to help fight crime, creating smart energy grids and monitoring air quality.
Many U.S. cities have experimented with smart city concepts. Dallas, for example, recently won an award for its Red Cloud Neighborhood Smart Cities Pilot Project. In a southeast Dallas community, "all streets, alleys and sidewalks were reconstructed in conjunction with multiple technological quality-of-life improvements," the city said.
Some of the Dallas improvements included providing air quality monitors, streetlight cameras and Wi-Fi to nearly 190 homes. 
Other examples of smart city improvements include adding electric vehicle charging stations, or using sensors, cameras and mobile apps to alert residents to open city parking spaces.
But the smart city concept is not universally accepted by Americans, some of whom have raised concerns about data privacy and facial recognition software. They've become a common target for conspiracy theorists, who falsely claim they are part of a government plan to track residents' purchases or limit their movements. 
A city's government would not need to create a disaster such as a wildfire and risk people's lives to clear a path for smart city technologies. They could simply add whatever infrastructure is needed for their goals.
Tenerife's connection to smart cities
The video's narrator shows two screenshots of what he says is a 2019 article and an updated 2022 article on the website of INtech Tenerife, a private business that describes itself as the "Scientific and Technological Park of the island." He also says that smart city plans needed to be approved by Aug. 17.
But the language he shows in both screenshots is identical to language used in a 2019 article on the site. We could not find a 2022 updated article from INtech Tenerife, And there's no mention in the 2019 article of a deadline to approve a smart city plan.
The Tenerife Smart Island initiative the article described would require technological development combining hardware and software systems with a network of sensors to gather information on things such as traffic, parking and energy.
The plans have buy-in from Spain, whose secretary of state for tourism is leading a Smart Tourists Destination project. It describes those destinations as an "innovative tourist destination, consolidated on state-of-the-art technological infrastructure." 
Tenerife Island has been designated a Smart Tourist Destination since 2020, according to the State Mercantile Society for the Management of Tourism Innovation and Technologies, which is managing the project. 
We could find no mention of an Aug. 17 date for plans to be approved nor any need to remove existing infrastructure, as the Facebook video claimed.
Our ruling
A Facebook post sharing a TikTok video claimed that a wildfire was started in Tenerife to pave the way for smart city plans.
Although the wildfire appears to have been intentionally set, the fires ravaged mostly forest areas and didn't affect main cities or tourist areas. Installing smart city technologies in a city would not require intentional destruction of existing city infrastructure. We rate the claim False.
Facebook post, Aug. 22, 2023 
Tiktok post, Aug. 17, 2023
INtech Tenerife, Tenerife Smart Island. A Smart Tourist Destination., May 7, 2019
INtech Tenerife, Smart Island: Innovation that Ensures Sustainable Development, June 4, 2019
INtech Tenerife, Who are we?, accessed Aug. 24, 2023
University of La Laguna, Third edition of Tenerife Smart Island, March 14, 2019
Destino Turistico Inteligente, The Network, accessed Aug. 25, 2023
1-1-2 Canarias, X post, Aug. 24, 2023
The Associated Press, Wildfire on Spain's popular tourist island of Tenerife was started deliberately, official says, Aug. 21, 2023
The Independent, Mapped: Where are the wildfires in Tenerife as blaze forces thousands to flee, Aug. 20, 2023
The Independent, Tenerife fire that has raged for six days was started deliberately, Aug. 21, 2023
Reuters, Thousands of evacuees return home as Tenerife wildfire eases, Aug. 23 2023
Reuters, Tenerife firefighters stabilise huge wildfire after nine days, Aug. 25, 2023
Axios, In Dallas, a model "smart city" project bears fruit, Aug. 7, 2023
Axios, Smart cities: Public acceptance may take time, April 5, 2022
City of Dallas, City of Dallas wins global award for Smart Cities Initiative, accessed Aug. 25, 2023
Spectrum, Smart parking solutions, accessed Aug. 25, 2023
The Associated Press, The death toll from wildfires in Greece this week rises to 21 after another victim is found, Aug. 25, 2023
ABC News, Canada's unprecedented wildfires could soon get worse, experts say, Aug. 22, 2023
Oregon Public Broadcasting, Rain comes too late for many near Spokane wildfires, Aug. 23, 2023
KLFY, 'This is a first for me': One of Louisiana's largest wildfires burns in Beauregard Parish, Aug. 24, 2023 
The New York Times, As Fires Endanger the 'Lungs' of Athens, Greek Anger Rises, Aug. 24, 2023 
International Energy Agency, Smart grids, accessed Aug. 25, 2023 
Tenerife Despierta Emociones, Forest fire statement Tenerife, Aug. 25, 2023
Spain Ministry of industry, trade and tourism, Organizations, accessed Aug. 25, 2023 
Smart Tourism Destination, What is the DTI model?, accessed Aug. 25, 2023 
Smart Tourism Destination, Tenerife Island, Aug. 25, 2023 
SEGITTUR, The Island of Tenerife receives the Smart Destination designation, Nov. 30, 2020
SEGITTUR, Smart Tourist Destinations, accessed Aug. 25, 2023
Iris Smart Cities, Sanda Cruz De Tenerife, Spain, accessed Aug. 25, 2023
European Forest Fire Information System, EFFIS Estimates for European Union , accessed Aug. 25, 2023 
Browse the Truth-O-Meter
More by Jeff Cercone
Support independent fact-checking.
Become a member!
In a world of wild talk and fake news, help us stand up for the facts.