Get PolitiFact in your inbox.
Police report shows "massive 2020 voter fraud uncovered in Michigan."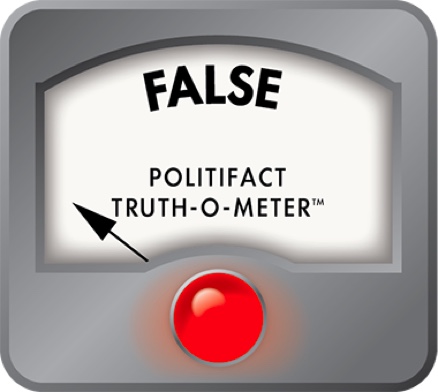 No, suspected voter registration irregularities in Michigan did not result in 2020 election fraud
If Your Time is short
A Gateway Pundit article claimed a 2020 police report about potentially fraudulent voter registration applications was evidence of voter fraud in Michigan during the 2020 election. But that's not what the police report concludes.

Local and state officials in Michigan said registration forms with suspected irregularities were removed from the voter rolls, so no improperly registered voters received or cast ballots in 2020.
Nearly three years after the 2020 presidential election, the conservative news site The Gateway Pundit recently declared it had new evidence that the election was fraudulent.
"NOW WE HAVE PROOF!" read its headline on the Aug. 8 article. "Massive 2020 Voter Fraud Uncovered in Michigan."
The article claims a 2020 Michigan State Police report, which Gateway Pundit obtained through a public records request, "exposes criminal election fraud involving thousands of fraudulent ballots" in Muskegon, Michigan, a city of about 38,000 people in West Michigan.
Several Facebook and Instagram posts also shared this claim. These posts were flagged as part of Meta's efforts to combat false news and misinformation on its News Feed. (Read more about our partnership with Meta, which owns Facebook and Instagram.)
According to the police report obtained by Gateway Pundit, in mid-October 2020, Muskegon City Clerk Ann Meisch alerted local police after noticing irregularities on some of the roughly 8,000 completed voter registration applications that a canvasser had dropped off earlier that month.
The same canvasser submitted another batch of 2,500 completed voter registration forms Oct. 20, 2020, the last day before the 2020 election to turn in that paperwork, the report said.
The Muskegon Police Department, along with Michigan State Police and the state attorney general, investigated these alleged voter registration irregularities, as well as the canvasser's employer, GBI Strategies, a national company that conducts political field work, including voter registration drives. In late October 2020, this investigation was referred to the FBI because GBI Strategies was operating in multiple states.
Muskegon Police Capt. Tim Bahorski declined to answer PolitiFact's questions about the incident, saying that it's possible federal authorities could still be investigating.
The Gateway Pundit claimed these suspected irregularities in the voter registration forms are evidence of election fraud, but the state police report did not conclude voter fraud crimes were committed in 2020.
Danny Wimmer, press secretary for Michigan's attorney general, told PolitiFact that the batch of voter registration forms dropped off at the city clerk's office contained some fraudulent applications intermixed with legitimate voter registrations. The investigation determined this fraud came from "the lowest levels of the company," he said.
"The leading internal indication was that fraud was being perpetrated against GBI Strategies by its employees to fabricate work product without conducting the work expected of them, and not in explicit pursuit of defrauding the election infrastructure of the state," Wimmer said.
This "attempted fraud" was caught and did not affect the 2020 election "because the system worked," Wimmer said.
"The City Clerk in Muskegon detected the fraudulent material provided and alerted the proper authorities. A thorough investigation was conducted by multiple agencies within the state and no successful fraud was perpetrated upon the state's election process or qualified voter file," Wimmer said.
Michigan's secretary of state's office also said the proper procedure was followed to prevent voting malfeasance.
"There is no evidence that any of the invalid voter registration applications in question resulted in people getting registered to vote, receiving absentee ballots, casting absentee ballots, or voting in person in any election," said Angela Benander, spokesperson for the secretary of state.
In 2020, local news outlets reported that Meisch, Muskegon's city clerk, said no ballots were issued to voters associated with potentially fraudulent registration forms. If applications contained information that neither the city clerk nor the secretary of state's office were able to verify, the voter registration files were removed.
Michigan State Police also confirmed to reporters at the time that "none of the alleged fraudulent voter registrations resulted in voters receiving absentee ballot applications or ballots, any resulting registrations have been voided, and there is no expected impact on any election."
We rate the claim that a police report shows "massive 2020 voter fraud uncovered in Michigan" False.

Correction, Aug. 25, 2023: In an earlier version of this story, Muskegon City Clerk Ann Meisch's name was misspelled. It has been updated.
The Gateway Pundit, "Bags of Pre-Paid Gift Cards, Guns with Silencers, Burner Phones, and a Democrat-Funded Organization with Multiple Temporary Facilities in Several States" (archived version), Aug. 8, 2023
Facebook video, Aug. 10, 2023
Instagram post, Aug. 8, 2023
Instagram post, Aug. 10, 2023
Email exchange with Danny Wimmer, press secretary for Michigan's attorney general, Aug. 11, 2023
Email exchange with Angela Benander, Michigan's secretary of state spokesperson, Aug. 11, 2023
Email exchange with Tim Bahorski, Muskegon Police Department captain, Aug. 11, 2023
Email exchange with Sharon Dolente, Promote the Vote Michigan spokesperson, Aug. 10, 2023
The Detroit News, Michigan probe into fraudulent voter registrations referred to FBI, Aug. 11, 2023
WZZM13, "Police investigating after Muskegon clerk finds irregularities in voter registration applications," Oct. 31, 2020
WOOD TV, "Muskegon clerk spots 'irregularities' in voter registration applications," Oct. 30, 2020
Browse the Truth-O-Meter
More by Sara Swann
Support independent fact-checking.
Become a member!
In a world of wild talk and fake news, help us stand up for the facts.