Stand up for the facts!
Our only agenda is to publish the truth so you can be an informed participant in democracy.
We need your help.
I would like to contribute
"They are trying to make it illegal to question the results of a bad election."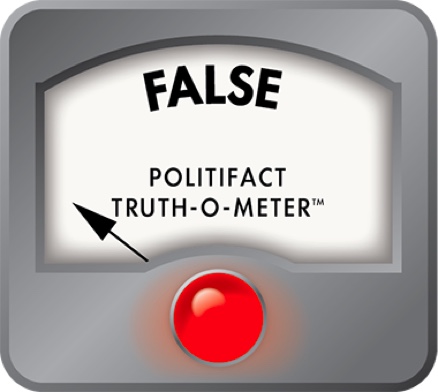 Trump says DOJ is trying to criminalize asking questions. That's not what indictment says.
If Your Time is short
The Aug. 1 federal indictment against Donald Trump over efforts to subvert 2020 election results said the former president "had a right, like every American, to speak publicly about the election" and make false claims. It says Trump also was entitled to challenge the results lawfully through recounts, audits or lawsuits. 
 
Trump was indicted for his actions, not for questioning the election. 
Former President Donald Trump framed the latest federal indictment against him as an attempt to criminalize disputes of election results.
"The fake charges put forth in their sham indictment are an outrageous criminalization of political speech," Trump said at an Alabama Republican Party dinner Aug. 4, the day after his arraignment in a federal Washington, D.C., courthouse. "They are trying to make it illegal to question the results of a bad election." 
Trump did much more than question results. If he had stopped there or at lawful strategies such as filing lawsuits or requesting audits, he wouldn't be in this situation. The Aug. 1 indictment introduction says, "The defendant had a right, like every American, to speak publicly about the election and even to claim, falsely, that there had been outcome-determinative fraud during the election and that he won." 
The four charges against Trump are about actions meant to overturn results.
The indictment says Trump "pursued unlawful means of discounting legitimate votes and subverting the election results," amounting to criminal conspiracies. In paragraph after paragraph, the indictment details actions Trump took to achieve the goal of the conspiracy.
"This is all conduct, not speech," said E. Danya Perry, a white-collar criminal defense attorney and former federal prosecutor in New York. 
The indictment alleges Trump took specific actions to further the conspiracy, including:
His call to Georgia Secretary of State Brad Raffensperger imploring him to "find" more votes to put Trump in the winning column.

His role in the pressure campaign on legislators in battleground states he had lost as he sought to sway them to overturn the election.

Along with his campaign and co-conspirators, seeking to establish fake electors and have them transmit certificates showing Trump won in states he lost.

Attempting to "leverage the Justice Department to use deceit" to replace legitimate electors with fake Trump electors.

Seeking to enlist Vice President Mike Pence to "fraudulently alter the election results" on Jan. 6.
When contacted for comment, a Trump campaign spokesperson pointed to the First Amendment, which protects freedom of speech and the right of people to "petition the government for a redress of grievances." 
The indictment uses scathing criticism of Trump's speech after the 2020 election, saying he "spread lies" about election fraud and "knew that they were false." Trump created an "intense national atmosphere of mistrust and anger," it says.
However, the allegations detailed in the indictment were not a matter of free speech, lawyers said.
"He can say whatever he wants. He can even lie. He can even tell people that the election was stolen, when he knew better," Bill Barr, a former attorney general under Trump who is a critic of his former boss, said on CNN. "But that does not protect you from entering into a conspiracy."
Trump campaign cites an exercise that included alternate electors
When asked for evidence that prosecutors were targeting Trump for simply questioning election results, a Trump campaign spokesperson cited three examples that didn't lead to criminal prosecution of Democrats objecting to election results. But these other scenarios do not show criminal conspiracies — and one was based on a hypothetical exercise.
In one example, the campaign pointed to liberal activists who in 2016 urged electors not to select Trump. The activists didn't engage in criminal conspiracies and the Democratic politicians did not break the law to challenge results. 
The Trump campaign also sought to draw a parallel with the 1960 presidential election in Hawaii, when Republican Richard Nixon held a small lead pending a recount. Democratic electors prematurely cast their votes for John F. Kennedy Jr.; the recount later showed that Kennedy had won Hawaii narrowly. A judge confirmed that the Democratic electors proceeded legally.
The third example cited by the Trump campaign relates to the Transition Integrity Project, a bipartisan simulation held months before Election Day 2020 in which government, campaign and legal experts gamed out scenarios of potential crises following wins by Trump or Joe Biden or extended uncertainty about the winner. 
The Trump campaign pointed to the "Trump win" scenario in which Democrats sought to disregard Trump's victory and send rival slates of electors to Congress. 
A footnote in a document about the project said, "This move and others would certainly be contested in court; we don't mean to imply that every action taken is strictly legal. Teams were given considerable flexibility in the actions taken."
Rosa Brooks, a Georgetown University law professor who co-founded the Transition Integrity Project, told PolitiFact that the simulation outcomes were neither plans nor predictions. The purpose of the exercise was to raise awareness of potential threats.
"They were some possible ways in which role-players imagined that various actors might respond to a range of potential fact patterns, none of which looked exactly like what ended up happening in the 2020 election," Brooks said in an email. 
Brooks, who worked at the Defense Department during the Obama administration, said the Trump campaign is suggesting an equivalence between "what a private citizen imagines considering while playing a game of 'let's pretend,' on the one hand, and a real-life situation in which the president of the United States knowingly attempted to subvert the results of a free and fair presidential election, on the other hand." 
Our ruling
Trump said, "They are trying to make it illegal to question the results of a bad election."
The indictment said that Trump "had a right, like every American, to speak publicly about the election" and challenge the results through "lawful and appropriate means." 
Trump was not indicted for questioning the results — as the indictment shows, he was charged for actions that perpetrated criminal conspiracies to subvert election results.
We rate this statement False. 
RELATED: Trump lawyer's claim that indictment attacks First Amendment rights is dubious, experts say 
RELATED: Read indictment of Donald Trump in the special counsel's 2020 election, Jan. 6 investigation
RELATED: Fact-check: Donald Trump's false and misleading responses after charges over role in Jan. 6 riot
RELATED: What the indictment about the 2020 election and Jan. 6, 2021, tells us about Donald Trump's actions
C-SPAN clip, Donald Trump speech at Alabama Republican dinner, Aug. 4, 2023
Truth Social, Post by Donald Trump, Aug. 7, 2023
KanekoaTheGreat, Twitter thread, July 18, 2023
CNN The Source, Transcript, Aug. 2, 2023
Palm Beach State Attorney Dave Aronberg, Tweet about MSNBC interview, Aug. 6, 2023
New York Times, Stacey Abrams Ends Fight for Georgia Governor With Harsh Words for Her Rival, Nov. 16, 2018
Georgetown Professor Rosa Brooks in the Washington Post, What's the worst that could happen? Sept. 3, 2020
NPR, Experts Game Out What Might Happen If The Election Goes Off The Rails, July 30, 2020
Transition Integrity Project, Preventing a Disrupted Presidential Election and Transition, Aug. 3, 2020
Factcheck.org, Trump's First Amendment Defense, Aug. 4, 2023
Statement from Trump campaign to PolitiFact, Aug. 7, 2023
Email interview, E. Danya Perry, partner at Perry Law, Aug. 7, 2023
Telephone interview, Evan Gotlob, partner at Saul Ewing LLC, Aug. 7, 2023
Email interview, Rosa Brooks, Georgetown law professor, Aug. 7, 2023
Browse the Truth-O-Meter
More by Amy Sherman
Support independent fact-checking.
Become a member!
In a world of wild talk and fake news, help us stand up for the facts.