Get PolitiFact in your inbox.
Bill Gates is coating your organic produce with a "dangerous chemical."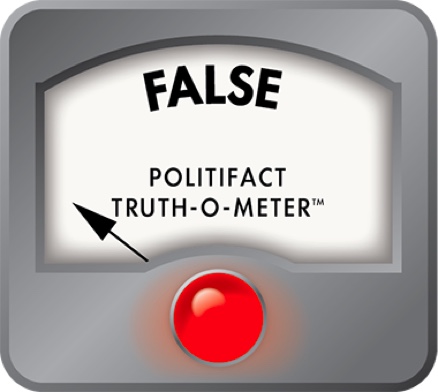 Bill Gates is not poisoning your produce with Apeel
If Your Time is short
Apeel Sciences created a thin, edible coating that extends the shelf life of fruits and vegetables. The plant-based coating  is deemed safe by the U.S. Food and Drug Administration.
Those brightly colored fruits and vegetables lining grocery store shelves can be visually appealing to hungry shoppers, especially those who want to eat healthier. But as many of us have experienced, those once-ripe apples or avocados often have begun to rot by the time we get around to eating them, so they end up in the trash.
Apeel Sciences, a California tech startup created in 2012 by a man concerned about food waste and global hunger, devised a solution: an edible coating that can extend produce's shelf life. But some social media users are sharing unfounded claims about the product's safety.
"The dangerous chemical Bill Gates is coating your organic produce with," read a headline shared in a screenshot with an April 19 Instagram post.
The headline comes from an article posted April 15 on Substack. The Instagram post contained three additional slides, mentioning the connection Gates, the Microsoft Corp. co-founder and philanthropist, had to the product and sharing a safety sheet it claims shows the product can cause serious eye and skin damage.
The post was flagged as part of Meta's efforts to combat false news and misinformation on its News Feed. (Read more about our partnership with Meta, which owns Facebook and Instagram.)
The post is wrong on several counts.
The post overstates Gates' role in the company. The Bill & Melinda Gates Foundation was an early investor, giving grants to the company in 2012 and 2015. 

It also falsely claims the product is a dangerous chemical; it's made with purified monoglycerides and diglyceride, which are FDA-approved as a food additive. 

The third and fourth slides in the post share a safety sheet from a very different product with the same name produced by a different company. 
Apeel was founded in California in 2012 by James Rogers, who is still the company's CEO, to reduce food waste. He started the company with a $100,000 research grant from the Gates Foundation.
Apeel coats fruits or vegetables with a plant-based compound that the company says slows water loss and oxidation, the primary cause of food spoilage. It's delivered to partners as a powder and mixed with water before being applied to food.
The coating consists of purified monoglycerides and diglycerides, which the company said are edible compounds found in a variety of foods. They are extracted from the peels, seeds and pulp of plants by Apeel. 
Monoglycerides and diglycerides are commonly used as food additives in processed foods as emulsifiers. Far from being dangerous chemicals, monoglycerides and diglycerides are affirmed as "Generally Regarded as Safe" by the U.S. Food and Drug Administration.
The coating is in use on some apples, avocados and limes at U.S. grocery stores, according to Apeel. In Canada, it's used on English cucumbers, and in Europe, it's used on avocados and citrus fruits. The coating is invisible, edible and tasteless, the company said.
The Instagram post shared what it said are safety sheets warning of the dangers of Apeel. But they are from Evans Vanodine, a company in the United Kingdom. 
The company sells a hard surface cleaning product called Apeel. The company does say that the cleaning solution leaves a fresh citrus scent, but unlike Apeel Sciences' product, it is not used on fruits and vegetables, as the company's product page states. A separate safety sheet warns the Apeel cleaning product could damage eyes and skin if used improperly.
In the Instagram post, the Evans Vanodine name is visible in a URL seen on the third slide.
An Instagram post warns that Bill Gates is coating your organic produce with a dangerous chemical. Although the Gates Foundation provided some funding to Apeel Sciences, the maker of an edible coating used to prolong produce's shelf life, there's no evidence that the plant-based product is dangerous. We rate the claim False.
Browse the Truth-O-Meter
More by Jeff Cercone
Support independent fact-checking.
Become a member!
In a world of wild talk and fake news, help us stand up for the facts.