Get PolitiFact in your inbox.
"David McCormick paid for attacks on Donald Trump."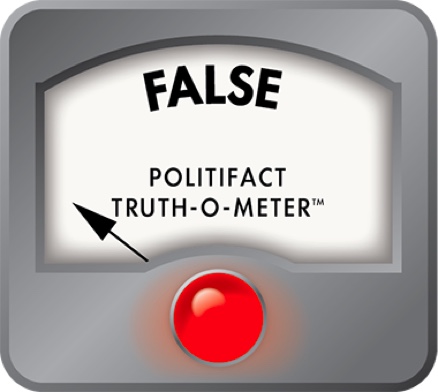 No proof for Dr. Oz's claim that Pa. GOP Senate rival Dave McCormick 'paid for attacks' on Trump
If Your Time is short
Oz's ad alludes to Federal Election Commission records. They show McCormick gave money to Republican Jeb Bush in the 2016 presidential campaign, but that doesn't amount to "paying for attacks" on Trump, who won the GOP nomination.
The major Republican candidates for an open U.S. Senate seat in Pennsylvania have touted their support of former President Donald Trump ahead of the state's May 17 primary election.
That includes physician and talk show host Dr. Mehmet Oz and Dave McCormick, the former chief executive of the Bridgewater Associates hedge fund.
An Oz TV ad painted McCormick as anti-Trump, declaring: 
"Wall Street insider David McCormick paid for attacks on Donald Trump." 
We found no evidence of that. Oz's campaign did not respond to our requests for information to back its claim.
McCormick's political contributions
When the narrator in the ad makes the attack on McCormick, a reference to "FEC Records" appears on the screen. 
Federal Election Commission records show that when Trump first ran for president, McCormick in 2015 gave $2,700 to the campaign of one of Trump's competitors for the Republican nomination, former Florida Gov. Jeb Bush, and $5,000 to Bush's leadership PAC. 
The records indicate McCormick didn't donate to Trump's 2016 or 2020 campaigns.
McCormick was a Treasury Department official in the administration of President George W. Bush, Jeb Bush's brother.
An Associated Press news story published March 15, five days after Oz's campaign posted its ad on YouTube, suggested that the ad's claim alludes to McCormick's support of Bush.
"In 2015, McCormick held a fundraiser for Jeb Bush, once a contender for the 2016 GOP presidential nomination eventually won by Trump," the story said. "Oz's campaign pounced, saying in an ad, 'Wall Street insider David McCormick paid for attacks on Donald Trump.'"
McCormick eventually came into Trump's favor.
"I wasn't particularly involved with the Trump camp — I wasn't a Trump supporter," he said in March 2017. 
But McCormick's wife, Dina Powell McCormick, served as Trump's deputy national security adviser. And in November 2017, McCormick, a former Army officer, was named to the advisory Defense Policy Board by James Mattes, Trump's defense secretary. 
In November 2020, Trump removed McCormick and 10 other members of the board, including former Secretaries of State Henry Kissinger and Madeleine Albright. Foreign Policy, which revealed the moves, said they appeared to be "the outgoing Trump administration's parting shot at scions of the foreign-policy establishment."
Race could help decide Senate control
The Pennsylvania race is for the seat held by Republican Pat Toomey, who was first elected in 2010 and who decided not to seek re-election. 
The other GOP candidates include conservative commentator Kathy Barnette, real estate developer Jeff Bartos and Carla Sands, Trump's ambassador to Denmark. The Democratic candidates include U.S. Rep. Conor Lamb and Lt. Gov. John Fetterman.
The race is rated as a tossup and as "battleground Republican." The outcome could help determine which party controls the Senate, which is now split 50-50.
Our ruling
Oz said McCormick "paid for attacks" on Trump.
McCormick gave money to the campaign of one of Trump's rivals for the 2016 Republican nomination for president, but that doesn't amount to financing attacks on Trump.
Without evidence for the claim, we rate the claim False.
YouTube, Mehmet Oz "Dr. Oz is a Conservative Outsider" ad, March 10, 2022
Federal Election Commission, David McCormick 2015-2016 contributions, accessed March 14, 2022
Federal Election Commission, David McCormick 2017-2018 contributions, accessed March 14, 2022
Bloomberg, "McCormick's Bridgewater-Era Donations Hint at GOP Network to Tap," Jan. 13, 2022
Associated Press, "Ex-hedge fund CEO aims to be hometown boy in key Senate race," March 15, 2022
Email, Dave McCormick campaign spokesperson Jess Szymanski, March 15, 2022
Foreign Policy, "Pentagon Purges Leading Advisors From Defense Policy Board," Nov. 25, 2020
Defense Department, "DoD Announces New Defense Policy Board Members," Nov. 30, 2017
Politico, "McCormick MAGA-proofs his Senate campaign after dissing Trump," Jan. 11, 2022
YouTube, Duke University "David McCormick" post, March 15, 2017
Browse the Truth-O-Meter
More by Tom Kertscher
Support independent fact-checking.
Become a member!
In a world of wild talk and fake news, help us stand up for the facts.