Stand up for the facts!
Our only agenda is to publish the truth so you can be an informed participant in democracy.
We need your help.
I would like to contribute
On endorsing former President Donald Trump in 2024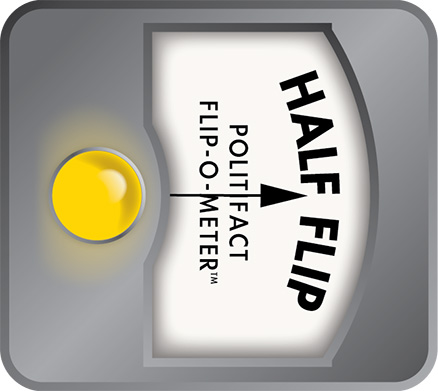 Once on the fence, Michels reconsiders and endorses Donald Trump in 2024 bid
If Your Time is short
When asked by a voter at an Aug. 1, 2022 town hall Michels declines to say whether he would back a Donald Trump bid for president in 2024.

A day later, Michels tells a crowd in Kaukauna: "If he (Trump) runs in 2024, if he does, I will support him and I will endorse him."
Once Republican Tim Michels won the party's nomination for governor, things began changing.
In the primary, Michels was endorsed by Donald Trump, and at a pre-election rally with the former president, Michels said: "The very first thing, my number one priority is election integrity."
On election night, as he declared victory, Michels focused on Democratic Gov. Tony Evers — and on a move toward voters in the middle, saying: "From my first day in office, to my very last day as governor, jobs and the economy are gonna be my number one priority."
Similarly, in the wake of the primary, reporter Reid Epstein of The New York Times noted on Twitter that — for at least a brief time — the fact that Michels had been endorsed by Trump had disappeared from his webpage.
That brought to mind a loop we forgot to close before the primary itself.
That's when Michels offered different responses to whether he would endorse Trump in a potential 2024 presidential campaign. 
As with any question about shifting positions, we turn to our Flip-O-Meter. And as we have noted in the past, the Flip-O-Meter does not examine whether any change is good policy or good politics – only if a candidate has been consistent on a position over time.
So, let's get started.
Trump endorsed Michels on June 2, 2022 – something that helped launch Michels' late-starting campaign past that of former Lt. Gov. Rebecca Kleefisch.  
Charles Franklin, professor of law and public policy and director of the Marquette Law School Poll, told us that after Trump's endorsement, "our June poll showed Michels with a 1 point advantage over Kleefisch, 27% for Michels to 26% for Kleefisch. So that was a very close race after Trump's endorsement." 
Franklin said Michels' late entry into the race means there was no earlier polling for him. 
But it was readily apparent in those early months of his campaign that the GOP faithful had not yet rallied around him. In fact, in May 2022, less than 4% of delegates at the state GOP convention said they backed Michels for governor while nearly 60% said they preferred Kleefisch.
So, the Trump endorsement was a major boost to Michels' campaign. 
But, initially, Michels did not exactly return the favor.
When asked by a voter at an Aug. 1, 2022, WISN-TV, Channel 12, town hall forum, Michels joined fellow candidates Kleefisch and state Rep. Tim Ramthun, R-Campbellsport, in declining to say whether they would back Trump for president following his actions during the attack on the U.S. Capitol on Jan. 6, 2021. 
"I'm focused on this election right now. I have made no commitments to any candidates in 2024," Michels said, according to the Milwaukee Journal Sentinel. "What I'm focusing on is beating Tony Evers."
That raised eyebrows, because the statement came four days before Trump was scheduled to campaign for Michels at an Aug. 5, 2022, rally in Waukesha.
Although Michels did not say outright he would not support Trump, he stayed firmly on the fence by saying he had made no commitment to any candidates in 2024.
One day later, in a speech in Kaukauna, Michels climbed down from the fence. 
Since he had been backed by Trump, Michels told the crowd, he would support Trump.
"I wish he was president today and had four more years," Michels said, adding, "If he runs in 2024, if he does, I will support him and I will endorse him," WBAY.com reported. "We need somebody like that in Washington, D.C."
Our ruling 
Trump is very much pro-Michels, and — it turns out — Michels is very much pro-Trump, even if that is something he doesn't want to highlight in the general election.
In a candidate forum, when Michels was asked if he would support a bid by Trump for the presidency in 2024, he joined other GOP primary candidates in saying he was not committing to any candidate in 2024 and instead was focused on "beating Tony Evers."
That wasn't a no, but it wasn't a yes either.
One day later, Michels made clear he fully supported a Trump candidacy in 2024. 
In our book, that's a partial change in position and we rate it a Half Flip.
Email, Charles Franklin, Marquette Law School, Aug. 11, 2022
Milwaukee Journal Sentinel "Construction executive Tim Michels running for Wisconsin governor, bringing the Republican field to 4," April 22, 2022.
Milwaukee Journal Sentinel "Donald Trump endorses Tim Michels for Wisconsin governor, inserting himself into competitive GOP primary," June 2, 2022.
Milwaukee Journal Sentinel "Wisconsin Republicans refuse to endorse any of the party's 4 candidates for governor," May 21, 2022
Milwaukee Journal Sentinel "Tim Michels, Donald Trump's endorsed candidate for Wisconsin governor, refuses to commit to backing 2024 presidential run," Aug. 2, 2022.
Milwaukee Journal Sentinel "Donald Trump returns to Wisconsin trying to leave his mark on the Republican gubernatorial primary," August 5, 2022
WBAY.com "Michels reverses, tells crowd he will support Trump in 2024," Aug. 2, 2022.
Browse the Truth-O-Meter
More by D.L. Davis
Support independent fact-checking.
Become a member!
In a world of wild talk and fake news, help us stand up for the facts.