Stand up for the facts!
Our only agenda is to publish the truth so you can be an informed participant in democracy.
We need your help.
I would like to contribute
Says he was "one of the 2 (state Senators) who voted against" North Carolina's body camera law.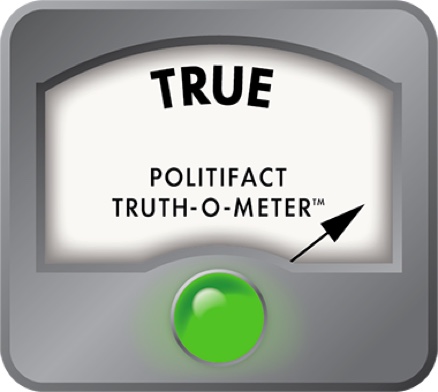 US Senate candidate right about North Carolina body cam vote
If Your Time is short
North Carolina's body camera law has come under renewed scrutiny after a judge blocked the media's access to footage of Andrew Brown Jr.'s death in Elizabeth City.
Democrat Jeff Jackson, who's running for U.S. Senate, says he was one of only two state Senators to vote against the law in 2016.
He's right. And the record shows that one of his opponents in the Democratic primary, Erica Smith, voted for the bill.
A Democratic candidate for U.S. Senate in North Carolina says he was among a small group of legislators who opposed the so-called "body camera law" that permits a judge to shield footage of Andrew Brown Jr.'s death from the public.
Brown, 42, was killed on April 21 while Pasquotank County deputies served drug-related search and arrest warrants at his house in Elizabeth City.
A private autopsy requested by Brown's family shows he was shot five times and suffered a fatal gunshot wound to the back of the head. Brown's family believes body camera footage will show that Brown never threatened police and was unjustly killed. 
However, a Superior Court judge on April 28 refused to release the video to the public. A state law gives judges discretion over whether to make such footage public.
Senate candidate Jeff Jackson recently tweeted about his record on the issue as a member of the state Senate.
"In 2016, then Gov. [Pat] McCrory signed HB 972 into law. It had passed the state Senate 48-2. I was one of the 2 who voted against it," he tweeted May 3.
One of Jackson's opponents in the Democratic primary, Erica Smith, also served in North Carolina's state Senate at the time. McCrory is also running for the US Senate seat, on the Republican side.
So, given the national attention on North Carolina's body cam law amid the Senate race, we wondered: Is Jackson telling the truth?
The answer is yes.
Change in the law
In 2016, North Carolina lawmakers gave judges discretion over the release of body camera videos when they passed House Bill 972. Then Gov. Pat McCrory, who is now running for U.S. Senate on the Republican side, signed the bill into law.
Prior to HB 972, UNC legal experts said the status of the recordings under the state's public records laws had been unclear. An existing law "meant that the public had no right of access to the recordings, but the law enforcement agency could release them in its discretion," UNC expert Frayda Bluestein wrote in 2016.
In Brown's case, his family says they were shown only 20 seconds of footage captured by body cameras on Pasquotank County deputies. 
So they appealed to Superior Court, which HB 972 gives them the right to do. The judge ruled that Brown's family can see more of the video, but he refused to release it to the media.
The 2016 bill
While the ACLU called HB 927 a "shameful" attempt to hide facts from the public, the bill passed with bipartisan support in the legislature.
For the final state House vote, 20 Democrats joined the Republican majority in supporting the bill — including current minority leader Rep. Robert Reives. In the state Senate, Jackson was the only Democrat to vote against the bill. The other opponent was Republican Chad Barefoot.
Jackson explained his position when asked about the bill in an election debate that October.
"I voted against it because it enabled a situation where, if you were mistreated by the police, say, when you were stopped for a speeding ticket, it made it very difficult for you to see the video even if you yourself were pictured in that video. You have to go to court if the police say no. And then once you go to court, it's really difficult to win because you have to prove that the police abused their discretion, which is the highest civil standard under the law."
PolitiFact North Carolina in 2016 checked a claim similar to the quote Jackson gave in the debate, finding it to be True.
Smith, one of Jackson's opponents in the Democratic primary for U.S. Senate, also served in the state Senate at the time. She voted to pass it. In a Twitter message exchange with a PolitiFact reporter, Smith focused on the positives of the bill while saying reform is still needed.
"Along with almost the entire Democratic caucus, I voted for the bill to guarantee that officers' body cams and dash cams would remain on at all times, increasing accountability and ensuring that there would always be footage. I believed at the time, as I believe now, that the process to release that footage was made far too restrictive and support the ongoing efforts to reform that. Given the realities of the NCGA at the time, I wanted to ensure that we did what we could to increase accountability albeit a flawed piece of legislation that we had aspirations of returning to and improving."
Smith has been speaking to protestors in Elizabeth City about the need for more transparency in policing. Other candidates in North Carolina's U.S. Senate race didn't serve in the legislature.
Our ruling
Jackson said he was "one of the 2 (state Senators) who voted against" North Carolina's body camera law.
Records show that is True.
Tweet by North Carolina state Sen. Jeff Jackson on May 3, 2021.
Stories by WRAL, "Did Andrew Brown's criminal history justify manpower, firepower used to serve warrant?" posted April 30, 2021; "Judge won't release videos of deputies shooting Black man," posted April 28, 2021.
North Carolina House Bill 972 and roll call votes on ncleg.gov.
UNC Coates' Canons local Government blog, "Answers to questions about North Carolina's body-worn camera law," posted July 20, 2016.
ACLU press release, "Gov. McCrory signs bill that keeps police camera footage secret," issued July 11, 2016.
Video posted to Jeff Jackson's Facebook page on Oct. 21, 2016.
Twitter exchange with Erica Smith on May 6, 2021.
Tweet by Erica Smith on May 4, 2021.
PolitiFact fact check, "ACLU: North Carolina police will have significant power to keep body cam, dash cam footage secret," posted July 1, 2016.
Browse the Truth-O-Meter
More by Paul Specht
Support independent fact-checking.
Become a member!
In a world of wild talk and fake news, help us stand up for the facts.