Stand up for the facts!
Our only agenda is to publish the truth so you can be an informed participant in democracy.
We need your help.
I would like to contribute
The push for high-speed internet for rural areas, from the start, "was a Democratic thing."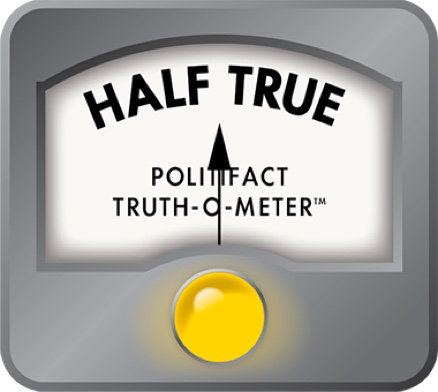 Democrats made early moves on high-speed internet access, but at local level, it's not partisan
If Your Time is short
Wisconsin Democrats did prioritize boosting rural broadband early on — particularly during the Obama administration, when then-Gov. Jim Doyle assigned nearly $23 million in federal funds to fix problems.

Under Gov. Scott Walker, who took control in 2011, Republicans sent that money back to the federal government, saying it had too many strings attached.

Wisconsin Republicans say they took an early aim at the issue by advocating to remove the sales tax on internet access, which could ease the burden on small internet service providers.

More broadly, experts say when it comes to pushing for better high-speed internet access, local efforts — where the rubber hits the road — are rarely partisan.
The need for more Americans to have better high-speed internet access is a common refrain these days — and it's a rare one that reaches across the aisle. 
Republicans and Democrats alike — from the nation's executive branch down to municipal officials — have taken swings at expanding access. 
President George W. Bush called for all Americans to have high-speed internet by 2007. In 2010, President Barack Obama released a report with more than 200 recommendations to improve broadband. In 2019, President Donald Trump unveiled the $20 billion Rural Digital Opportunity Fund, and in recent months President Joe Biden earmarked tens of billions of dollars for broadband expansion as part of his infrastructure bill. 
In Wisconsin, where about a quarter of rural residents live without access to high-speed internet, the 2021-23 budget signed by Gov. Tony Evers set aside $129 million to grow a grant program that funds efforts to improve broadband services in regions that need them. The final budget ultimately was authored by GOP legislators, who backed the provision.
(Evers had called for spending nearly $200 million on high-speed internet access in his proposed budget, which legislators discarded for other reasons.)
In a Dec. 12, 2021 interview for Madison TV station WKOW's Capital City Sunday program, state Sen. Jon Erpenbach, D-West Point, talked about how his party needs to do a better job reaching out to rural voters — and cited broadband as an example of issues where rural residents are not aware of Democratic efforts.
Democrats, he said, have been pushing for more high-speed internet access for years: "No matter where you live, that you should have access to high-speed internet — that was a Democratic thing." 
Is he right? In Wisconsin, did Democrats lead the charge to improve rural broadband? 
Republican, Democrat approaches to improving rural broadband differ 
When asked for backup for the claim, Erpenbach spokesperson Kelly Becker pointed to a bill introduced in 2001 by Democrats, including former state Rep. Jennifer Shilling, who later served in the state Senate and left her seat in 2020, and former Sen. Richard Grobschmidt, who died in 2016. 
The bill would have required the now-dissolved state Department of Commerce to develop a map and database of broadband internet service providers in Wisconsin. It failed to pass during that session. 
Becker argued Wisconsin Republicans did not act on broadband until 2003, when they proposed exempting broadband internet service from regulation by the Public Service Commission and local governments. 
Barry Orton, professor emeritus of telecommunications at the University of Wisconsin-Madison, said the Republican position on broadband has historically been to deregulate the industry and allow the marketplace to decide who gets what services. 
This, he said, "has always left unprofitable rural markets with poor or no service." 
Democrats, meanwhile, have sought to fund broadband expansion for years, at least since the beginning of the Obama administration, Orton said. 
Former Wisconsin Gov. Jim Doyle in 2010 announced the state would spend nearly $23 million in federal stimulus funds from Obama's American Recovery and Reinvestment Act to improve broadband access across the state's 72 counties. 
A year later, when Wisconsin had flipped Republican under former Gov. Scott Walker, state officials returned those stimulus funds to the federal government, saying there were too many strings attached. 
Becker also pointed to a 2015 motion Erpenbach made as a member of the state's Joint Finance Committee to make changes to the broadband expansion grants program, including expanding eligibility for the grants and creating a biennial general purpose revenue appropriation for making the grants. The motion failed 12-4 on a party line vote. 
State Republicans, however, say their early focus on eliminating the sales tax on internet services predates Democrats' push for broadband expansion. 
A spokesperson for state Rep. Rob Summerfield, R-Bloomer — who along with state Sen. Howard Marklein, R-Spring Green, has called for better broadband infrastructure in Wisconsin — pointed to a 1999 bill aiming for a sales and use tax exemption for providing access to, or use of, the internet. 
The bill was introduced in part by then-Assembly Speaker Scott Jensen, a Republican who represented Waukesha, said Alex Braaten, a research assistant for Summerfield. 
Jensen had previously advocated for reducing or eliminating that sales tax, in part because he believed it would limit growth of the internet economy and slow development of e-commerce, according to a 1999 Milwaukee Business Journal article. 
Braaten argued that, in doing so, Jensen sought to make the internet more affordable for Wisconsinites and ease the tax burden on small service providers so they could expand. 
(In 2016, Congress passed legislation banning state and local governments from taxing access to the internet. Wisconsin, one of just a handful of states that still did so, was forced to phase out the tax beginning in summer 2020.) 
At the local level, need for broadband isn't about politics 
It's worth noting that experts say party doesn't matter much when it comes to the need for high-speed internet within local communities. 
Doug Dawson, a nationally recognized internet consultant from North Carolina, told PolitiFact Wisconsin he couldn't think of one example of political bias from the approximately 500 communities he's worked with to improve broadband access. 
"There are almost no rural politicians opposed to getting better broadband — and most are active proponents," he wrote. "I assume most such politicians are Republicans." 
Where the partisan divide begins to rear its head, he said, is the question of how to fund better broadband — "and funding anything quickly becomes partisan." 
Our ruling
Erpenbach claimed pushing for better high-speed internet access was "a Democratic thing." 
Democrats pushed a broad variety of potential solutions and called for funding early, but Republicans did float bills that could address parts of the problem, albeit market-driven approaches that experts say would leave places that are most expensive to reach uncovered. Today, both sides agree on the need for better broadband — just not quite how to get there. 
And at the local level, experts say advocating for improved internet access is a grassroots effort, not a political one. 
We rate his claim Half True. 
Milwaukee Journal Sentinel, "With poor data, deficient requirements and little oversight, massive public spending still hasn't solved the rural internet access problem," July 14, 2021
Milwaukee Journal Sentinel, "Wisconsin will get at least $100 million for broadband expansion under the massive federal infrastructure bill," Nov. 9, 2021
Politifact Wisconsin, "Evers-O-Meter: ​​Evers makes progress in second budget with big plans for broadband expansion," July 23, 2021
Wisconsin 2001 Assembly Bill 929, accessed Dec. 21, 2021
Wisconsin 2003 Assembly Bill 672, accessed Dec. 21, 2021
Email exchange with Barry Orton, professor emeritus of telecommunications, professional development and applied studies, University of Wisconsin-Madison
The Badger Herald, "Doyle: $29 million to go to expanded broadband," Feb. 19, 2010
U.S. Congress, H.R. 1 American Recovery and Reinvestment Act of 2009, accessed Dec. 27, 2021
Milwaukee Journal Sentinel, "State giving back stimulus funds intended for broadband expansion," Feb. 15, 2011
The Wheeler Report, Public Service Commission: Funding for broadband expansion grants from the Universal Service Fund, accessed Dec. 27, 2021
Email exchange with the office of Rep. Rob Summerfield, R-Bloomer
Wisconsin State Farmer, "GOP lawmakers call for expansion of broadband infrastructure," May 11, 2021
Wisconsin 1999 Assembly Bill 236, accessed Dec. 27, 2021
Milwaukee Business Journal, "House of tax horrors," Nov. 28, 1999
Milwaukee Journal Sentinel, "Congress gives final approval to banning internet access taxes," Feb. 11, 2016
Email exchange with Doug Dawson, owner and president, CCG Consulting
Browse the Truth-O-Meter
More by Madeline Heim
Support independent fact-checking.
Become a member!
In a world of wild talk and fake news, help us stand up for the facts.