Stand up for the facts!
Our only agenda is to publish the truth so you can be an informed participant in democracy.
We need your help.
I would like to contribute
"Even in the last Congress, President Trump signed 18 of my bills."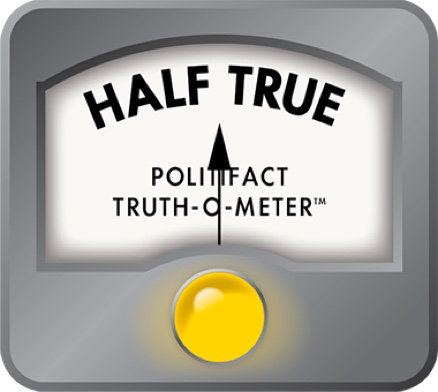 Gillibrand claims legislative victories in Trump era
A point that Sen. Kirsten Gillibrand, D-N.Y., brings up on the presidential campaign trail is her ability to work across the political aisle.  
"Even in the last Congress, President Trump signed 18 of my bills. I don't think he knows he did, but he did," Gillibrand told the editorial board at the Des Moines Register.  
She repeats it often, so we checked her claim.
It quickly became clear that evaluating the truthfulness of her statement would not be as simple as searching for her sponsored legislation in a Congressional database and seeing which bills passed.
The list
We approached Gillibrand's campaign for evidence of her claim. Spokeswoman Meredith Kelly provided a list of legislation the senator sponsored or co-sponsored that made it into law in some form, typically as part of other bills, during the 115th Congress in 2017-18.
This list had 17 pieces of legislation, including an amendment, and the 18th item was several bills intended to change sexual harassment policies in Congress.
With one exception, the renaming of a post office, the bills did not follow a simple path from her sponsorship to a signing by the president.
In some cases, bills originated in her office, but the House version was signed into law. This includes a bill regarding a hydroelectric project at the Cannonsville Dam, east of Binghamton. In this case, Rep. John Faso, a Republican, sponsored identical legislation in the House one month after Gillibrand introduced her bill. His bill ultimately passed both houses. Gillibrand's bill, meanwhile, had been amended in the Senate. At the time, Faso was a member of the Republican majority in the House, and Gillibrand was in the Democratic minority in the Senate.  
In another case, the House version of a bill to conduct a study in Oswego was signed, though Gillibrand carried a related bill in the Senate.  
In two of the bills that became law, Gillibrand was an original co-sponsor, meaning that she signed on to the bill when it was introduced. This happened with a bill sponsored by Sen. Chuck Grassley, R-Iowa, to provide benefits to public safety officers and their survivors. Another, sponsored by Sen. Roy Blunt, R-Missouri, allows military families more flexibility in where they live before or after a new assignment. That bill became law as part of a large defense spending bill. Gillibrand's campaign provided evidence of Grassley and Blunt crediting Gillibrand for her work on the bills. 
The majority of the items on the list started out as bills sponsored by Gillibrand, but were passed in whole or in part as part of other bills. Gillibrand's Computer Science Career Education Act was signed into law after it became a provision of another bill, the Strengthening Career and Technical Education For The 21st Century Act. Provisions of another one of Gillibrand's bills, which promotes hands-on manufacturing and learning, was also included in the career and technical education act. A bill aimed at reducing wealth inequality was included in a defense spending bill. Provisions from her bill to help dairy farmers were adopted as part of a farm bill.   
In one case, she offered an amendment to a defense spending bill to clean drinking water polluted by Air Force-supported activities. The spending bill was signed into law.
The 18th item on the list was a collection of reforms to sexual harassment policy in Congress that Gillibrand had been pushing. Though she was not a sponsor of adopted legislation, the final law had provisions from Gillibrand's sponsored legislation. These elements included making sure interns were covered by the policy, eliminating a mandatory 30-day mediation before a complaint is filed, and conducting a "climate survey" of House and Senate offices about sexual harassment and other workplace issues, among others. Her activities around these reforms garnered her significant national media attention.
Measuring effectiveness
Evaluating effectiveness is not simple, experts said. It can be difficult to measure how much a lawmaker worked behind the scenes to advance legislation, because the paper trail isn't always clear, said Grant Reeher, professor of political science at Syracuse University.
Rolling bills into other legislation is common, said Joshua Huder, a senior fellow at the Government Affairs Institute at Georgetown University. "Negotiating the legislative process in the Senate often means giving senators what they want in exchange to lift their fillibuster threat," Huder said.
A good legislator doesn't insist that his or her legislation pass as a free-standing bill, said Dan Diller, a former senior Senate staff member and director of policy at the Lugar Center, which measures bipartisanship. "If you were so arrogant (to insist) that your bills pass free-standing, nothing would ever get done," Diller said.
But, if you sign on as the 15th co-sponsor, you probably haven't done much to advance the bill, he said. Gillibrand did not claim credit for any bills in which she was not an original co-sponsor, nor for any if her contributions were not acknowledged by the bill sponsor.
In the case where part of a bill was adopted as part of a larger bill, that's a sign of a flexible legislator dedicated to governance, Diller said. It's difficult to pin down how much credit a lawmaker should receive in this instance, but a lawmaker should get credit if their entire bill is adopted as part of a different bill, he said.
Craig Volden, an expert in legislative effectiveness and a professor at the University of Virginia, took a different view. In his model, he and his partner, Alan Wiseman, assign credit only for bills that a lawmaker sponsored, not ones they co-sponsored. As for ideas or language that ends up in law, "there is no established objective standard," Volden said.   
According to Congress.gov, maintained by the Library of Congress, Gillibrand was a sponsor of one bill that Trump signed during the 115th Congress, a post office renaming, and a co-sponsor of 18 other bills. These co-sponsored bills were largely not the ones that Gillibrand's campaign provided to us.   
Our ruling
Gillibrand said that Trump has signed "18 of my bills."
The bills to which Gillibrand referred were not strictly bills that originated in her office.
As the experts said, legislating requires flexibility in order to get anything accomplished. Indeed, provisions from bills that Gillibrand sponsored or supported early became law, but typically as part of other bills. Evaluating her contributions to those laws and how she influenced policy requires nuance and understanding how legislating works.
But her phrasing lacked nuance. They may largely have been her ideas, but she called them "my bills." For all but one of the bills, she left out an important detail: In their final form, the bills were sponsored by someone else.  
We rate her claim Half True.   
Editorial Board interview with Sen. Kirsten Gillibrand, Des Moines Register, June 10, 2019. Accessed June 12, 2019.
Speech, Sen. Kirsten Gillibrand, Iowa Democrats Hall of Fame event, June 9, 2019. Accessed June 14, 2019.
Legislation search: Sen. Kirsten E. Gillibrand, signed into law, 115th Congress, Congress.gov. Accessed June 13, 2019.
Email interview, Meredith Kelly, spokeswoman, Gillibrand 2020, June 14, 18, 2019.
Phone interview, Dan Diller, director of policy, The Lugar Center, June 17, 2019.
Phone interview, Grant Reeher, professor of political science, Syracuse University, June 17, 2019.
Email interview, Joshua Huder, senior fellow, Government Affairs Institute at Georgetown University, June 17, 2019.
Email interview, Craig Volden, associate dean for academic affairs and professor of public policy and politics, University of Virginia, June 17, 2019.
"Gillibrand's opponent claims she hasn't passed any bills while in office," PolitiFact New York, May 4, 2018. Accessed June 18, 2019.
"Florida Republicans attack Sen. Bill Nelson's legislative record," PolitiFact Florida, April 20, 2018. Accessed June 18, 2019.
"Group says Connie Mack has passed only one bill in Congress in seven years," PolitiFact Florida, August 6, 2012. Accessed June 18, 2019.
Summary, S.419, the Public Safety Officers' Benefits Improvement Act, June 2, 2017. Accessed June 18, 2019.
Summary, H.R. 2292, To extend a project of the Federal Energy Regulatory Commission involving the Cannonsville Dam, July 23, 2018. Accessed June 18, 2019.
Browse the Truth-O-Meter
More by Jill Terreri Ramos
Support independent fact-checking.
Become a member!
In a world of wild talk and fake news, help us stand up for the facts.