Stand up for the facts!
Our only agenda is to publish the truth so you can be an informed participant in democracy.
We need your help.
I would like to contribute
In 2005 or 2006 U.S. Sen. Chuck Schumer "voted for the wall."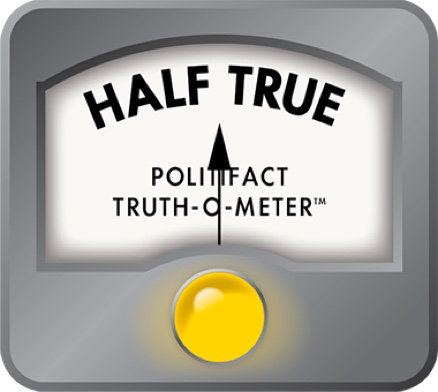 Jim Renacci says Chuck Schumer voted for the wall in 2006
U.S. Rep. Jim Renacci, R-Ohio, portrayed Senate Democratic Leader Chuck Schumer's position on the wall as ever changing after the New York Democrat balked on an offer to fund President Donald Trump's wall at the U.S.-Mexico border.
"In 2005 or '06 he (Schumer) voted for the wall. So again Schumer seems to be changing his positions all the time...," said Renacci on Fox Business Network on Jan. 24. "This is something that he (Schumer) voted for in 2005 or 2006.  This is something we need, to get immigration moving in the right direction. This is something he already negotiated."
Renacci, who hopes to challenge Democratic U.S. Sen. Sherrod Brown in the Nov. 6 election, supports Trump's campaign promise to build a wall and is a co-sponsor of a bill to provide billions of dollars in border security measures.
We fact-checked Renacci's claim that Schumer voted for the wall about 12 years ago and found that Schumer supported the construction of a fence. But it was far less extensive than Trump's wall.
This has become a familiar talking point by Republicans, including Trump, to attack Democrats who voted for the fence but have taken stances against Trump's wall.
Schumer voted for Secure Fence Act of 2006
Renacci's spokeswoman pointed to Schumer's vote in favor of the Secure Fence Act of 2006.
Schumer was one of 26 Democratic senators, including Barack Obama and Hillary Clinton, to vote in favor of the act when it passed in the Senate by a vote of 80 to 19. President George W. Bush signed the bill into law.
The legislation authorized about 700 miles of fencing along parts of the border of the United States and Mexico. It also authorized the use of several tools in an effort to curb illegal immigration, including more vehicle barriers, checkpoints and lighting, as well as satellites and unmanned aerial vehicles.
Originally, the act called on the Department of Homeland Security to install at least two layers of reinforced fencing along some stretches of the border. That was amended later, however, through the Consolidated Appropriations Act of 2008, which got rid of the double-layer requirement.
So how is that different from the wall that candidate Trump promised to build?
What was voted on in 2006 varies from what Trump promised during the campaign. Trump promised an "impenetrable" physical wall. But since the election has toned down that rhetoric and said that parts of the wall could actually be "see-through" and fencing could be constructed in some areas instead of a wall.
Trump was initially vague on the details about his wall and during the campaign gave varying cost figures, from $8 billion to $12 billion. Trump has continued to say that Mexico would pay for it — but did not offer concrete details on how or a clear timeframe — but he also sought money from Congress.
The Wall Street Journal reported on Jan. 5 that his administration outlined to a group of senators plans requesting nearly $18 billion over 10 years to build new and replacement barriers along more than 700 miles of the nearly 2,000-mile long U.S.-Mexico border.
The administration's document called for a barrier, referred to as a "wall system," but officials did not specify where it would be constructed.
Renacci's congressional spokeswoman Kelsey Knight said that there isn't any significant difference between the barrier that Schumer supported in 2006 and Trump's wall.
"Both are meant to deter physical entry from one side of the border to the other," she said.
Trump criticized the 2006 fence as too modest during the 2016 campaign.
"Now we got lucky because it was such a little wall, it was such a nothing wall, no, they couldn't get their environmental -- probably a snake was in the way or a toad," Trump said. (Actually, the project didn't face environmental hurdles; we rated that part of the claim Mostly False.)
It's also worth noting that the political context surrounding the 2006 vote was different from Schumer's statements about Trump's wall in the past year.
Democrats normally in favor of looser immigration laws saw the Secure Fence Act of 2006 as the lesser of two evils, according to a Boston Globe report that detailed the legislative process. Around that same time, the House passed legislation that would make any undocumented immigrant a felon.
Our ruling
Renacci said that in 2005 or 2006, Schumer "voted for the wall."
Schumer voted for the Secure Fence Act of 2006, which authorized building a fence along about 700 miles of the border between the United States and Mexico.
But that fence is not as substantial as Trump's proposed wall. Trump himself called the 2006 fence a "nothing wall."
We rate this statement Half True.
'
Fox Business Network, "Rep. Renacci talks DACA and Border Security on Fox Business," Jan. 24, 2018
U.S. Rep. James Renacci, Tweet, Jan. 24, 2018
Project VoteSmart, Jim Renacci, Accessed Jan. 27, 2018
U.S. Sen. Chuck Schumer, Press release, May 20, 2009
Congress.gov, H.R.3548 - Border Security for America Act of 2017
Washington Post, "Senate Democrats prepare for spring battle over Trump's border wall," March 13, 2017
New York Times, "Pelosi and Schumer Say They Have Deal With Trump to Replace DACA," Sept. 13, 2017
PolitiFact, "Donald Trump requests Congress $18 billion for border barriers," Jan. 19, 2018
PolitiFact, "Fact-check: Did top Democrats vote for a border wall in 2006?" April 23, 2018
PolitiFact, "Timeline: DACA, the Trump administration and a government shutdown," Jan. 22, 2018
Interview, Kelsey Knight, U.S. Rep. Jim Renacci office spokeswoman, Jan. 29, 2018
Interview, James Slepian, U.S. Rep. Jim Renacci campaign spokesman, Jan. 29, 2018
Browse the Truth-O-Meter
More by Amy Sherman
Support independent fact-checking.
Become a member!
In a world of wild talk and fake news, help us stand up for the facts.