Stand up for the facts!
Our only agenda is to publish the truth so you can be an informed participant in democracy.
We need your help.
I would like to contribute
Says Mary Taylor has a work schedule that is "almost untraceable."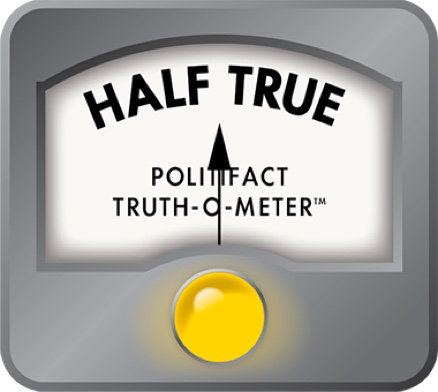 Mike DeWine TV ad says GOP opponent Mary Taylor's work schedule is 'almost untraceable'
Ohio Lt. Gov. Mary Taylor is a slacker who isn't ready for a promotion to the governor's mansion, says her Republican primary opponent, Attorney General Mike DeWine.

On the website marydoesnotwork.com, the DeWine campaign posted a statewide TV ad that makes a series of attacks about her work record, including that she was a no-show.

Part of the ad states: "Taylor is dogged by rumors that she skips out on work. A slacker whose work schedule is almost untraceable."

We found that the ad cherrypicks a couple of sentences from one newspaper article about Taylor's work schedule while ignoring her explanation.

Also, the attack pertains to her former job as state auditor (2007-11) and not her current job as lieutenant governor.

DeWine and Taylor are competing in the May 8 Republican primary.

Taylor's work as state auditor

The ad draws on a March 2010 article by the Cleveland Plain Dealer, which reported that since Taylor took office as state auditor in 2007, she had been dogged by rumors about skipping work. The state auditor, an elected position, is responsible for auditing all public offices in Ohio including cities, schools, state universities and state agencies.

"The fact that she admittedly spends as much time working away from her main Columbus office as she is there has only fueled speculation that Ohioans had elected a slacker," the Plain Dealer wrote. "She doesn't document her work hours. She doesn't ask for mileage reimbursement from the state. And she can't tell you how much time she spends working here or there. Her work schedule is almost untraceable, and that's how Taylor seems to like it."

The ad omits Taylor's explanation to the Plain Dealer: Taylor said that she preferred to use one of her seven regional offices, including one close to her home in Canton, rather than travel to Columbus.

The Columbus Dispatch wrote in February 2010 that Taylor was "the first statewide executive officeholder in memory to work most of the week from an office outside the state capital."

Taylor worked several days a week out of the Canton office, allowing her to work close to home where she was raising two teenage boys with her husband, the Dispatch reported. She said she worked in Columbus one or two days a week.

"I'm elected state auditor, I'm not just the auditor of Columbus," Taylor told the Dispatch. "From my perspective, it is manageable, and I think it's more efficient at times."

The Dispatch's editorial board concluded that critics of Taylor were ignoring both the prevalence of telecommuting and the nature of the state auditor's work. The editorial board wrote that 653 of Taylor's 833 employees worked in regional offices away from Columbus.

"As long as the auditor's office is effectively managed, Taylor's location isn't of primary importance," the board wrote.

We asked her campaign spokesman to cite some of her key accomplishments as auditor. Michael Duchesne said her office did "rigorous financial audits of more than 5,600 public entities" and identified millions of dollars in public funds that were handled improperly, spent illegally or stolen, leading to convictions. The auditor's office also uncovered Medicaid fraud and tracked federal stimulus dollars.

The ad said that Taylor's work schedule was "almost untraceable," so we went in search of any record of her calendar while auditor and could not find one. The Ohio State Auditor's office said her executive correspondence was transferred to the state archives. A reference archivist told us that a catalog record showed boxes of correspondence, but didn't show her schedule.

Taylor's work as lieutenant governor

Taylor became the lieutenant governor in January 2011 and was re-elected along with Gov. John Kasich in 2014. Kasich is term limited.

In 2015, Taylor told the Plain Dealer that she "usually" worked in Columbus.

"It's no secret, and I make no apologies for this," she replied when asked about the time she spends close to home. "My family comes first. And you know what? I tell my staff the same thing."

We asked her spokesman in the lieutenant governor's office for a sample of her calendar. David Hopcraft sent PolitiFact her schedule between July and December 2016. The calendar showed the dates and times of policy briefings, staff meetings, public events, media interviews, phone calls and travel time. Hopcraft told PolitiFact that in 2018 she has taken personal time to campaign, but she has also come into the official office about once every 10 days to two weeks.

We asked Hopcraft for a list of her accomplishments while lieutenant governor. Taylor was also the director of the Ohio Department of Insurance for most of her tenure, which meant she guided state policy related to health insurance coverage and other types of insurance, he said. She has also worked to cut business regulations and recruit business to Ohio and was the signatory on an agreement with Michigan and Indiana to reduce the load of  nutrients and phosphorus runoff into Lake Erie by 40 percent by 2025.

Neverthless, news reports during Taylor's tenure as lieutenant governor have raised questions about her oversight of workers.

In 2014, Taylor's then-chief of staff Laura Johnson and her administrative aide, Heather Brandt, both quit after a public records request revealed they were working less than they had reported. They had hundreds of questionable hours claimed for work, including for hair and salon appointments, an Inspector General report showed. The Inspector General concluded that employees "operated with inadequate oversight, absence of supervision."

The Columbus Dispatch also found that Johnson worked on state time on the 2014 re-election campaign of Taylor and John Kasich.

Our ruling

A TV ad by DeWine said that Taylor has a work schedule that "is almost untraceable."

This attack refers to Taylor's time as auditor, which ended when she became lieutenant governor in 2011. We were unable to find detailed records of her work schedule as auditor.

By stating that her work schedule was "almost untraceable," the ad creates the impression that she was hardly ever at work, but the ad and the 2010 Plain Dealer article it draws from don't prove that occurred.

The ad omits Taylor's explanation: that she worked out of a regional office close to her home.

The ad also omits any information about where Taylor has worked in her current role. We were able to find her calendar while lieutenant governor by requesting it from her office.

We rate this claim Half True.

'
Mike DeWine campaign, Marydoesnotwork.com, Accessed March 21, 2018
Cleveland Plain Dealer, "Auditor Mary Taylor says she's always on the job, no matter where she is," March 7, 2010
Cleveland Plain Dealer, "Mary Taylor's moment: Ohio lieutenant governor looks to prove skeptics wrong with big 2018 push," Nov. 22, 2015
Cleveland Plain Dealer, "Mary Taylor has become one of Gov. John Kasich's biggest critics. So why does she still work for him?" March 22, 2018
Columbus Dispatch, "Auditor often working near her Canton home," (Accessed in Nexis) Feb. 14, 2010
Columbus Dispatch Editorial Board, "Telecommute in dispute," Oct. 19, 2010
Lima News, "Editorial: Mud-slinging doesn't stick on Kasich running mate," (Accessed in Nexis) Feb. 23, 2010
Columbus Dispatch, "DeWine ad calls Taylor 'slacker,'" March 21, 2018
Office of the Inspector General, Report investigation and news release, Nov. 24, 2015
Interview, Ryan Stubenrauch, Mike DeWine campaign spokesman, March 21, 2018
Interview, David Hopcraft, Lt. Gov. Mary Taylor spokesman, March 22, 2018
Interview, Michael Duchesne, Mary Taylor campaign spokesman, March 22, 2018
Interview, Tom Rieder, Ohio state archives, March 23, 2018
Interview, Dominic Binkley, spokesman for Ohio Auditor of the State David Yost, March 23, 2018
Browse the Truth-O-Meter
More by Amy Sherman
Support independent fact-checking.
Become a member!
In a world of wild talk and fake news, help us stand up for the facts.