Stand up for the facts!
Our only agenda is to publish the truth so you can be an informed participant in democracy.
We need your help.
I would like to contribute
DACA was "a mere memo from the Department of Homeland security under Barack Obama, which violated the laws."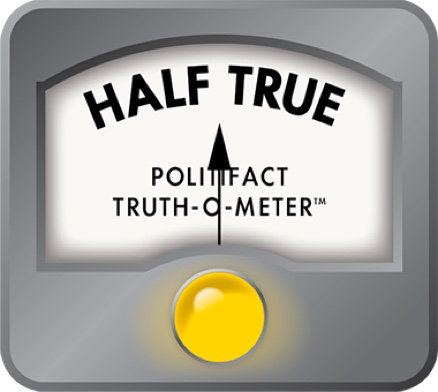 In debate, Roy Moore claims DACA was a 'mere memo,' violated laws
During a debate for Alabama's open U.S. Senate seat, former state Supreme Court Justice Roy Moore blasted a controversial immigration policy recently ended by President Donald Trump as being illegal.
Republican Roy Moore squared off in Montgomery on Sept. 21, 2017, against U.S. Sen. Luther Strange, who replaced Jeff Sessions when Sessions became attorney general. The winner of the GOP runoff on Sept. 26 faces Democrat Doug Jones on Dec. 12.
Moore, who was removed from the court in 2003 after refusing a federal order to take down a monument of the Ten Commandments from the Alabama Judicial Building, attacked Deferred Action for Childhood Arrivals (DACA).
The program protected from deportation immigrants who came to the United States as children and lived here illegally, known as Dreamers. Sessions, calling the situation a "failure to enforce immigration laws," announced a phaseout of DACA on Sept. 5. (Renewal applications can be submitted until Oct. 5.) The Trump administration said no current beneficiaries will be affected before March 5, 2018, giving Congress time to act.
"Obviously, Congress did not do their duty on DACA, which was a mere memo from the Department of Homeland security under Barack Obama, which violated the laws," Moore said. He said he didn't consider the policy valid, preferring action from lawmakers.
Congress hasn't passed any laws concerning Dreamers, but does that mean DACA violated current law? It's certainly been a contentious policy that has caused a lot of debate, but there is no court ruling directly tied to the program's constitutionality.
No DACA decision
DACA is a policy, not a law, and is based on a June 2012 memorandum issued by  then-Secretary of the Department of Homeland Security Janet Napolitano.
Her memo outlined prosecutorial discretion to focus resources on removing immigrants who met the department's priorities while protecting Dreamers from deportation. It does not grant legal immigration status to the approximately 800,000 people approved for DACA, but it does give a temporary reprieve from deportation.
Immigration laws were "not designed to be blindly enforced" without considering individual cases and circumstances, Napolitano wrote. "Nor are they designed to remove productive young people to countries where they may not have lived or even speak the language. Indeed, many of these young people have already contributed to our country in significant ways. Prosecutorial discretion, which is used in so many other areas, is especially justified here."
DACA's critics say that protecting Dreamers through the executive branch, as Napolitano did, instead of through the legislative process is an overreach of executive power. But the judicial branch hasn't weighed in on the issue.
"There has been no court decision holding that DACA itself is unconstitutional," Anil Kalhan, an associate professor of law at Drexel University, previously told PolitiFact.
A lawsuit challenging the program was dismissed for lack of standing, and that decision was upheld by the U.S. Court of Appeals for the Fifth Circuit, Kalhan said.
"So there was never any adjudication on the merits," he said.
Following a lawsuit from Texas and 25 other states, a federal district judge did block an expanded version of DACA and another program that offered a reprieve from deportation, Deferred Action for Parents of Americans and Lawful Permanent Residents (DAPA). An appeals court upheld the ruling, and in 2016 the Supreme Court ruled 4-4 on the case, leaving the lower court's ruling in place.
The DACA expansion and DAPA were not halted based on their constitutionality, however, but rather that the federal government hadn't met some technical requirements.
Those programs were temporarily enjoined by the district court in Texas, Kalhan said, "based on a conclusion that Obama administration should have instituted the policy using notice and comment rule-making, rather than using the more informal guidance document that it issued."
A final, binding precedent even on that basis was not set either, since it was only a preliminary injunction and the Supreme Court deadlocked, Kalhan said.
"And even then, some aspects of DAPA and the DACA expansion may be different from DACA in relevant ways that bear on legality — it has never been fully established the two programs stand on identical legal footing," Kalhan said.
Our ruling
Moore said DACA was "a mere memo from the Department of Homeland security under Barack Obama, which violated the laws."
The DACA program was part of a 2012 Homeland Security memo that said Dreamers would not be the focus of deportation efforts. It didn't grant Dreamers legal status and only gave them temporary protection from deportation.
While critics have called the guidance executive overreach and argued it is illegal, there has been no court ruling calling the policy unconstitutional. It remained in place until the Trump administration announced its end.
Moore may feel DACA violated law, and the program has faced legal challenges, but he can't make that claim as a definitive statement of fact. We rate his statement Half True.
Browse the Truth-O-Meter
More by Joshua Gillin
Support independent fact-checking.
Become a member!
In a world of wild talk and fake news, help us stand up for the facts.