Stand up for the facts!
Our only agenda is to publish the truth so you can be an informed participant in democracy.
We need your help.
I would like to contribute
"We are spending more on affordable housing than we're spending on Dix Park right now."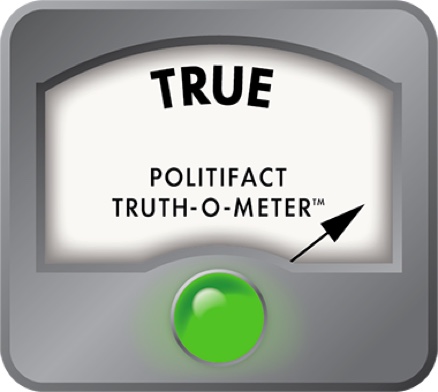 Mayor says Raleigh spending more on housing than Dix Park
Raleigh Mayor Nancy McFarlane's opponent says the City Council isn't doing enough to sustain and build affordable housing.
Her opponent is Charles Francis, a Democrat who called for a runoff election after mayoral candidates failed to get the 50 percent of the vote required to secure a win. McFarlane, who's unaffiliated, got 48 percent of the vote on Oct. 10. Francis got 36 percent and Republican Paul Fitts got 12 percent.
In a televised debate on Oct. 20, Francis suggested the city shouldn't focus all of its energy on Dix Park when more basic needs go unaddressed. Dix Park is a 308-acre property just south of downtown Raleigh that the city bought from the state in 2014 for $52 million.
McFarlane defended the city's work on Dix Park, as well as the council's investment in housing – an area where Francis has said Raleigh should be doing more.
"We are spending more on affordable housing than we're spending on Dix Park right now," she said.
The claim is suspect not only because the city bought Dix Park in 2014 but because Dix Park and affordable housing have shared an identical funding source since summer 2016. The City Council last year raised the property tax rate by two cents – one cent to generate money for affordable housing and the other cent to pay off Dix Park debt.
Each cent generated about $5.7 million for its respective purpose in fiscal year 2016-17, which ended this June. The city expects to raise about $6 million for each cause this fiscal year, which ends next June.
So, with that said, why did McFarlane claim that the city is paying more for affordable housing than Dix Park? Let's judge McFarlane on this fiscal year, since she referenced current spending.
Paying for Dix Park
The city bought the Dix property with the intention of transforming it into a "destination" park that downtown residents or workers can walk to and other Wake County residents would want to drive to. The city hopes to inspire locals to participate in the planning process and there have been several events at the property.
Francis has criticized McFarlane and other city leaders, saying they seem more enthusiastic about developing Dix Park than fixing roads or putting air conditioning in city gyms.
Kate Pearce, the city's point person for Dix Park, says the city budgeted $300,000 and $307,000, respectively, for ongoing maintenance at the park each of the past two years. Those figures include mowing, landscaping, clean-up and salaries of park staff members, she said.
The planning process and most of the programs held on the Dix property to this point have been paid for by Raleigh's nonprofit partner, the Dix Park Conservancy. The conservancy signed a deal with the city last year promising to pay at least $2 million of the planning effort and may commit up to an additional $1 million for planning-related activities, she said.
So let's recap: This fiscal year, the city expects to spend about $6 million on Dix-related debt and an additional $307,000 for Dix Park maintenance – combining for a total of $6.3 million in spending.
What is affordable housing?
First, an explanation: "affordable housing" is a blanket term that can refer to anything from living spaces owned or subsidized by the city, county or federal government to homes owned by the private sector for which low-income residents can pay on their own.
Wake County uses the term to describe housing that can be bought or rented by people earning less than 60 percent of Wake's annual median income, $78,800, which comes out to $47,280 a year. Roughly 126,000 Wake residents earn less than that, county statistics show.
McFarlane referenced city spending on affordable housing. But even that can be complicated to track. Not only does Raleigh spend money it generates on its own, it's also tasked with spending money it gets from the federal government.
City spending
Larry Jarvis, director of Raleigh's housing and neighborhoods department, says it's hard to compare year-by-year affordable housing spending. For instance, a voter-approved bond referendum in 2011 set aside $16 million for affordable housing with some of the funds subject to annual expenditure and the rest committed to large affordable housing projects that sometimes take three years to actually complete.
"For large tax credit projects like Washington Terrace, local funds are committed or encumbered when the projects are awarded tax credits by the (North Carolina Housing Finance Agency) and then 'spent' during construction," Jarvis wrote in an email. "All of the funds have been encumbered for specific affordable housing projects and the funds will be spent as construction progresses."
In fiscal year 2017-18, the city budgeted $7.24 million on affordable housing units or housing-related spending, said Tonya Walton, a senior budget and management analyst for the city.
The city will spend another $6 million in federal funds on affordable housing and other community development activities, Jarvis added.
Our ruling
McFarlane said the city is "spending more on affordable housing than we're spending on Dix Park right now." The city's $52 million purchase of the Dix property was certainly a big one. But the city's is paying for it incrementally and McFarlane is right that the city this year is spending more on affordable housing – $7.24 million – than it is on Dix Park – $6.3 million.
We rate her claim True.
Spectrum News video of televised debate between Raleigh Mayor Nancy McFarlane and Charles Francis.
The FY 2017-2018 Raleigh city budget.
Email correspondence with Perry Woods, McFarlane's campaign advisor.
Email correspondence with Larry Jarvis, director of Raleigh's housing and neighborhoods department.
Email correspondence with Tonya Walton, senior budget and management analyst for the city.
Email correspondence with Kate Pearce, senior city planner and the city's point person for Dix Park.
Browse the Truth-O-Meter
More by Paul Specht
Support independent fact-checking.
Become a member!
In a world of wild talk and fake news, help us stand up for the facts.