Stand up for the facts!
Our only agenda is to publish the truth so you can be an informed participant in democracy.
We need your help.
I would like to contribute
"300,000 Floridians have lost their health insurance" as a result of Obamacare.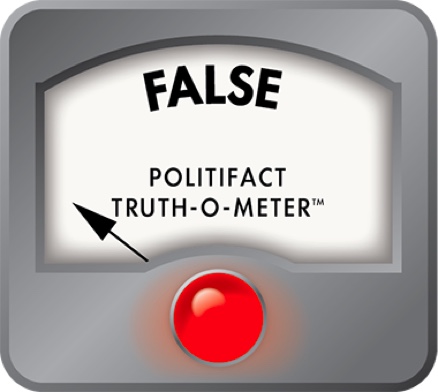 Ad hitting Patrick Murphy revives zombie statistic of 300,000 losing plans due to Obamacare
Florida's closely watched U.S. Senate race pits incumbent Republican Marco Rubio against Democratic Rep. Patrick Murphy. Recently, Rubio got some help from the free-market group Americans for Prosperity, which created an ad attacking Murphy as "Pay-More Patrick."
One of the claims in the ad was an attack on Murphy's support for the Affordable Care Act, a law sometimes called Obamacare after the president who signed it into law.
In the ad, a narrator says, "Patrick Murphy says he wants to serve in the U.S. Senate, but who does he really want to serve? As a member of Congress, 'Pay-More' Patrick has voted for big payouts to special interests. Our health care premiums are going up, and 300,000 Floridians have lost their health insurance. And yet, 'Pay-More' Patrick voted not once, not twice, but nine times for Obamacare."
Here, we'll check the assertion that "300,000 Floridians have lost their health insurance" as a result of Obamacare.
Where the number came from
The 300,000 figure has a long history. As we have noted previously, it stems from the 300,000 policyholders in October 2013 who received notices from the insurance company Florida Blue that their insurance plans didn't meet the new rules under the Affordable Care Act. Those rules were intended to phase out "bare bones" plans that didn't include features like prescription drug coverage or hospital stays.
Florida Blue sent those 300,000 customers letters informing them that their plans would end and offering guidance on how to get signed up for a new plan.
"Florida Blue is proactively communicating to these members to help them understand how this transition affects them," the company said at the time. "Prior to their 2014 renewal date, each member will receive a letter that instructs them to contact Florida Blue to review their migration options. These new plans will offer members access to more comprehensive benefits in 2014."
Opponents of the Affordable Care Act seized on the 300,000 number as a sign of problems for the newly implemented law, and it became an issue during the 2014 campaign cycle. Twice, we took issue with the use of the statistic for not providing full context about the number.
Rubio himself earned a Mostly False for saying, "300,000 people are going to lose their individual coverage because of Obamacare. Now those people next year, they don't have health insurance." Since the company provided assistance with switching plans, we argued that Rubio was jumping the gun by saying flatly that they wouldn't have insurance.
What has happened since?
So what happened to those 300,000 people in the succeeding three years? As it turns out, the vast majority of the 300,000 found coverage -- with Florida Blue.
"More than 80 percent of the approximately 300,000 members remained with Florida Blue," company spokesman Paul C. Kluding told PolitiFact.
That would leave at most 60,000 people -- not 300,000 -- who lost their health insurance as a result of that provision of the law. But even that number is probably high.
Remember, the 80 percent figure refers to the policyholders who remained with Florida Blue. But the other 20 percent didn't necessarily become uninsured -- they just didn't get a Florida Blue plan. They could have found another private plan, or they could have found other private insurance -- including a plan purchased on one of the Affordable Care Act's marketplaces.
So at the very least, the ad reanimates a years-old number that was known to be preliminary and in flux.
Florida's new insurance signups
The use of the 300,000 number is misleading in a second way: It ignores the coverage gains of the Affordable Care Act in the state.
More than 1.7 million Floridians purchased plans through the Affordable Care Act's marketplaces between Nov. 1, 2015, and Feb. 1, 2016. And the number affected by the law could have been many more if Florida had moved to expand Medicaid under the law, as many other states did.
This is a big enough increase to wipe out the 300,000 policies "lost" -- which, as we noted, is an exaggerated number -- and it positively dwarfs the 60,000 number, which itself might be exaggerated.
The impact of the Affordable Care Act on Florida can be seen clearly in newly released federal data on uninsured residents in every state. In 2013, 20 percent of Floridians lacked health coverage. In 2014, that number fell to 16.6 percent, and in 2015, it fell again to 13.3 percent.
That's a decrease in Florida's uninsured population by one-third over two years.
Americans for Prosperity responds
Andres Malave, a spokesman for Americans for Prosperity, made several arguments for why the message of the ad was valid.
One is that those 300,000 faced administrative headaches in continuing their insurance or finding a new plan, sometimes more than once.
He also had a point that not all of the 1.7 million residents who purchased a marketplace plan were uninsured before that. However, the overall uninsured rates suggest that many people were indeed moving from uninsured to insured over the previous two years. (Malave argued that the recovering economy in the state deserves credit for the higher insurance coverage rates, rather than just the Affordable Care Act.)
Our ruling
Americans for Prosperity said that "300,000 Floridians have lost their health insurance" as a result of Obamacare. Even in 2013 this assertion was not entirely correct, and now, more than three years later, we know it's not correct.
Only about 60,000 people failed to re-up with Florida Blue, and there's a good chance that many of those 60,000 found coverage elsewhere -- including through the Obamacare exchanges. Indeed, in the most recent year, the Obamacare marketplace has enabled 1.7 million Floridians to sign up for coverage, a far bigger number than the losses cited in the ad.
Finally, the uninsured rate in Florida has fallen by one-third since 2013, which paints a very different picture than the ad's zombie statistic. We rate the statement False.
https://www.sharethefacts.co/share/181e4bf6-0018-46b4-b227-ea0c01ff03ce
Americans for Prosperity, ad, Sept. 14, 2016
Kaiser Family Foundation, "State Marketplace Statistics," Nov. 1, 2015 - Feb. 1, 2016
U.S. Census Bureau, HIC-4.Health Insurance Coverage Status and Type of Coverage by State--All Persons: 2008 to 2015, accessed Sept. 16, 2016
PolitiFact, "Rubio says 300,000 will lose their individual health insurance coverage under Obamacare and won't be able to enroll in new plans," Oct. 25, 2013
PolitiFact, "300,000 in Florida lose health plans? More to the story than that," Feb. 14, 2014
Email interview with Paul C. Kluding, spokesman for Florida Blue, Sept. 16, 2016
Email interview with Peter True, spokesman for Patrick Murphy, Sept. 16, 2016
Email interview with Andres Malave, spokesman for Americans for Prosperity, Sept. 16, 2016
Browse the Truth-O-Meter
More by Louis Jacobson
Support independent fact-checking.
Become a member!
In a world of wild talk and fake news, help us stand up for the facts.