Get PolitiFact in your inbox.
"Nearly 60 percent of women who use birth control do so for more than just family planning."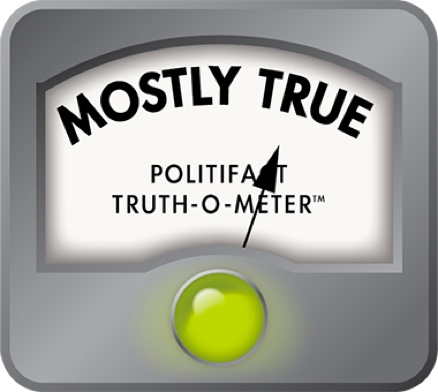 Debbie Wasserman Schultz decries impact of Hobby Lobby decision on birth control
On June 30, the U.S. Supreme Court ruled that certain companies with religious objections can opt out of a mandate under the Affordable Care Act to provide free contraception to their employees.
The 5-4 ruling involved a case brought by two companies owned by Christian families: Hobby Lobby, a chain of hobby stores, and Conestoga Wood Specialties, which makes wood cabinets. The companies opposed providing certain types of contraception that they believe is equivalent to inducing abortion, including morning-after pills and IUDs. (They didn't oppose other methods of birth control.) They based their case on the 1993 Religious Freedom Restoration Act signed by President Bill Clinton.
The issue arose because birth control is included among the free preventative services mandated by President Barack Obama's signature 2010 health care law. Houses of worship and religious institutions were already exempt from this aspect of the law. The court's ruling applies to "closed corporations" which are in control by a few people, rather than public companies with many shareholders.
Associate Justice Samuel Alito wrote the majority opinion, stating that women who work for these corporations can still access these types of birth control either by the federal government paying for it or through a third-party administrator.
Though the ruling was narrower in scope than it could have been, supporters of broad access to contraception expressed disappointment. One of these supporters was U.S. Rep. Debbie Wasserman Schultz, the Democratic National Committee chair from South Florida. In a statement attacking the decision, Wasserman Schultz said that contraception for women isn't just about avoiding pregnancy.
"Nearly 60 percent of women who use birth control do so for more than just family planning," she said.
We wondered whether that was correct.
Guttmacher Institute study
A DNC spokeswoman said Wasserman Schultz was referring to a November 2011 report from the Guttmacher Institute, a nonprofit that studies reproductive rights. The report focused specifically on the oral birth control pill, not all contraception. (We should note that the Guttmacher institute filed a brief on the side of the federal government in the Supreme Court case. We will also note that the oral birth control pill is different from the morning-after pill the plaintiffs objected to funding.)
The Guttmacher report stated that while birth control pills are primarily intended to prevent pregnancy, they also provide other health-related benefits including easing menstrual-related problems. The report used national data from the 2006–2008 National Survey of Family Growth, which is administered by the government's National Center for Health Statistics.
Here are some of the key findings:
• Out of about 7,350 women surveyed, 58 percent of pill users relied on the method at least in part for one non-contraceptive reason, such as managing menstrual pain, regulating periods and controlling acne. That's the source for Wasserman Schultz's claim about "nearly 60 percent."
• Birth control is the most common reason women use the pill, reported by 86 percent of pill users at the time. That left 14 percent of pill users who said they only took the pill for non-contraceptive reasons.
• Reliance on the pills for non-contraceptive reasons is highest for teenagers.
A spokeswoman for the Guttmacher Institute told PolitiFact that they had not updated their 2011 report.
Previously, we fact-checked a similar claim based on the same report. Sen. Barbara Boxer, D-Calif., said on MSNBC in March that "it's important to note that women take birth control, more than half of them, as a medication for other conditions, so it is an attack on women."
We rated that claim Half True because it required additional clarification about the type of birth control and the survey results. Wasserman Schultz's statement was somewhat more carefully worded.
Our ruling
Wasserman Schultz said that "nearly 60 percent of women who use birth control do so for more than just family planning."
This claim gets support from a Guttmacher Institute report that found 58 percent of pill users citing at least one non-contraceptive reason. However, Wasserman Schultz's comment glosses over two important caveats.
First, she said "women who use birth control," even though the study looked at women who use the birth control pill specifically -- a type of birth control that wasn't even one of the ones directly at issue in the Supreme Court case.
Second, the Guttmacher study found that birth control is indeed the most common reason that women use the pill, with 86 percent saying it was one of the reasons they chose that option.
The statement is accurate but needs clarification or additional information. We rate it Mostly True.
Democratic National Committee chairwoman U.S. Rep. Debbie Wasserman Schultz, Statement about U.S. Supreme Court's decision in Burwell v. Hobby Lobby, June 30, 2013
Guttmacher Institute, "Beyond birth control: the overlooked benefits of oral contraceptive pills," November 2011
Reproductive Research Audit, Website, Accessed June 30, 2014
Reproductive Research Audit blog by Jacqueline Harvey, "An open letter to Sen. Boxer: Most women use contraception for contraception, not conditions like mine," 2014
New York Times, "Supreme Court rejects contraceptives mandate for some corporations," June 30, 2014
Associated Press, "Justices: Can't make employers cover contraception," June 30, 2014
Politico, "Scotus sides with Hobby Lobby on birth control," June 30, 2014
USA Today, "The Hobby Lobby case: What birth control is affected?" June 30, 2014
PolitiFact, "Barbara Boxer says more than half of women use birth control to treat other conditions," March 26, 2014
PolitiFact, "The health care law, Catholics and abortion," Feb. 10, 2012
Interview, Lily Adams, Democratic National Committee spokeswoman, June 30, 2014
Interview, Rebecca Wind, Guttmacher Institute spokeswoman, June 30, 2014
Interview, Jacqueline Harvey, former director of Reproductive Research Audit and current director of International Center for Truth in Science, June 30, 2014
Browse the Truth-O-Meter
More by Amy Sherman
Support independent fact-checking.
Become a member!
In a world of wild talk and fake news, help us stand up for the facts.