Stand up for the facts!
Our only agenda is to publish the truth so you can be an informed participant in democracy.
We need your help.
I would like to contribute
"Hollywood is #1 in Broward homicides in 2013. Thanks Chief Fernandez!"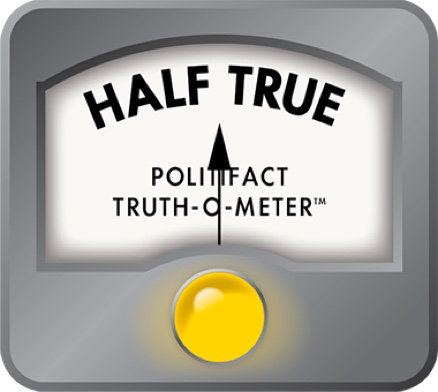 Hollywood had more homicides than any other city in Broward in 2013 -- and the chief is to blame, union says
The police union in Hollywood has launched a high-profile battle in an effort to oust Chief Frank Fernandez, and they have literally taken their message to the sky.
In March, the Police Benevolent Association floated a banner from an airplane that flew over the beach and downtown that declared, "Hollywood a high crime area. Thanks Chief Fernandez!"
Then on April 15, the PBA posted a billboard on Pembroke Road that stated: "Hollywood is #1 in Broward homicides in 2013. Thanks Chief Fernandez!"
We decided to investigate whether the homicide statistic is accurate and if Fernandez can be blamed for it.
Hollywood police department battles
To understand the backdrop of the billboard requires a bit of history about the years of feuds between city officials and police union leaders in this city of 145,000. In 2011, the city declared financial urgency and cut officers' pay, which led to protests from the union and officer turnover.
Fernandez became the city's assistant city manager overseeing public safety in 2012 and chief in 2013, and he's been tasked with trying to turn around the long-troubled department.
Though Hollywood has a popular beach front that draws tourists and snowbirds, it's also had some famous scandals in recent years. In 2007, a handful of officers convicted in a scheme that included selling heroin to undercover agents posing as mobsters. (The chief at the time was accused of leaking information about the probe before the arrests, forcing the FBI to bring it to a close prematurely.)
A separate group of officers drew national attention in 2009 after one of them crashed into a vehicle, and video captured employees saying they would "do a little Walt Disney" to protect the officer and doctor a police report.
News reports in the Sun-Sentinel indicate Fernandez has had some success: He has increased recruiting, made physical improvements to the police station and brought a close to contract negotiations.
Fernandez also brought in outside consultants to audit the agency, and they found problems with its use-of-force policy, missing internal affairs files and forgotten rape kits, the Sun-Sentinel reported. The union disputes the audit and says it was written by a hired consultant tasked with finding fault. The billboard is the latest round in the battle between the police union and city leaders who say it's just another ploy.
Hollywood crime statistics
Jeff Marano, president of the police union, sent us Hollywood crime statistics from the Florida Department of Law Enforcement. The data showed homicides in the city rose from five in 2012 to 16 in 2013.
A spokeswoman for the city didn't dispute the numbers but said they come with some caveats. First, the homicides were either drug- or gang-related or domestics, Raelin Storey said.
"There were not random acts of murder taking place in the city of Hollywood," she said.
The reasons behind the homicides aren't the point, Marano said.
"A homicide is a homicide," he said. "It's a dead person."
Assessing whether the number of homicides placed Hollywood in the No. 1 slot in Broward was more complicated because statewide data for 2013 hasn't been published yet. (Marano said he determined Hollywood was the highest by speaking with a Hollywood homicide detective who speaks with his counterparts at other departments.)
So we decided to do our own research and contact law enforcement agencies in Broward County to ask them to supply the number of homicides in their city in 2013. We mostly focused our search on the larger cities or the ones that had more than five homicides in 2012.
The results:
Hollywood: 16
Fort Lauderdale: 13
Pompano Beach: 8
Lauderhill: 6
Lauderdale Lakes: 5
Oakland Park: 5
Miramar: 4
Pembroke Pines: 0
We did not find any city that had a higher number of homicides than Hollywood in Broward.
Not surprisingly, the city pointed to statistics that give residents a more favorable impression of safety in their city.
The data from FDLE showed other serious offenses, which include sexual assaults, robbery, aggravated assault, burglary and larceny and motor vehicle thefts. In total, those offenses dropped 13 percent in Hollywood in 2013. FDLE data showed that the crime rate dropped from 5,869 in 2012 to 5,050.9 in 2013.
Experts pick apart union's billboard
We sent the union's statement and the city's recent murder statistics to a few criminologists. Several experts told us that when examining small numbers from one year to the next, a jump can appear significant even when it's not. To draw meaningful conclusions requires looking at several years of data and examining the nature of the homicides.
"Homicides are rare events in Hollywood, and as such the rates can bounce around quite a bit," said James Lynch, chair of the criminology department at the University of Maryland and former director of the federal government's Bureau of Justice Statistics.
We asked Marano to explain why the union pinned the number of homicides on the chief. Marano cited the chief's "poor leadership" and deployment of officers, specifically "not enough officers assigned to street level crimes."
But the experts we interviewed rejected the idea that the chief was to blame for the number of murders in one year.
"Let's assume the facts are correct," said Robert Friedmann, a professor emeritus of criminal justice at Georgia State University. "So does that mean blame chief for it? Unless the chief is the one who shoots the people, I would say absolutely not."
While there are steps police departments can take in an effort to reduce crime, there are several factors -- including neighborhood and economic conditions and drug and gang activity -- that influence the number of murders in a city in a given year.
Those conditions are entirely or largely out of the control of the police, said Ronald L. Akers, a criminology professor at the University of Florida.
"We like to attribute declines in crime rates in a community to good police work, but there is not strong evidence to support that," Akers said. "Similarly, one may want to attribute increases in crime to bad police work or an ineffective police department, but again, where is the evidence to support that? What have the police done any differently in 2013? What if the number of murders come down again in 2014?"
Our ruling
The police union's billboard states, "Hollywood is #1 in Broward homicides in 2013. Thanks Chief Fernandez!"
Hollywood had 16 homicides in 2013, and we could not find any city that had any more homicides than Hollywood.
While the number is correct, the union cherry-picked crime statistics to find one that puts the city in the worst light. At this point, we have no idea if the number is part of a trend or an aberration. We also know that overall, crime decreased.
The billboard places the blame on Chief Fernandez, but criminologists say the chief can't be blamed for the number of murders, especially when it is such a small number.
We rate this claim Half True.
FBI Uniform Crime Reports Crime in the United States, Florida, 2012
Florida Department of Law Enforcement, Crime in Florida Hollywood police department, 2013
Sun-Sentinel, "Hollywood Police Chief: Don't believe that billboard saying the city isn't safe," April 17, 2014
Sun-Sentinel, "Banner in the sky calls Hollywood a high crime area, blames it on police chief," March 9, 2014
Sun-Sentinel, "Hollywood's new police chief aims to bring reform to troubled agency," March 16, 2014
Sun-Sentinel, "Police chief gets support," March 20, 2014
Miami Herald, "Hollywood paves way for new contract with police," July 3, 2013
Miami Herald, "Three officers suspended in leak probe," May 21, 2007
Interview, Jeff Marano, president of the Broward County Police Benevolent Association, April 17, 2014
Interview, Raelin Storey, spokeswoman city of Hollywood, April 17, 2014
Interview, Lauderhill Lt. Michael Butkus, April 17, 2014
Interview, Fort Lauderdale Det. DeAnna Greenlaw, April 17, 2014
Interview, Tania Rues, Miramar police spokeswoman, April 18, 2014
Interview, Robert Friedmann, Professor Emeritus of Criminal Justice George State University, April 18, 2014
Interview, James Lynch, chair of the University of Maryland's department of criminology and criminal justice and former director of the Bureau of Justice Statistics (BJS) in the United States Department of Justice, April 18, 2014
Interview, Ronald L. Akers, professor at the University of Florida's Department of Sociology and Criminology and Law, April 18, 2014
Interview, Tracey Julien-Lewis, law enforcement analyst for Pembroke Pines, April 21, 2014
Interview, Gina Carter, spokeswoman Broward Sheriff's Office, April 21, 2014
Browse the Truth-O-Meter
More by Amy Sherman
Support independent fact-checking.
Become a member!
In a world of wild talk and fake news, help us stand up for the facts.