Stand up for the facts!
Our only agenda is to publish the truth so you can be an informed participant in democracy.
We need your help.
I would like to contribute
"We have the fewest people employed in this country since 1979."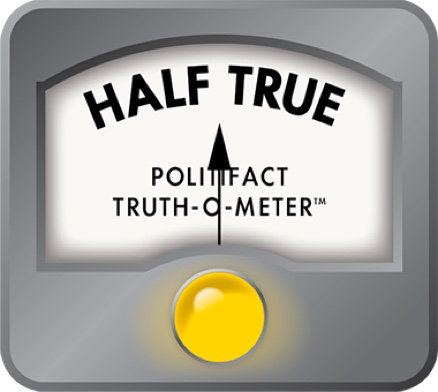 Rep. Cathy McMorris Rodgers says fewer now working than any point since 1979
During an interview with NPR, Rep. Cathy McMorris Rodgers, R-Wash., a member of the House Republican leadership, expressed concern about the state of working America.
"We have the fewest people employed in this country since 1979," McMorris Rodgers told host Audie Cornish. "And the current path that the president has outlined ... is not getting people back to work. So it's going to take both parties engaging."
It turns out that McMorris Rodgers is on the right track with her statistic, but she described it incorrectly.
A look at the numbers
According to the Bureau of Labor Statistics, 89.4 million Americans were working in March 1979, but by March 2013, that number had grown to 135.2 million. This number remains lower than the all-time high of 138.1 million in January 2008, which was around the time the most recent recession hit. But the number of employees nationally is slowly climbing back to that peak.
McMorris, however, meant to refer to a different BLS number: the labor force participation rate. This is the percentage of the U.S. population who are considered to be "in the labor force." To qualify as being in the labor force, you have to either be working or actively looking for work.
In March 2013, the labor force participation rate was 63.3 percent -- lower than in any month since May 1979.
(A similar statistic known as the employment-to-population ratio has also fallen, though it's at its lowest level since late 1983.)
Riva B. Litman, a spokeswoman for the House Republican Conference, told PolitiFact that McMorris Rodgers phrased the statistic incorrectly and meant to refer to the labor force participation rate.
"If we adjust for population growth, fewer Americans work than at any time since Jimmy Carter was president," Litman said.
What does the statistic mean?
Most economists agree that a decline in the labor force participation rate is worrisome. But it's important to point out some nuances.
"The trick is to determine how much of the drop represents the impact of a lagging economy, which is worrisome, and how much is due to non-worrisome factors, such as the aging of the adult population," said Gary Burtless, an economist at the Brookings Institution.
As more adults begin moving into retirement age, the percentage of Americans who work is bound to decline. And that's been happening in a big way as the baby boomers age. Using federal data, Burtless has calculated that the percentage of the adult population over 55 has risen from 27 percent in 1999-2000 to 32 percent in the 2011-12.
The new retirees are showing up in the data. Burtless has determined that the two employment ratios would have fallen in recent years just on the basis of aging, even if there had been no recession. But the age-related decline has been worsened by high unemployment rates during the recession. Most troubling, economists say, is the decline among the core working ages of 25 to 55. In addition, the tight job market has convinced more people to opt out of the labor market, perhaps by becoming students or stay-at-home parents.
Burtless has estimated that half to two-thirds of the recent decline in the labor participation rate has been due to the aging of the population, depending on the time period you look at.
In general, economists like to see more people working because it generally helps economic growth, said Tara Sinclair, a George Washington University economist. But it's also important to keep in mind that leaving the labor force can be a voluntary decision. "Perhaps people would prefer to have more time at home rather than more stuff," she said.
Our ruling
McMorris Rodgers said, "We have the fewest people employed in this country since 1979." That's not correct -- far more people are working now than in 1979. But a different statistic that takes into account population growth, the participation rate, is indeed lower now than it's been since 1979. It's important to note that a significant portion of this decline comes from the aging of the baby boomers, rather than economic weakness. On balance, we rate her statement Half True.
NPR, "GOP Rejects Tax Increases In Obama's Budget," Apr. 10, 2013
Bureau of Labor Statistics, "Employment, Hours, and Earnings from the Current Employment Statistics survey (National)," accessed April 12, 2013
Bureau of Labor Statistics, "Labor Force Statistics from the Current Population Survey," accessed April 12, 2013
Bureau of Labor Statistics, glossary of terms, accessed April 12, 2013
Email interview with Dean Baker, co-director of the Center for Economic and Policy Research, April 12, 2013
Email interview with Tara Sinclair, economist at George Washington University, April 12, 2013
Email interview with Gary Burtless, senior fellow with the Brookings Institution, April 12, 2013
Browse the Truth-O-Meter
More by Louis Jacobson
Support independent fact-checking.
Become a member!
In a world of wild talk and fake news, help us stand up for the facts.